CNN —
Should a house fire strike, you don't want to leave your safety and well-being up to chance. In fact, each year in the U.S., close to 2,000 people lose their lives in residential fires. That's why it's essential that you're prepared with smoke detectors installed throughout your home.
When installing smoke alarms, experts say they should be installed on every level of the home — both "outside sleeping areas and inside bedrooms." Additionally, according to the U.S. Consumer Product Safety Commission, if your home doesn't have a smoke alarm, you should buy one and install it right away. To read more about fire safety and the importance of smoke alarms, check out this guide.
For new home owners (or for those who've never installed a smoke alarm), it can be tricky to know which ones to buy. To help, we rounded up a few smoke alarm options that have promising reviews and affordable price points. Keep reading to see which of these top-rated detectors are right for your home.
1. First Alert SCO5CN Combination Smoke and Carbon Monoxide Detector ($22.36, originally $54.99; amazon.com)
This smoke detector from First Alert is the No. 1 best-selling product within Amazon's Tools and Home Improvement category. It's super affordable and has 1,491 reviews from Amazon customers who gave it a 4.2- of a 5-star rating on average.
2. Kidde i4618AC hardwire Smoke Alarm (starting at $11.90; amazon.com)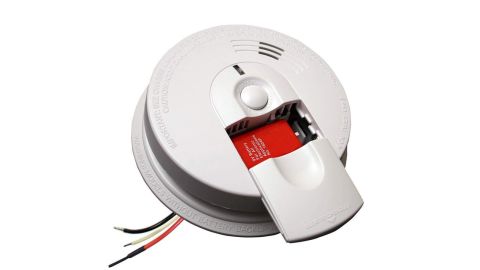 For those who aren't familiar with how to install a smoke detector, this would be a good option for you. When installing, there's a large mounting base that makes it easier to attach to the wall and protects surface paint from dirt and covers imperfections. Then, when replacing the battery, there's a front pull tab so that you can switch it out without removing the entire detector from the wall.
3. First Alert BRK 9120B Hardwired Smoke Alarm with Battery Backup ($10.70, originally $23.99; amazon.com)
This particular smoke alarm, which is also from First Alert, is the No. 1 best-selling product within Amazon's Smoke Detectors and Fire Alarms category. Now on sale for just $10.70, this alarm is not only affordable, but it also received close to 3,000 reviews from satisfied customers.
4. First Alert SA303CN3 Batter Powered Smoke Alarm with Silence Button ($7.67; amazon.com)
This model — also from First Alert — was named as an Amazon's Choice product and it only costs $7.67. With a price that good, you can be sure to buy enough units to sufficiently protect every floor in your house.
5. Nest Protect Smoke and Carbon Monoxide Alarm ($119, originally $122.99; amazon.com)
The Nest Protect is a step up from your everyday smoke alarm. This device syncs with most cellular devices to send alerts if smoke or carbon monoxide is detected in the home. Instead of beeping like other smoke alarms, the Nest Protect talks directly to you in order to warn you of any potential threat. Whether that be burning food in the kitchen or carbon monoxide in the upstairs bedroom, this device will alert you to the danger. On Amazon, it has close to 5,000 reviews from satisfied customers who rated it a 4.5- out of 5-stars on average.
Note: The prices above reflect the retailer's listed price at the time of publication.