(CNN) —
The chief executives of Barclays and Deutsche Bank have both been overhauling their banks. One is already reaping the rewards and the other may do soon.
After years spent slashing jobs, scaling back their investment banks, and paying the price of previous corporate misconduct, both big banks are getting back to business — and their earnings are beating expectations.
Barclays (BCS) has made the most progress. CEO Jes Staley said a strong third quarter in corporate and investment banking showed that a restructuring program completed last year was paying off.
"I am pleased to report another quarter which demonstrates that we are firmly on track," Staley said in a statement.
Profit before tax was £1.6 billion ($2 billion), up 32% on the same quarter the previous year. Shares in Barclays (BCS) increased 2% in London.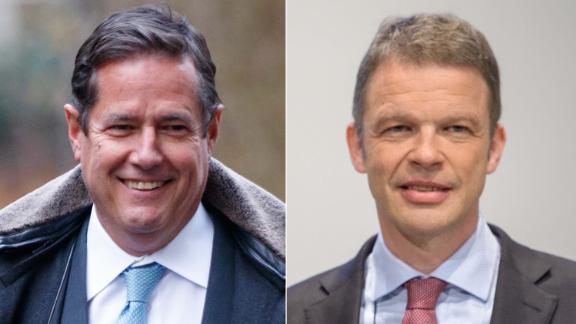 TOLGA AKMEN/AFP/Getty Images/Thomas Lohnes/Getty Images
The CEO of Deutsche Bank (DB) was also upbeat about the progress of Germany's biggest lender. But the reaction from investors on Wednesday to its latest earnings shows the bank still has a way to go.
Christian Sewing, a retail banking veteran who took over as CEO in April, has tried to accelerate an overhaul under which Deutsche Bank has closed hundreds of branches, cut thousands of jobs and aggressively slashed costs.
The bank reported profit before tax of €506 million ($577 million) in the third quarter, and Sewing said the bank was on track to produce its first annual profit since 2014.
"This result is another milestone on our way to becoming a sustainably profitable bank," he said in a statement. "We have our costs under control and sufficient capital to grow."
But Sewing also acknowledged the unfinished work represented by a 9% decline in revenue.
"We have not yet achieved a turnaround in terms of revenues. We must therefore sustain our efforts to grow revenues across our businesses," he said.
Deutsche Bank shares dropped over 3% in Frankfurt. Analysts at UBS said profit was stronger than expected, driven by lower litigation and restructuring costs, but that "revenues are a touch light."