Editor's Note: David Harbour is an actor, who stars in the Netflix show Stranger Things, and Greenpeace Antarctic Ambassador. The opinions in this article belong to the author.
(CNN) —
I have a friend who recently pitched me for my involvement in Frog Aid. He's old. He thinks kids still remember Live Aid.
Saving the frogs, eh? What vital part do they play in our ecosystem? "Oh wait yes, I read once about" – (he interrupts me excitedly) "NOTHING!" (I, dumbfounded) "Nothing?" (Him) "I mean, maybe nothing. I don't know. We aren't sure, they're just frogs, they really have probably very little bearing on human life."
"Then why save them?"
"Cause they're frogs."
"Yeah, but there are so so many things that we could spend resources and time on that could impact human life in a positive way. Why would you raise money if they're just frogs?"
"Cause…they're frogs, man."
Silenced. I suddenly feel like a kid about to climb a tree for no reason at all.
Here's the short of it.
The Weddell sea, essentially the heart of the Antarctic Ocean, is unprotected. And boring corporate endeavors are seeking to exploit this worldwide oversight. Like villains in a B movie, their current goal (though future iterations may be even even more destructive and nefarious) centers on krill fishing.
Taking a huge straw, plopping it in the Antarctic waters and sucking up the one thing that all wildlife there feeds on: krill. Which incidentally also act as a great carbon sink, reducing carbon emissions dramatically with their poop (Google it). They wanna, and ARE drinking the world's milkshake. And because this land, this earth, is your earth, yes that's right, they "drink YOUR milkshake." And for what? Krill pills. Omega-three-light pills, that there are doubts even help with anything, but still maintain a modest industry – snake oil always sells.
Right now, governments from around the world are meeting in Hobart, Tasmania, to decide whether or not we protect this special swathe of sea.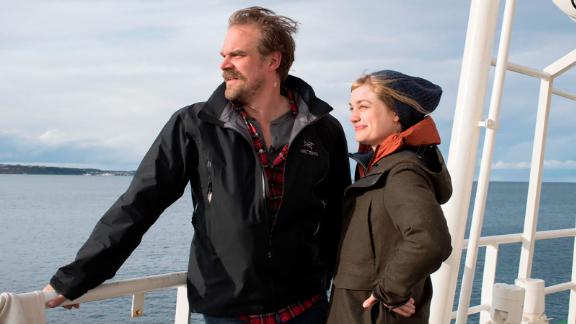 Daniel Beltra/Greenpeace
Look, I'm sorry to bore you with krill. There are so many other Shakespearean tragedies out there at the moment.
There's a worldwide refugee crisis happening with photos and stories that leap off the page if you can bear to look at them.
Mass shootings flood our feeds, our papers, then seem to retreat quietly like a social scab through inaction and thoughts and prayers, till the next one emerges.
There's #MeToo, #TimesUp and the seismic shifts through an entrenched, protected patriarchy, which began with the atrocities of Harvey Weinstein and now reach a new apex with the Kavanaugh hearings. Shaking our foundations. Full of a cast of characters on the right and the wrong side of history. At times it's even pulpy. Let me tell you something that isn't: krill poop – and how vital it is to our dying ecosystem.
So, krill are these very important zzzzzzzzzzz.
Sorry, I fell asleep at the keyboard.
Bah, It's just basically an icy soup in the middle of nowhere that serves very little zzzzzzzzzz.
Sorry, I fell asleep even arguing against this.
I'm an actor. I live for drama. And I discovered first-hand that, although it has its share of drama, the Antarctic is someplace far away, hard to get to and not very connected to my life in Manhattan.
So how do I care? How do you care? And why? Well, let's start with "maybe you shouldn't." Look, conservation is something of a losing battle.
It's hard to think that we live on the same planet I grew up on in the '80s. The storms are too frequent and dramatic and the ticks have become so powerful that a walk in the woods may be the most dangerous thing you do all year. I agree with Bill McKibben that we live on a hostile planet and we have to adapt. Though I'm sure he wouldn't go so far as to say conservation is a losing battle. But let's say it is. What do we do?
Should we "Elon Musk" our way outta here and find a new planet to absorb?
Should we build super cities, immune to rising oceans? We need creative engineers, not conservationists. Let's not pretend that making the Weddell Sea the world's largest nature reserve will save our planet.
Carbon emissions are high, they're still rising and no one seems that interested in changing their lifestyle to reduce them.
So, we'll let the natural world go, and trust in our engineering gurus to get us through all of this. Throw in the towel on this fight. There are other causes more near and dear to all of us. We only have a selective amount of agitating rage in us, and this is too remote and too bland to spend it on. I get it.
I can't fire you up about this. I can't stimulate causal rage. I'm not good at it, and few of us that still care have much to spare nowadays anyway. But I'd like to maybe stimulate your wonder.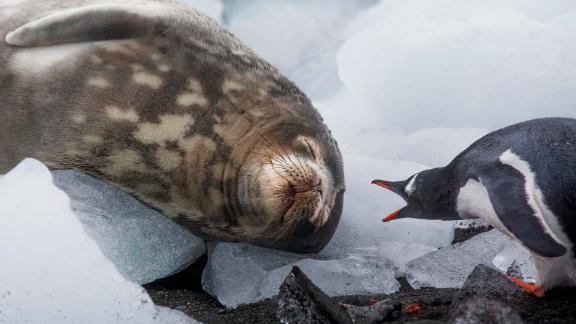 Paul Hilton/Greenpeace
I can tell you first-hand that it's a marvel. The Antarctic and its ferocious, aloof fauna are spectacular. It's dazzling. And I never want to go again. I kinda wish I hadn't – woulda saved my stomach a lot of trauma. But more than that, it's a place best not visited. It's a place let alone. It's a place to marvel at in your imagination.
So let's say there's no point. The wonder of it all is that there is an opportunity for the entire world to create a work of fiction, a work of art.
To preserve this cold, rich, place because, like that sprig of mint in your gin and tonic, it may infuse the rest of our planet with a taste.
And we can marvel a bit. If nostalgia occupies your soul at all – as it does for so many – a time without cell phones and screens and timetables, when we were kids, I can offer you a land that you can marvel at. You never need know it, but you can know that it's there to be marvelled at.
Or we can see these places as places to be exploited. Places to make krill pills, pills that will allay your heart attack fears because purchasing always makes us feel good.
That seems to me the choice. This artistic, ephemeral, imaginary land you'll never visit, or some more crap you have to buy at a drugstore. One you can see and feel, even though it's meaningless and does nothing; one that you can't see, but you can feel is out there.
This wilderness, this soup, this realm of monsters and mystery. Let's be kids again and dream, and do something fun, and silly: like protect something we don't really understand. We might get lucky and be doing something. At least it's different.
So, care. There's still time to be one of over two million people asking politicians to make this Antarctic Ocean Sanctuary happen.
Not because it will or won't make a difference. But because there currently exists an ocean at the edge of the world that isn't full of oil tankers and platforms and industry. Its relatively untouched. And we have an opportunity to preserve its heart and make sure that it always stays that way. Not because it's useful, maybe not even because it's right. But because… it's the Antarctic, man.