The Indian Supreme Court banned the sale of most firecrackers Tuesday, amid concerns their use during annual Diwali celebrations next month will again send pollution levels spiking across the country.
In its judgment, the court said the ban would apply to traditional firecrackers, but not so-called "green" fireworks, which it defined as being "low emission sound and light emitting functional crackers" that produce less polluting particulate matter.
The move comes as cities across India are experiencing heavy smog, as crop clearances and falling temperatures bring an annual plunge in air quality.
Critics were skeptical about how effective the ban would be and questioned how it would be enforced.
Gopal Sankaranarayanan, a lawyer who represented one of the petitioners to the court, said the exemption for "green" firecrackers meant little because, "as of now, none exist."
Ritwick Dutta, an environmental lawyer, agreed: "I don't know if there is anything known as green firecrackers. Firecrackers are supposed to generate sound and smoke. The whole concept of the firecrackers is to create a nuisance."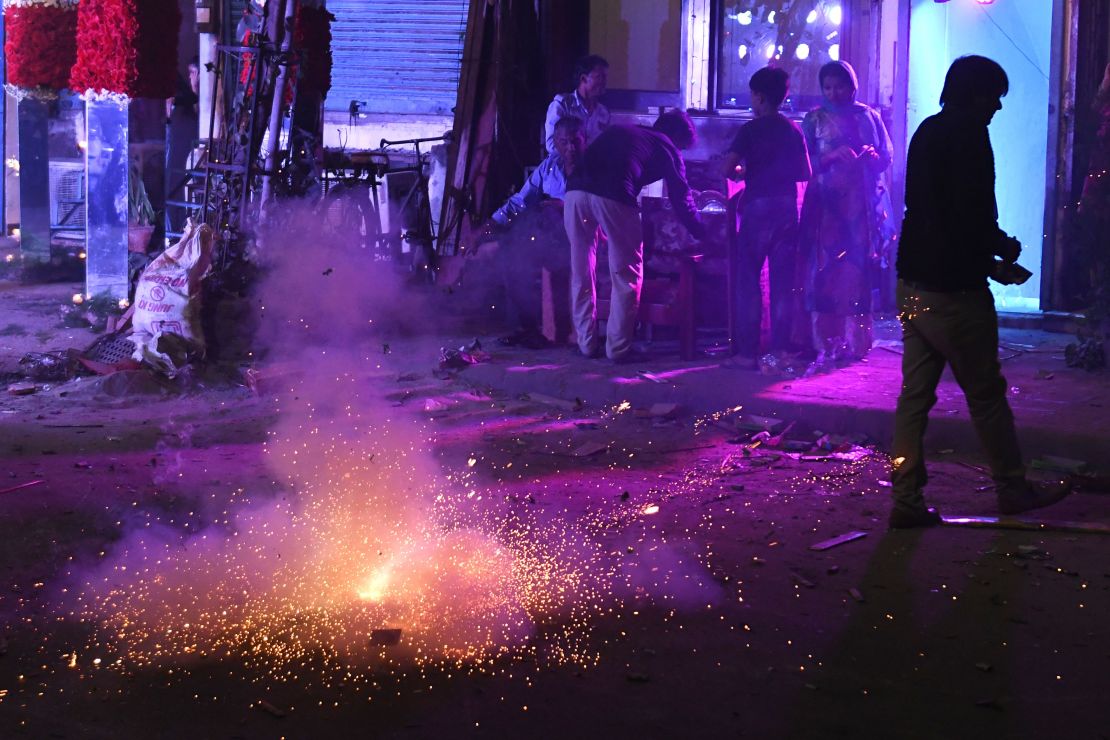 Diwali blues
The petition was originally filed in 2015 over concerns fireworks were a major cause of pollution in the country, and there have been repeated attempts to push for a partial or total ban since.
One major challenge to such rulings however is the annual festival of Diwali, which begins this year on November 7.
The celebration is known as the festival of light, and people celebrate by lighting lamps and bursting firecrackers in a symbolic representation of the triumph of good over evil
"During the festival season, it is impossible to police (fireworks). This kind of restriction does not really work," Dutta said.
In a judgment last year instituting a separate temporary ban on firecrackers, the Supreme Court said the adverse effects caused by setting the fireworks off during Diwali "have been witnessed year after year. The air quality deteriorates abysmally and alarmingly and the city chokes thereby."
Experts said it is hoped the latest, more widespread ban will drastically reduce the pollution caused by firecrackers – both air and noise.
A similar ban on fireworks in Beijing helped improve air quality last winter according to state media, but it coincided with a major crackdown on pollution in neighboring areas – one which won't be replicated this year over economic concerns.
Pollution is damaging iconic Taj Mahal
Delhi smog
New Delhi has emerged as the focus of the debate within India over air pollution, after it was briefly the most polluted city in the world in 2016 and has consistently struggled to cut smog levels.
Last year, the chief minister, Arvind Kejriwal called the city a "gas chamber."
Nor are things much better outside of major urban areas. According to a recent study however, the majority of deaths in India related to air pollution – around 75% – occur in the countryside.
The past week has seen air quality in the Indian capital plunge again, with the Central Pollution Control Board recording an average air quality level of 272 on Monday. During Diwali last year, Delhi's air quality index reached 604.
According to the World Health Organization, an acceptable level for humans to breathe regularly is 25.
The measure is based on the concentration of fine particulate matter, or PM2.5, per cubic meter. The microscopic particles, which are smaller than 2.5 micrometers in diameter, are considered particularly harmful because they are small enough to lodge deep into the lungs and pass into other organs, causing serious health risks.
Breathing in air with a PM2.5 content of between 950 to 1,000 is considered roughly equivalent to smoking 44 cigarettes a day, according to the independent Berkeley Earth science research group.