(CNN) —
The migrants are hundreds of miles from the United States border but they are already coming under fire from President Donald Trump at rallies and in tweets.
Yet even as he ramps up his criticism and alarm, the men and women heading north from Central America hope that Trump – or God – will help them.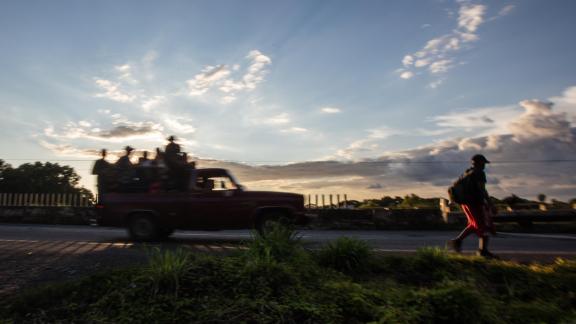 Bill Weir/CNN
On Monday, more than 7,000 people who had reached southern Mexico woke to blue skies and donated food. Then they started walking north in the so-called migrant caravan of people who've banded together for security and support.
Trump – himself heading to the border state of Texas to campaign for Ted Cruz in Houston Monday night – began his day with a series of tweets against the caravan.
Bill Weir/CNN
He said, without offering evidence, that "Criminals and unknown Middle Easterners are mixed in," that the situation was a national emergency and blamed Democrats, urging people to vote in next month's midterm elections.
READ: Counterterrorism official contradicts Trump: No sign ISIS or 'Sunni terrorist groups' are in caravan
The response in the shelters where individuals and families were preparing to continue their trek that could take them thousands of miles, was a shrug.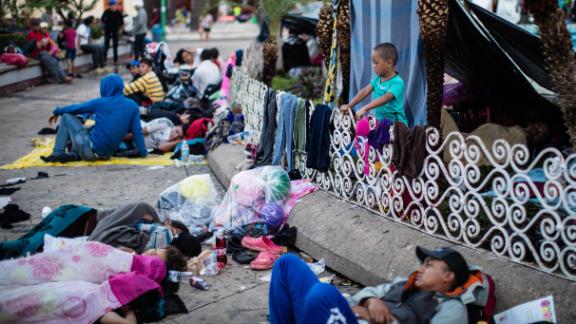 Bill Weir/CNN
Migrants told CNN they cannot and will not turn around. And they are confused by Trump's words.
"We are not terrorists. We are hard workers," Diana Chavez said, adding she was looking for work to help to support her 4-year-old son whom she left in her native Honduras. "That's why I'm going to the US, so I can give them a better life," she said of her family.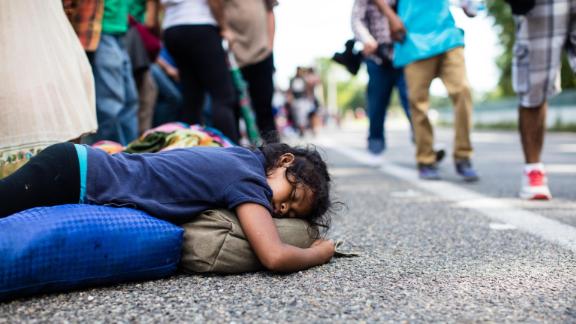 Bill Weir/CNN
Ana Guefaro said she hoped for help from the US.
"We ask Trump if he could help us because we come from a country that we had to leave because of its unemployment – we need to work."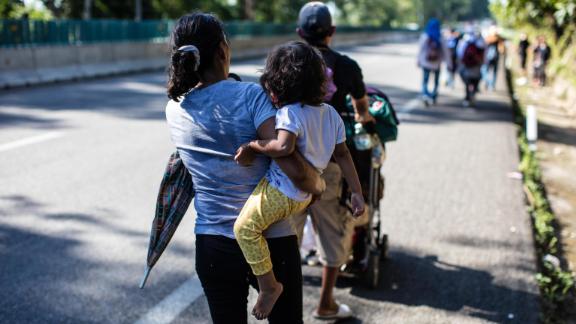 Bill Weir/CNN
When told of the President's tweets, she stressed she would not turn back.
"We ask him for the favor to help us because we are not terrorists. We are not delinquents. We have to leave our country because it's very dangerous. We don't have the support of our government, don't have the necessities to survive."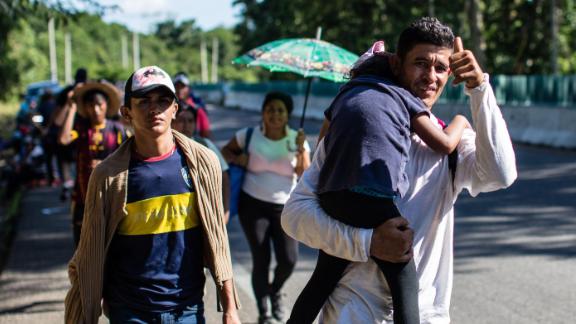 Bill Weir/CNN
Jose Franco, a taxi driver who says he lost work because he could not get gas, said the violence in Honduras and a drive to help his family were more important to him than Trump's claims the caravan is sheltering criminals and terrorists.
"I've heard a lot of news about Donald Trump and I hear that he's not going to help our country if we keep coming," Franco said. "But I don't think about that because I'm thinking about my family and the truth is, like I say, we are not delinquent, we are not trying to ruin things. We are just trying to make our families better."
He is among the many we spoke to who will continue on their journey, hoping that somehow the way will be paved and gates of opportunity opened.
"With the hand of God, I hope he gives us the opportunity to arrive to our destiny in the United States," Franco said. "We are asking the hand of God to make it happen."