For decades, the people atop USA Gymnastics controlled the dynamics of the sport. They chose the coaches, which young athletes made the national team, where the team practiced and more.
But two major events this week involving former USA Gymnastics presidents suggest the power dynamic may be flipping. The star athletes of the sport and an encroaching set of law enforcement bodies are influencing major decisions now, and USA Gymnastics is just trying to hold on.
"The sport is undergoing a shift in power as mature, professional and experienced athletes step up and speak out to help shape the culture of the sport," said Hawley Almstedt, a former collegiate gymnast who teaches at Loyola Marymount University.
Tuesday, Mary Bono ended her short-lived tenure as interim president of USA Gymnastics just days after criticism from star gymnast Simone Biles and other athletes.
And Wednesday, another former president, Steve Penny, was arrested on a charge of tampering with evidence during the investigation into team doctor and serial sexual abuser Larry Nassar.
The incidents – as well as the arrests of several other gymnastics leaders and the fall of the Karolyi Ranch over the past year – show that the fallout from Nassar's decades-long reign of abuse is upending the top-down hierarchy in American gymnastics.
"With amazing athletes and competent leaders, like Biles and (gold medalist Aly) Raisman, perhaps now is the time for change in the power hierarchy at USA Gymnastics," Almstedt said.
And the fallout is not yet over. Raisman, now a powerful voice in American athletics, this week slammed the "arrogance" of the board and called on members to resign. At Nassar's sentencing in January, she praised the "army of survivors" who spoke out against him and accused USA Gymnastics of "rotting from the inside."
"USAG, you treat your athletes who speak out as adversaries, but you have the nerve to state you continue to support athletes?" she tweeted. "Just because you say you support athletes in a press release or on twitter doesn't mean anything…"
Bono's resignation and athlete power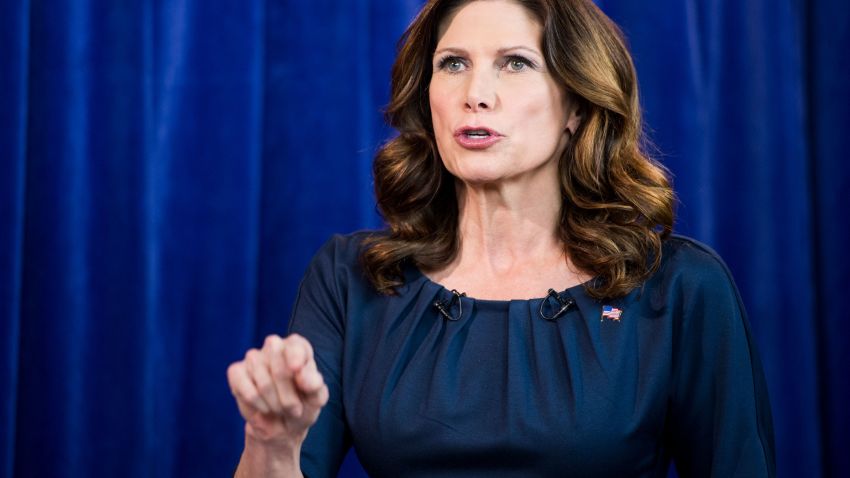 USA Gymnastics president resigns (2018)
Bono's dayslong tenure at USA Gymnastics illustrates the strength of the gymnasts at the heart of the sport.
Bono, a former Republican congresswoman from California, was named interim president of USA Gymnastics last Friday. She took over for Kerry Perry, who resigned in September after nine months on the job amid several other high-profile departures, including the team's elite development coordinator, head of the women's program and coordinator for the women's national team.
People looking into Bono's background quickly found a tweet from last month that showed her using a Sharpie to black out the Nike swoosh on her shoes. At the time, Nike had just featured former NFL quarterback and activist Colin Kaepernick in an ad campaign, and certain corners of the internet burned or defaced their shoes in protest.
One problem: Nike sponsors Biles, the most famous and successful gymnast in the world.
"*mouth drop*" Biles wrote in a tweet. "Don't worry, it's not like we needed a smarter usa gymnastics president or any sponsors or anything."
In response to Biles' and other criticism, Bono deleted the tweet and said she regretted making the post.
Bono faced further criticism for her prior position at the law firm Faegre Baker Daniels. A former attorney for that law firm helped USA Gymnastics craft false cover statements about Nassar in 2015 to conceal the fact that he was under investigation for child sexual abuse, The Indianapolis Star reported.
Partly because the abuse investigation remained secret, Nassar continued to treat and abuse patients for more than a year afterward until his arrest.
Kaylee Lorincz, a gymnast who testified in court about Nassar's abuse, tweeted that Bono owed her an explanation for her role with the law firm.
Similarly, Raisman tweeted against the decision to hire Bono on Monday, saying it was part of the "same corrupt decisions" recently made by the governing body.
"Why hire someone associated with the firm that helped cover up our abuse?" she wrote.
"Clearly this is not a 'new' USAG. Same corrupt decisions. Perhaps it's because true accountability is less likely if authority is placed in the hands of someone similarly motivated to avoid it. …"
By Wednesday, Bono resigned from the organization, citing "personal attacks."
"It is with profound regret, coupled with a deep love for the sport of gymnastics and respect for those who aspire to be great gymnasts, that I today tendered my resignation as the interim CEO of USA Gymnastics," Bono said in a statement.
"My withdrawal comes in the wake of personal attacks that, left undefended, would have made my leading USAG a liability for the organization."
Penny's arrest and law enforcement power
While athletes and gymnasts have used their growing power more and more, so, too, have an array of law enforcement bodies used their legal muscle against gymnastics coaches, trainers and administrators.
In particular, former CEO and President Steve Penny was indicted nearly three weeks ago by a grand jury on a charge of tampering with evidence, the Walker County District Attorney's Office in Texas said.
The indictment says he ordered the removal of documents from the Karolyi Ranch, the famed gymnastics training facility, with the purpose of impairing the investigation into Nassar. Authorities say the documents were removed and later delivered to Penny at the USA Gymnastics headquarters in Indianapolis. The records are missing.
Penny was arrested in Gatlinburg, Tennessee, by US marshals and is being held at the Sevier County Jail while he awaits extradition to Walker County.
Penny's attorney, Edith Matthai, said he was arrested while on vacation with his family in Tennessee and had no knowledge there had been an indictment in Texas.
"If Mr. Penny had any idea he was sought in Texas this would have been appropriately handled through counsel without terrifying his family," Matthai said.
Matthai said he is confident the facts will show he did nothing criminal.
"All of these young women who bravely stepped forward and have spoken out did not immediately run off to lawyers," said Kathy Johnson Clarke, an Olympic medalist and SEC Network/ESPN gymnastics analyst.
"They did not immediately run off to investigative reporters and tell their story. They waited patiently for USA Gymnastics to do the right thing. Now we're at a point where these athletes do have attorneys. They have told their story. It's far and wide."
Long driven by image and marketing, USA Gymnastics is destined to change, she said.
"That was Steve Penny's background," Johnson Clarke said. "It was all about image and what we presented to the world and nothing could harm or damage that in any way, shape or form. This is the fury of the gymnastics community with USA Gymnastics. There hasn't been any acknowledgment or accountability or accepting that we messed up."
The arrest of Penny follows a lengthy list of prominent gymnastics officials facing criminal charges.
Nassar, of course, was effectively sentenced to life in prison for his reign of child sexual abuse, but those around him are similarly under the microscope from a variety of law enforcement departments.
In addition, former USA Gymnastics trainer Debbie van Horn, who used to work with Nassar, was arrested in September and accused of sexual assault of a child, prosecutors said. She had been indicted in June on charges stemming from incidents at the Karolyi Ranch, and was arrested at a Houston airport after getting off a plane from China, the Walker County DA's Office said.
"Ms. Van Horn has returned to the United States to clear her name from these false charges and to restore her impeccable reputation," defense attorney Emily Detoto said at the time.
A special prosecutor from the Michigan Attorney General's Office has led to the arrest of two Michigan State University officials who worked closely with Nassar, a professor at the university.
Former Michigan State women's gymnastics coach Kathie Klages was charged with two counts of lying to police. The attorney general said she denied to detectives that she was told about Nassar's sexual misconduct before 2016, but several witnesses said they told Klages about his sexual abuse dating back more than 20 years.
Defense attorney Mary Chartier previously told CNN that Klages will plead not guilty to the charges.
In addition, Nassar's boss also faces charges of sexual misconduct. William Strampel, the dean of Michigan State College of Osteopathic Medicine, was charged in March with using his power to sexually assault, harass and solicit nude photos from female students, according to a criminal complaint. He has pleaded not guilty.
In the wake of Penny's arrest, Michigan Attorney General's Office spokesperson Andrea Bitely affirmed that the state's special prosecutor was not done yet.
"Attorney General (Bill) Schuette is glad to see that law enforcement across the country is continuing the work he started to get justice for the young women and girls who were sexually assaulted by Larry Nassar," Bitely said in a statement.
"In Michigan, we have an open investigation into how Nassar was able to get away with his actions for so long … and Attorney General Schuette's investigation remains open."
UCLA gymnastics head coach Valorie Kondos-Field describes USA Gymnastics as experiencing a slow bleed.
"We will see what happens next," she said. "Is USAG going to dissolve? Who's going hire the next CEO, the next president? Is it going to be totally reorganized? Everybody is feeling the investigation is finally moving forward but this is simply the tip of the iceberg."
CNN's Ray Sanchez and Elizabeth Joseph contributed to this report.