Harry and Meghan's royal tour of Australia took in a visit to a struggling, drought-stricken farming area of New South Wales Wednesday, after stopping by the Royal Flying Doctor Service (RFDS) – a lifeline for many in the vast, rural areas the state – to unveil a new aircraft.
The UK's Prince Harry and wife Meghan, Duchess of Sussex, landed in the town of Dubbo, an hour's flight northwest of Sydney, to a warm welcome, chatting with local schoolchildren as they arrived.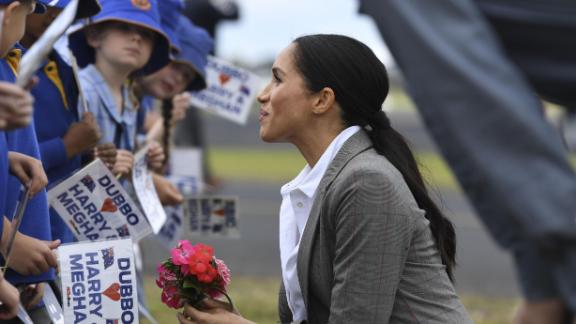 DEAN LEWINS/AFP/AFP/Getty Images
The welcome included one young fan, Luke Vincent, who broke the ropeline to embrace the prince, playfully playing with his beard. He then handed a bouquet of flowers to the Duchess before hugging her as well.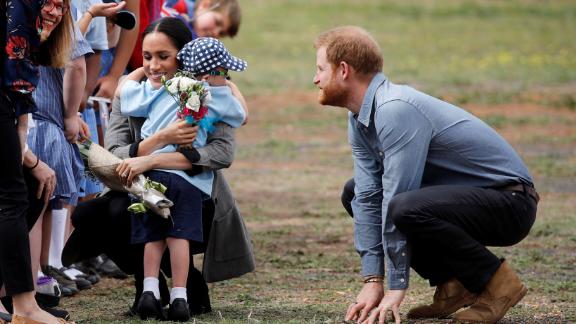 Pool/Getty Images AsiaPac/Getty Images
The royal couple were treated to a demonstration of the RFDS' capabilities and mission, meeting members of the long-running service before participating in a ceremony to inaugurate the new aircraft.
The RFDS, the world's first flying doctors service, has provided critical healthcare to remote, rural Australian communities for 90 years.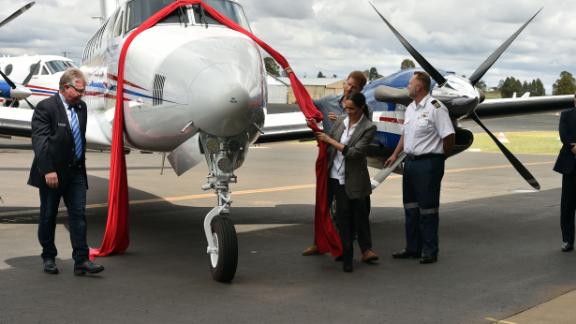 PETER PARKS/AFP/AFP/Getty Images
Farm visit
The young couple, who announced the Duchess' first pregnancy as they arrived in Australia, then traveled to a farm owned by the Woodley family, which has been suffering from the effects of a long-running drought in the region.
Accompanied by the family, the Royals took a tour through the property, helping feed livestock.
The Woodleys showed their appreciation for the royal's interest in their trying situation.
"It was an honor and a privilege to have them look around our property and they were very interested in everything that has been going on in the last two years and how we have been coping with it," one family member said.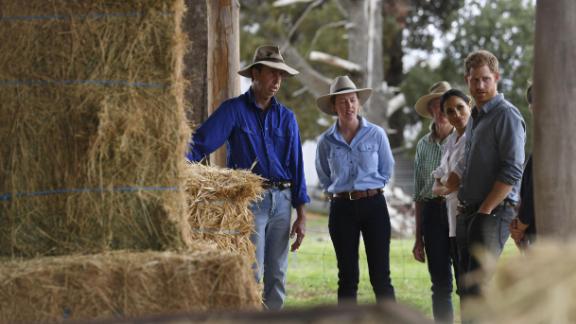 DEAN LEWINS/AFP/AFP/Getty Images
The royal couple also visited a school which is focused on improving education of indigenous Australians, and attended a community event in Dubbo, where Harry praised the area's farmers for their endurance in the face of the hardship of the drought.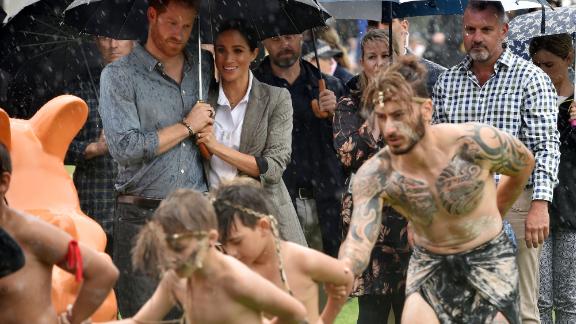 PETER PARKS/AFP/AFP/Getty Images
"You are the salt of the earth. Honest, hard working and as tough as they come, and that resilience, sense of humor and commitment to the land are the qualities that make you unique. You are the backbone of this country," Harry told the small crowd as Meghan held an umbrella over him – a rare outbreak of rain in a region that has suffered for multiple seasons.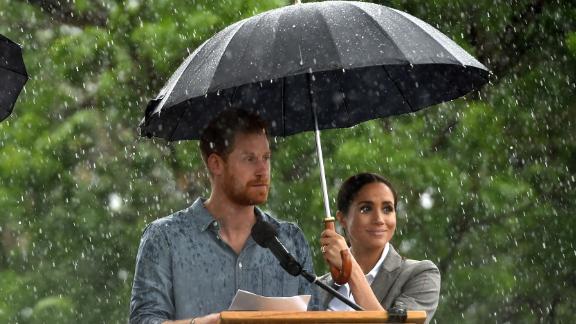 PETER PARKS/AFP/AFP/Getty Images
"You have just lived through two years of drought and despite recent welcome rain, it is going to take a lot more and a long time to recover. It must be hard not to lose hope when you endure so many dry months, end on end, knowing that you are powerless to do anything about it."
The state's Department of Primary Industries has reported that 98% of NSW is declared in drought – slightly improving on August's 100% figure, Australia's ABC reports.
Importance of mental health care
Harry also encouraged those suffering due to the dry weather to seek help "when you need it," referencing his struggles with mental health issues in the wake of his mother, Princess Diana's accidental death in 1997.
"But you need to know that part of being strong and tough is having the courage to ask for help when you need it. You must not silently suffer.
"You are all in this together, and if I may speak personally, we are all in this together, because asking for help was one of the best decisions I ever made. You will be continually amazed how life changes for the better."
Harry and Meghan will head to Melbourne tomorrow for the next leg of their tour, which will also take in New Zealand, Fiji and Tonga.