A 13-year-old girl is missing and believed in danger after her parents were found slain in their northwestern Wisconsin home, authorities said.
An Amber Alert has been issued for Jayme Closs, whose parents were found dead in their home near Barron shortly after someone there called 911 early Monday, the Barron County Sheriff's Department said.
Investigators are trying to find out not only where Jayme is, but what led to her parents' deaths. They have searched the area around the home, including with drones and infrared, and have searched her school and interviewed her friends, officials said Tuesday.
Sheriff Chris Fitzgerald, speaking at a press conference, described Jayme was a sweet and shy girl who enjoys dancing and sports. Fitzgerald said that Jayme attended a family gathering on Sunday afternoon and that he does not believe she ran away.
"Jayme is out there. We want to find her and that's our goal," Fitzgerald told reporters Tuesday afternoon.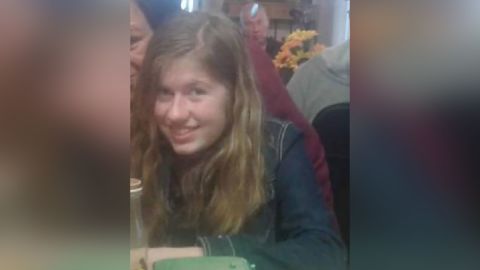 Diane Tremblay, Barron Area School District administrator, said Jayme is a "sweet girl who is a loyal friend and loves to dance."
Jayme runs on the cross country team, Tremblay said. When asked what she would do with $1 million on a recent school assignment, she wrote that she would "feed the hungry and give the rest to the poor."
During the 911 call Monday, the dispatcher heard a disturbance in the background but no one spoke directly to the dispatcher, Fitzgerald said.
When deputies arrived, they found Jayme's parents – James Closs, 56, and Denise Closs, 46 – dead. Fitzgerald said he couldn't immediately say how the couple died, but gunshots were involved, WQOW reported.
Autopsies were to be conducted Wednesday, Fitzgerald said. It unclear how long the parents had been dead.
"We believe Jayme was in the house when this took place," Fitzgerald told CNN affiliate WCCO.
Fitzgerald declined to provide further information about the crime scene, and said the focus now is on locating the teen.
"Our number one goal is to bring Jayme home, and no amount of information will be given out unless we feel it's appropriate to help," he said.
Fitzgerald said authorities had received more than 200 tips by Tuesday afternoon.
"Every minute does count. That's why this operation is running 24/7," he said.
The FBI and Wisconsin Department of Justice were assisting in the investigation.
Jayme Closs is 5 feet tall, weighs 100 pounds and has green eyes and blond or strawberry hair, the sheriff's department said. Barron, a city of 3,400, is about 75 miles northeast of Minneapolis, Minnesota.
CNN's Ray Sanchez and Eric Levenson contributed to this report.