(CNN Business) —
One year ago, with more than 3,500 business leaders and government officials in attendance in Riyadh, Crown Prince Mohammed bin Salman announced that Saudi Arabia was open for business.
Smart Take
A year ago, Crown Prince Mohammed bin Salman wowed prominent foreign investors with plans to modernize Saudi Arabia's economy and reduce its dependence on oil.
Events since then have rattled global executives. Allegations — denied by Saudi Arabia — that journalist Jamal Khashoggi was murdered inside its consulate in Istanbul could be a dealbreaker for many.
The crisis could throw the prince's reform plans into doubt. A major conference later this month will be a key test of international support. Some speakers and partners are already pulling out.
The kingdom unveiled plans to build a $500 billion metropolis. The mood was upbeat. Bin Salman promised global CEOs and foreign investors that Saudi Arabia was heading down a new path of tolerance and engagement with the rest of the world.
Many were convinced, including Colony Capital CEO Tom Barrack, who told CNN at the time that the government was committed to creating an environment that would be "transparent, secure, stable and understandable."
Now businesses and CEOs are distancing themselves from Saudi Arabia over the disappearance of journalist Jamal Khashoggi, threatening the country's bid to transform its oil-dependent economy.
Turkey claims to have evidence that Khashoggi, a US resident and columnist for the Washington Post, was murdered inside the Saudi consulate in Istanbul early this month — an accusation the kingdom strenuously denies.
But the unexplained disappearance of Khashoggi, a former Saudi government adviser turned critic, has already prompted some big-name business partners to cut ties with projects that are central to bin Salman's hopes of building a modern economy with technology at its core.
British billionaire Richard Branson has pulled back from two projects to develop Red Sea tourism and has suspended talks with the Saudi government about a $1 billion investment in his space companies.
"I had high hopes for the current government … and its leader Crown Prince Mohammed bin Salman," Branson said in a statement.
"What has reportedly happened in Turkey … if proved true, would clearly change the ability of any of us in the West to do business with the Saudi government."
Saudi Arabia's plan to develop 100 miles of sandy coastline while protecting the Red Sea environment was one of the first detailed initiatives to emerge from bin Salman's Vision 2030, an ambitious program to end the kingdom's addiction to oil.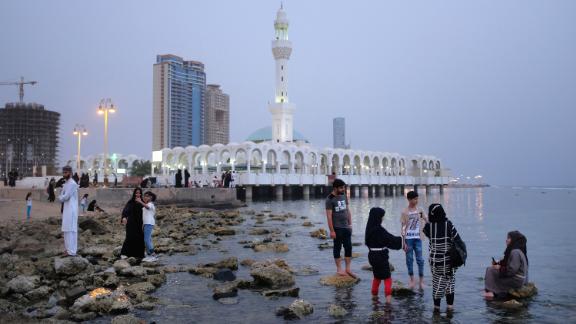 Sean Gallup/Getty Images
A second flagship project — building a futuristic zero-emissions mega city known as NEOM — is also running into trouble.
Advisers quit mega city project
Dan Doctoroff, CEO of Alphabet (GOOGL) subsidiary Sidewalk Labs, Silicon Valley entrepreneur Sam Altman, Tim Brown, CEO of design company IDEO, and Ernest Moniz, a former US energy secretary and the CEO of Energy Futures Initiative, have said they won't work with NEOM, at least for now, despite being listed as members of its advisory board.