Hurricane Michael is here, and needless to say, there's a lot at stake. Not only is it the first Category 4 storm to hit this part of the Florida panhandle, but its high winds and storm surges are threatening to do serious damage as it heads north.
Which key sites and cities are in Michael's path? Here are just a few:
Air Force bases
Several important Air Force bases and air fields lie in the path of the storm between the Florida panhandle and South Carolina. The closest to Michael's full force is Tyndall Air Force Base, located just east of Panama City, Florida. Officials at the base on Monday issued a mandatory evacuation order for all personnel. The Department of Defense posted photos of aircraft being evacuated from Tyndall, as well as from Eglin Air Force Base in Florida's Okaloosa County. Nearby Hurlburt Field was also closed Wednesday in anticipation of the storm.
A capital city of nearly 200,000 people
While plenty of cities and towns could feel Michael's full force, none are bigger than Tallahassee, Florida's capital. The city is home to hundreds of thousands of people, Florida State University and the state's political leaders. Some are saying that how candidates respond to the storm An explosives plant

St. Marks Powder is a ball propellant manufacturing plant in Crawfordville, Florida. "Ball propellant" is essentially analagous to gunpowder, and is highly explosive. CNN has reached out to General Dynamics, the company that operates the plant, to find out more about the plant's preparations for the storm.
Nuclear power plants
Several active nuclear power plants, including the Joseph M. Farley plant in southern Alabama, are in Michael's path. But it's not as scary as it sounds.

"Nuclear power plants are the most robust facilities in the U.S. infrastructure with reactor containment structures composed of steel-reinforced concrete," reads an emergency preparedness release from the Nuclear Energy Institute. "They have proven their ability to withstand hurricanes and provide electricity to homes and businesses as soon as off-site power is restored and the electricity grid can accommodate the power."

Additionally, each plant has its own emergency preparedness protocol. Plant Farley, as the Alabama plant is known, has reduced power for some of its units so workers can better monitor Michael's progress.
Oil platforms and refineries
The Gulf of Mexico and its coastline are hotbeds of oil drilling and refinement. While oil prices and fuel availability are not expected to suffer, there still could be some hefty consequences from the storm.

The Bureau of Safety and Environmental Enforcement reported Tuesday that 75 production platforms had been evacuated, which accounts for more than 10% of all of the manned platforms in the Gulf. Eleven of the 39 total rigs currently in the Gulf have been evacuated as well.

All in all, the BSEE estimates about 40% of the current oil production and 28% of the natural gas production in the Gulf has been shut down.
Historical sites
Aside from major production plants and military bases, there are other vulnerable places to consider. Take Fort Gaines Historic Site, a Civil War-era fort perched right off Alabama's coast on Dauphin Island.

Due to its precarious location, Fort Gaines regularly suffers beatdowns from hurricanes coming inland from the Gulf, and over time the site has been threatened by erosion. Because of this, the National Trust for Historical Preservation included the fort on its 2011 list of most endangered historical places.

The site's social media accounts announced it would be closed Wednesday in anticipation of the storm surge caused by Michael. Historic sites require a lot of special care, and money, after a big storm to be restored to their former glory.
Environmental treasures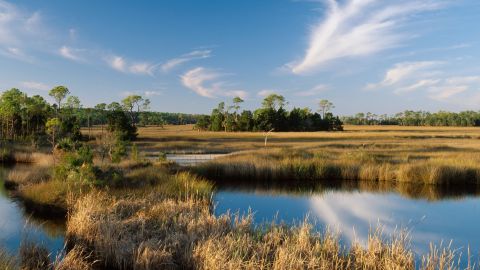 If historic sites are sometimes slow to recover after storms, environmental sites are, too. The Apalachicola National Forest, the largest national forest in Florida, is right in Michael's path, as is St. Marks National Wildlife Refuge, a 68,000-acre marshy preserve near St. Marks, Florida.

"Hurricane Michael looks to be bad! We've been told that all of the Refuge will close at noon on Tuesday and remain closed on Wednesday and perhaps longer," reads a post on the St. Marks National Wildlife Refuge Facebook page. "All gates will be locked. Say a prayer for the staff, volunteers and our beloved Refuge."
And some 84,000 homes
If nothing else, Hurricane Michael is poised to damage or destroy a whole lot of homes. According to an analysis from CoreLogic Inc., up to 84,000 homes could be at risk of damage since Michael made landfall as a Category 4 hurricane. The real estate analytics firm put early estimates of the cost of Hurricane Michael at $13 billion to $19 billion – and that's just damage to private property.

Get the latest delivered to your inbox: Sign up for Hurricane Michael email alerts here