Even those jaded by hurricanes have never seen anything like this.
For the first time, a Category 4 hurricane slammed into the Florida Panhandle. And it's bringing an onslaught of deadly hazards.
"Unfortunately, this is a hurricane of the worst kind," said Brock Long, head of the Federal Emergency Management Agency.
Here's what makes Hurricane Michael especially dangerous:
It's the strongest hurricane to ever hit Florida's panhandle
Michael crashed onto Florida's coast Wednesday with 155 mph winds – strong enough to demolish houses.
Those kinds of winds "are above typical building codes," Long said.
Hurricane Andrew in 1992 inspired tougher standards in Florida. But many older houses aren't built to withstand a beast like Michael.
"You're going to see roofs off houses. You're going to see houses collapsing," said Ken Graham, director of the National Hurricane Center.
Pine trees could become flying weapons
Florida's Panhandle is covered with thousands of pine trees. And as winds top 150 mph, those trees could turn into violent projectiles.
"You get those kinds of winds, (and) it's catastrophic damage to the trees' structure," Graham said.
And with downed trees come power outages.
"This could bring down thousands and thousands of those pine trees here – not only making all the damage along the coast but inland as well," CNN meteorologist Chad Myers said.
Graham said because this storm is "absolutely overwhelming," power outages could last weeks.
Cities far inland will feel an actual hurricane
Many hurricanes sputter out after they hit land and lose the title of hurricane.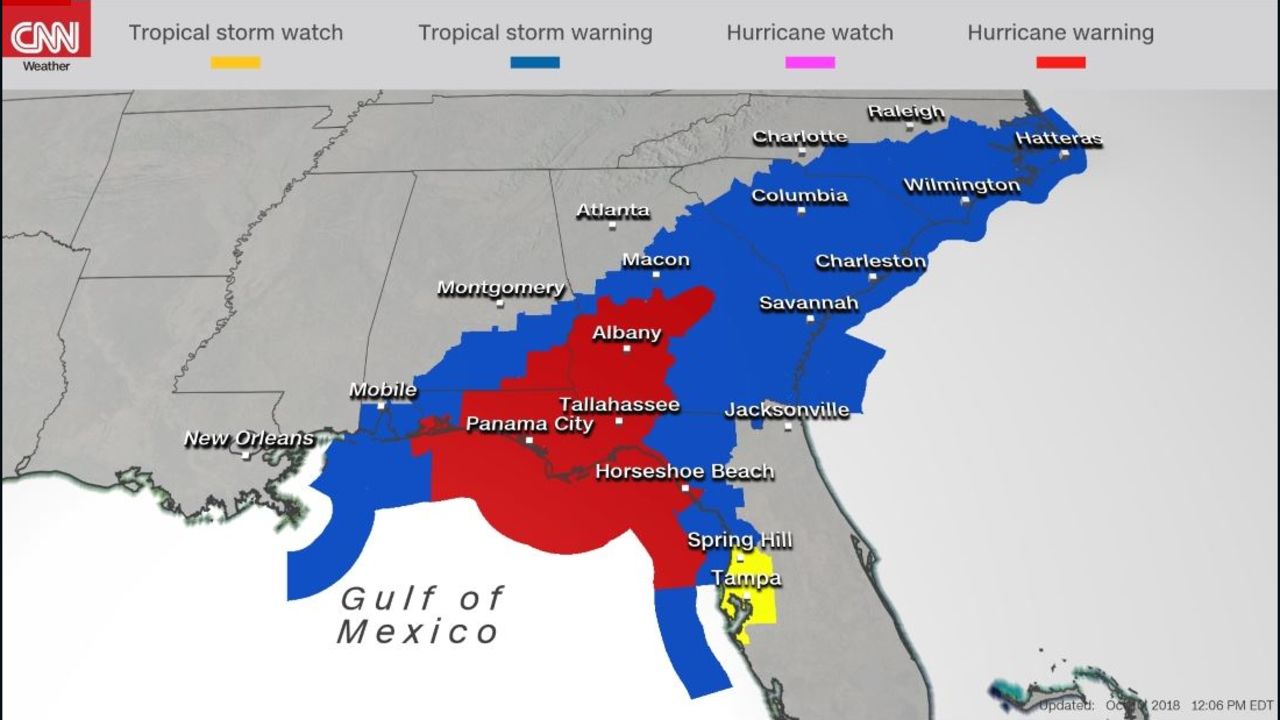 Michael plowed through the Southeast as a hurricane, with winds topping 73 mph as it crossed into Georgia. By early Thursday, it was a tropical storm with winds of 70 mph
"Because of the forward movement – the decent forward movement it has – you're going to see a hurricane stay intact through southwest and central Georgia," Long said.
"And then you're going to see rainfall through South and North Carolina, dumping 4 to 6 inches of rain in rivers that are already saturated and haven't really receded much from Florence a few weeks ago."
Storm surges could be deadly
Michael will spawn massive storm surges – or walls of ocean water – as high as 14 feet, forecasters said.
"Half of the fatalities in these tropical systems occur with the storm surge," Graham said.
The FEMA chief said storm surge is huge reason why evacuations are so critical.
"This is nothing to play around with," Long said. "Those who stick around and experience storm surge are less likely to live to tell about it."
The hurricane will likely spawn tornadoes, too
As if one cyclone weren't enough, Hurricane Michael could cause tornadoes in several states.
Tornadoes could strike the Panhandle and other parts of northern Florida, the National Hurricane Center said.
"This risk (of tornadoes) will spread into parts of central and southern Georgia and southern South Carolina this afternoon and tonight," the forecasters said.
Hurricanes that make landfall from the Gulf of Mexico, like Michael did, produce more tornadoes than those making landfall from the Atlantic Ocean, CNN meteorologist Brandon Miller said.
Hurricanes are good at producing tornadoes because they cause a lot of vertical shear – or differences in wind direction and speed at different heights.
And people living far away from the center of the hurricane aren't immune. They're actually more at risk.
Most tornadoes spawned by tropical cyclones strike about 50 to 200 miles from the hurricane's center, the National Oceanic and Atmospheric Administration said.
CNN's Jason Hanna contributed to this report.