There's nothing better than a snug sweater on a cool day, and Eileen Fisher's cashmere sweaters are some of the snuggliest we've ever seen. That's why we're excited for the deep discounts — 50% off! — on this deliciously comfortable featured fabric from Oct. 11-13. Seriously, we don't know how they do it. These sweaters are crazy soft.
But if cashmere isn't your thing, there are plenty of other looks to recommend. Eileen Fisher has always been way ahead of the curve in the sustainable fashion sector, pioneering ethically sourced and organic fabrics and dyes, humane working conditions and labor standards, and forging a supply chain that strives to be virtuous, not vicious. Heck, 25% of their garments are produced in New York or California. (By comparison, 97% of garments sold in the U.S. are knit or sewn elsewhere.) They even have an innovative clothing recycling program.
Plus, there's lots to love about The System — a set of eight Eileen Fisher pieces (four pant styles, two shells, a tank and a tank dress) that act in harmony as a modular wardrobe. No matter how you pair them, each combo forms a chic and elegant silhouette. That means no more scratching your head while you stare at your wardrobe in the mornings. And some days — you know the ones we mean — that blessed simplicity is a lifesaver.
Here's what we'll be keeping our eye on this week:
Cashmere Silk Bell-Sleeve Top ($418; eileenfisher.com)
Eileen Fisher
Look up "comfort" in the dictionary and we're pretty sure you'll find this sweater. The bateau neck, boxy fit and raglan bell sleeves make this the perfect slouchy-chic top for those days when you need a little pick-me-up for your commute from bedroom to boardroom. Did we mention it's soft? It's, like, really, really soft.
Cashmere Silk Short Cardigan ($$448; eileenfisher.com)
Eileen Fisher
Black, white, gray — minimalists love these colors for a reason. They look good everywhere and on pretty much everyone. Take this cardigan, for instance. Pair it with a white tee and comfy black pants and voila: suddenly you're Audrey Hepburn strolling down the Champs-Élysées. And while Paris is always a good idea, the cashmere silk boucle this cardigan is made from is pretty magnificent, too.
Lightweight Viscose Jersey Shirt Dress ($89, originally $188; eileenfisher.com)
Eileen Fisher
Smart and sophisticated, this sleeveless shirt dress works dressed up or dressed down. We love drawstring waists, too. Anything that puts comfort in our own hands is cool by us. Plus, we can imagine pairing this with a bright sweater or jacket for extra pop. And it's on sale!
System Washable Stretch Crepe Slim Pant ($168; eileenfisher.com)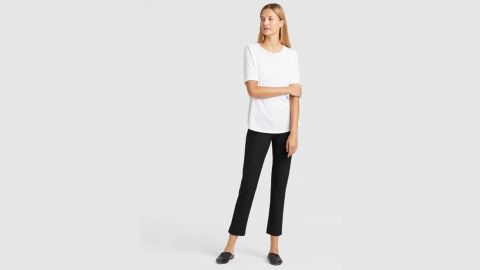 Eileen Fisher
People really like these. It doesn't get much better than 4.5 stars and 344 reviews. It's no surprise, though: slimming pants with a bit of stretch and a long, lean silhouette are about the most flattering thing for any shape. Equally comfortable casual or dressed up, these are basically the one pant to rule them all.
Baby Alpaca Chevron Scarf ($158; eileenfisher.com)
Eileen Fisher
Alpaca fur is hard to beat for comfort and warmth — that is, until baby alpaca fur steps up to the plate. Woven high in the Andes mountains, this scarf is an aesthetic powerhouse. It looks stunning, it feels stunning, and you'll feel stunning wearing it. The chevron pattern is sophisticated and elegant, pairing perfectly with any of the other pieces on this list. We love it.
Sweater Stone for Eileen Fisher ($9; eileenfisher.com)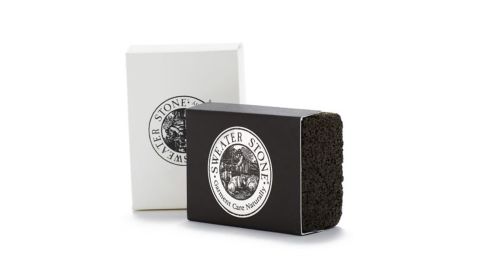 Eileen Fisher
Where has this been all our lives? Simply brush this pumice stone over pillballed knits and fabrics to keep them looking fresh. It's simple and genius and you won't regret it, especially after bagging the cashmere sweaters above.
Curly Alpaca Moto Jacket ($398; eileenfisher.com)
Eileen Fisher
Go big or go home. That's what we say. The clean, angular lines and triangular collar geometry of the classic moto jacket already makes a statement: I'm here, I'm confident and I'm taking names. Add textural alpaca weave to this formidable get-up and suddenly that sense of poise and self assurance goes stratospheric.
Note: The prices above reflect the listed retailer's information on the date this article was originally published.