The New York State Police have identified everyone in the limo crash that killed 20 people in upstate New York.
Authorities are still trying to determine what caused the wreck. They say the limousine had failed a recent inspection, and the driver – Scott T. Lisinicchia, 53, of Lake George, New York – did not have the proper driver's license.
Limo crash leaves town devastated
Seventeen of the victims were friends celebrating a birthday. The close-knit group included newlyweds, artists, athletes and young parents. Four were sisters.
The limo failed inspection. And the driver wasn't properly licensed.
"Everyone's lives were cut way too short, and I don't know what to say about it. It just hurts," Karina Halse told CNN on Monday while visiting the scene of the accident in Schoharie where her older sister, Amanda Halse, was killed.
Two pedestrians were also killed when the converted SUV hit a vehicle in a restaurant parking lot.
Here's what we know about the victims:
Brian Hough
SUNY Oswego
Brian Hough was killed in the parking lot of the Apple Barrel Country Store & Cafe when the limo slammed into an unoccupied SUV.
Hough was an associate professor of geology at State University of New York at Oswego, also known as SUNY Oswego, where he taught courses in stratigraphy, oceanography, historical geology, and paleontology, according to the university.
He had been there since 2016.
"In a short time, Brian became a major part of our campus family," said SUNY Oswego President Deborah F. Stanley in a statement. "He was a dedicated faculty member who inspired his students to learn and understand at a deep level, and whose contributions were often sought by his colleagues. He will be missed and remembered fondly by all, always."
James Schnurr, 70, was also killed in the parking lot.
Amanda Halse and Patrick Cushing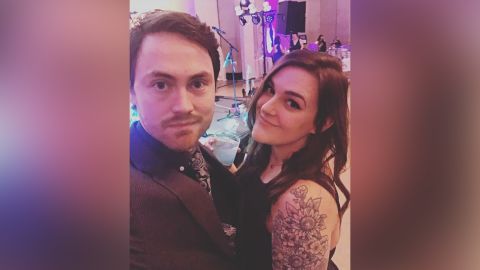 Courtesy Karina Halse
Amanda Halse was an artist and the peacekeeper in the family, her sister said.
"My big sister was so great and she was so wonderful. She was such a spontaneous person, and she did whatever she could to have fun with anyone and everyone around her," Karina Halse said.
They had gotten together last weekend for a day trip to Vermont with their mom.
"It was just a nice get-together for all three of us girls to have a nice day out," she said. "It was a nice sendoff, I guess, because that would be the last time I would ever see her in person."
Patrick Cushing, Amanda Halse's boyfriend, also died.
Cushing worked in the New York Senate's technology service unit and played for the US Dodgeball team, which described him on Facebook as an amazing friend and "one of the most agile and dominant players in the world."
Justin Cushing said his brother was passionate and good-hearted.
"He had such empathy and kindness. He loved, hugged, and cried with his friends and family like their problems were his, and celebrated with those same family and friends like our successes were his personal goals," he said.
Shane and Erin McGowan
Shane and Erin McGowan married in June, and her aunt said they were "two of the sweetest souls you could ever meet."
"They were both just soul mates because they just radiated love and beauty and how a marriage should be," Valerie Abeling told CNN. "They were just loving and funny and kind and everybody loved them and they were so good together. Their lives were just cut short too soon."
Amy, Axel and Rich Steenburg
Newlyweds Amy and Axel Steenburg also married in June. In her last public Facebook post, Amy gushed about her husband.
"I just wanted to say Axel Steenburg I love you more than words can say! You are such an amazing man and entertain all my crazy ideas. Even when I move a couch just to move it back to the original place. Thank you for being so kind and loving xo #justbecause #husband," she wrote.
Axel's brother, Rich Steenburg, also was in the limo, their aunt Jessica Andrews confirmed to CNN affiliate WHAM.
Amy Steenburg's three sisters – Abby Jackson, Mary Dyson and Allison King – were killed in the crash, said state Assemblyman Angelo Santabarbara.
"The Steenburg and King families suffered tremendous loss yesterday that is nothing short of tragic," Rich Steenburg's family said in a statement to CNN affiliate WHAM in Rochester
"Those left behind by the perished include children, spouses and parents – among others. We thank all of the first responders who have assisted, those who have reached out with kindness and love and those who continue to support us as we mourn those we lost. We also ask for respect and compassion as we continue the grieving process and cope through such misfortune."
Abby and Adam Jackson
Abby and Adam Jackson had two young children. "Adam and Abby were amazing parents to these girls and taken much too soon," Sarah Maltzman, a family friend, wrote on a GoFundMe page set up to pay for college and expenses for the daughters.
Abby Jackson was a middle school special education teacher in Amsterdam, New York, according to Santabarbara, the state assemblyman.
Rob and Mary Dyson
Mary Dyson was a coach at a Crossfit gym in Watertown, New York. The gym had a special workout Monday in her honor.
"She will be cheering us on and laughing at some of us!!" organizers wrote in a post on the gym's Facebook page.
Amanda Rivenburg
Her husband, Rob, also was killed.
Living Rescources
Amanda Rivenburg worked with people with disabilities, and had been with the Albany-based Living Resources since 2011.
In a letter to employees, Living Resources CEO Fredrick W. Erlich said Rivenburg was "deeply loved by all those that knew her."
"She will be remembered fondly through her loving spirit, wonderful smile, thoughtful nature, and her genuine commitment to her colleagues and individuals that we serve," Erlich said. "Over the last couple of days, many have shared wonderful memories of Amanda and we encourage you to continue to do so. It is through these heartfelt memories that her spirit will live on in each of us."
Rivenburg started as a direct services professional and had worked her way up to become the assistant director of the day communities opportunities program.
Savannah Bursese
BRBS Family Funeral Home
Savannah Bursese was a bodybuilder devoted to her pit bulls.
Bursese graduated in 2015 from Hartwick College in Oneonta, New York, with degrees in political science and business administration, the school said on its Facebook page.
She was a sister of Phi Sigma Phi and on the school's volleyball team.
According to her obituary, Bursese was saving up to move to Texas to pursue a law degree.
Even though she was only 24 years old, her life "was anything but tragic," her obituary said. "A passionate and determined young woman, Savannah knew exactly what she wanted out of life."
The obituary stressed her love for animals and said her family is comforted that she will be reunited with "the first love of her life" – a chihuahua named Gino.
"Rather than grieving, go home to your fur baby, and show them some love – it's what Savannah would have wanted," they wrote.
Matthew W. Coons, Rachael K. Cavosie and Michael C. Ukaj were also killed.
CNN's Polo Sandoval, Carma Hassan, Stella Chan, Spencer Parlier, Kristina Sgueglia, Janet DiGiacomo, Amanda Jackson and Patrick Cornell contributed to this report.