(CNN) —
The community of Pike County, Georgia, came together Thursday to honor a football player who died after being injured in a game last week.
Dylan Thomas, the 16-year-old linebacker for Pike County High School, died from a head injury Sunday, two days after he fell unconscious during a Friday night game.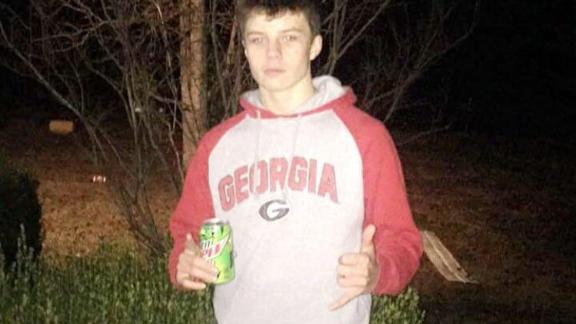 Dylan Thomas / Facebook
His death sent shockwaves through the tight-knit rural community in and around Zebulon, where Dylan's Pike County Pirates play.
Hundreds of people showed up for the afternoon service at Oak Hill Baptist Church, where signs of football were prominent.
Dylan's teammates and members of the junior varsity team wore their red jerseys, just as his family requested. The number 32 was scrawled in red on car windows in the church parking lot, some accompanied by the words "Dylan Strong."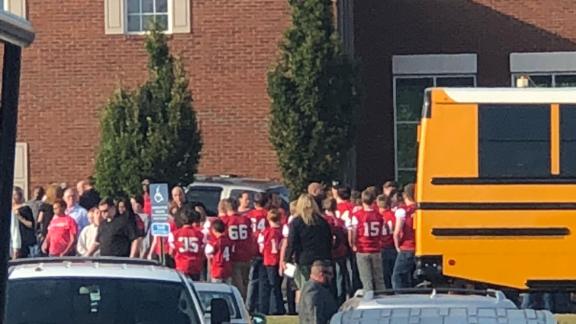 Joey Hurst
Media was prevented from attending the service, and school buses blocked the entrance to the church.
Football players from Peach County, the team the Pirates were playing when Dylan fell unconscious, also attended the service in their gray jerseys. The hour-plus bus trip to Thursday's memorial service was quieter than a normal bus ride, with everyone knowing what was in store, Peach County Football Coach Chad Campbell said.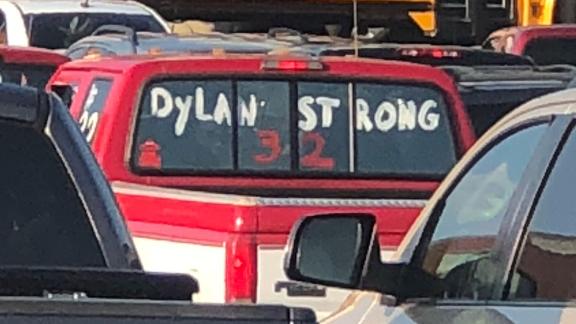 Joey Hurst
"It's a tough time, we just want to be here and show our support," Campbell told reporters before the service.
Peach County's team experienced the loss of two players two years ago in a car accident, and "we know what they're going through," Campbell said.
"Knowing from our circumstances a couple years ago, it made our community get closer, and sports unites everybody, no matter whatever sport it might be," he said. "I just hope it makes you realize that every day you wake up is a great day. It's a tragic situation. Hopefully something good will come out of it for all involved."
Footage of Dylan's final game, released by Pike County High School, does not clearly show any traumatic or catastrophic hits to his head. He died on Sunday from a head injury that first showed its impact in the third quarter, when he came off the field and said his leg was feeling weird, coach Brad Webber said. He later became incoherent and lost consciousness on the sideline.
Campbell said he spoke with Pike County Coach Brad Webber to offer support. Campbell said he and his staff reviewed video of the game "over and over again from every angle" for possible signs of what could have caused Dylan's injuries.
"There's no definitive play that you can say 'hey this might be what's it,'" he said.
Dylan's death revived conversations about head injuries in football players, especially children, among concerned parents in the community and nationwide.
Despite the uncertainty, Dylan's death won't stop him or his team from hitting the gridiron, Campbell said.
"It's a great sport. It teaches these young men a lot. I know people have concerns – and I had concerns when my daughters were driving their vehicles, you know? Doesn't matter what kids will do, parents always worry about their kids when they leave home," he said.
"I love football and I know a lot of people do. It's just one of the very few tragic situations that ever occurred," he said. "Parents are gonna be parents and they're gonna do what's best for their kids."