Survivors of rape and sexual assault took to a stage in front of the US Supreme Court on Thursday to ask their senators: Do you believe us?
"My name is Teresa, and I'm a proud mom," said one woman from Arizona. "Senator (Jeff) Flake: Do you believe that survivors matter? Believe me. And believe us."
Throughout the day, the women and their allies who came to Washington, DC, to protest Brett Kavanaugh's nomination to the Supreme Court drove that point home again and again: "We believe survivors."
That Kavanaugh may be confirmed after Christine Blasey Ford accused him of sexual assault sends a message to young women all across the country, said Madison Thomas, a survivor and an organizer with the Women's March Youth Empower organization.
"What the hearings told me was that our country, our congressmen, value the reputation and the career aspirations of my male classmates, of men, of my assaulter, more than my bodily autonomy," Thomas said.
Congress was effectively telling girls across the country "that if they come forward with their stories, if they share their truth, they will be ridiculed," she said. "And they're telling young boys that they won't be held accountable for their actions and that they can have fun at the expense of women."
Protesters echoed that sentiment all afternoon as they marched to the Supreme Court, where they held a rally before making their way into US Senate office buildings.
"We believe Christine Ford, we believe Anita Hill!" they chanted. "Hey hey! Ho ho! Kavanaugh has got to go!"
Everywhere they went, demonstrators linked arms and carried signs, many of which read "KavaNOPE," and said the judge was "unfit to serve."
'To give this country an opportunity to be different'
"A man who has been credibly accused of sexual assault has no place making decisions on women's bodies for generations to come," protester Samantha Dercher told CNN Thursday.
She carried a sign depicting the tense moment late last week when Republican Sen. Jeff Flake was confronted by a survivor of sexual assault. He later called for an additional FBI investigation into sexual assault allegations against Kavanaugh. Senators were reviewing the FBI's findings Thursday.
Ana Maria Archila, co-executive director of the Center for Popular Democracy, was one of the women who confronted Flake last week.
"What happened in that elevator was the result of thousands and thousands of women survivors and survivors of all genders," she said, "who are doing something incredibly dangerous and incredibly generous."
"We're doing it," Archila added later. "We're overcoming our fear and our pain and our rage to give this country an opportunity to be different. That's what this nomination is about."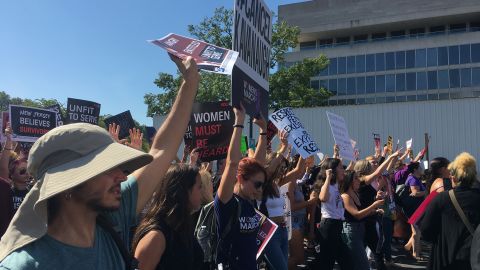 Activists like Elizabeth Kennedy – who hoped to put pressure on a small group of key senators who remain undecided on Kavanaugh's nomination – boarded buses in New York before sunrise Thursday morning to make the journey to Washington.
Earlier this week, President Donald Trump said that this is a "very scary time for young men in America, where you can be guilty of something you may not be guilty of."
"I think it's deeply problematic and concerning," Kennedy said of Trump's remarks, "because it's sending a message that it's not just about believing survivors, it's about the fact that we don't care about their experiences. … It's important to remind us that we need to value those voices."
'November is coming'
By the time protests had gotten underway, it was clear that GOP senators felt confident Kavanaugh's confirmation was all but guaranteed.
But demonstrators told CNN's Joe Johns that they were calling attention to the issues at play, even if they wouldn't ultimately block Kavanaugh from becoming a Supreme Court justice.
Protesters streamed into the Hart Senate Office Building in the late afternoon and began a sit-in.
As officers lined protesters up against the wall, the crowd chanted "No justice, no peace," "We will not go back." The words "November is coming" echoed beneath the lofted ceiling.
Throughout the afternoon, the crowd outside the Supreme Court repeatedly broke into cheers of "We believe you!" each time a survivor was handed the microphone.
"I know these last few weeks have been painful, painful for so many people, so many of us around this country," Sen. Kirsten Gillibrand of New York told the crowd.
"Because we see so many men in power not listening to women, not believing women, not understanding why these stories matter, not believing survivors, not standing with survivors, denying survivors the right to be heard."
There was at least one moment of celebration: A roar went up from the crowd when it learned that Democratic Sen. Heidi Heitkamp of North Dakota, a red state, said she would vote against Kavanaugh's confirmation.
Many of the speakers directed their ire toward a handful of senators who were undecided on how they would vote – specifically Sen. Flake of Arizona, Sen. Susan Collins of Maine and Sen. Lisa Murkowski of Alaska.
Marie Follayttar, a co-director of Mainers for Accountable Leadership, told the protesters she had a message for Sen. Collins.
"In less than two months, 70,000 people joined me and pledge to fund your future opponent if you vote to confirm Kavanaugh," Follayttar said. "We have raised almost $2 million. And if you vote to confirm him, we are not stopping. We are coming for your Senate seat."
In Los Angeles, about 100 protesters gathered in the heart of Hollywood on Thursday to protest Kavanaugh's nomination. Organizers said the event was attended by survivors of sexual assault and their allies.
As protesters did in Washington, they chanted, "We believe Christine Ford! We believe Anita Hill!" Another chant was "No Justice, No seat!"
Some constituents protested outside their senators' offices. In Arizona, four women were arrested on charges of criminal trespassing during a protest outside Sen. Jeff Flake's office in Phoenix. Some protesters dressed up in costumes from the TV series "The Handmaid's Tale." The red costumes resembled the dress of the handmaids, who in the television show are forced into sexual servitude under the totalitarian government that has taken over part of the United States. In the show, their reproductive rights are stripped away.
CNN's Stephanie Elam and Jason Kravarik contributed to this report