(CNN) —
The only thing more potentially devastating to our country than Brett Kavanaugh being railroaded onto the Supreme Court would be if, while the spotlight is on Sens. Susan Collins, Lisa Murkowski and Jeff Flake, a Democrat enables the decisive vote.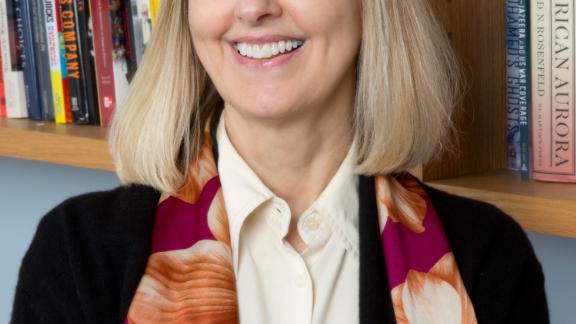 Martha Stewart
We've seen this movie before, where Democrats fumbled a chance to restore moral prestige to a damaged institution by blocking a nominee with extreme baggage: Last May, they clinched the confirmation of Gina Haspel as director of the CIA, putting a face many associate with exported American torture on an agency with decades of blood and sin to atone for, including the George W. Bush "enhanced interrogation" era in which Haspel thrived. (Haspel, who faced criticism during her confirmation hearings for her role as head of a "black site" in Thailand, gained Democratic Sen. Mark Warner's support with written assurance that she would as director "refuse to undertake any proposed activity that is contrary to my moral and ethical values" – though she declined to say whether torture was immoral.)
In addition to the three Republican fence-sitters, there has been a possibility that one or two Democrats waging tough re-election battles in Trump-loving states – Heidi Heitkamp (North Dakota) and Joe Manchin (West Virginia) – will cast a prophylactic "yea." On Thursday, Heitkamp announced she would vote no. But any Democratic complicity in elevating Kavanaugh will mean that the cancer on this presidency, already in stage "what did he know and when did he know it," has metastasized to the opposition. And with the nation's highest court poisoned in the process, the threat of collapse for the body politic would only grow.
Donald Trump recently called the Democrats "this horrible, horrible, radical group," which is "determined to take back power by any means necessary," while campaigning against Manchin in Wheeling, West Virginia. That was where Sen. Joe McCarthy launched his own lie-based assault on civic norms in February 1950 by brandishing "here in my hand a list of 205" Communist traitors in the State Department. Manchin initially seemed perfectly willing to vote for Kavanaugh – and as of this writing is still undecided. And so he finds himself the unlikely "conscience of the Senate," a title once bestowed on Alabama Democratic Sen. Howell Heflin. That ur-Blue Dog cast a critical judiciary committee vote in 1987 to deny a Supreme Court seat to Robert Bork. The other politically bold vote of conscience highlighted in his New York Times obituary was against a court seat for Clarence Thomas.
Will Manchin follow the example of the conservative Democrats who allowed Thomas to martyr and arguably perjure his way on to the Court? Or will he say: We cannot abdicate to Realpolitik when democracy is on the brink?
The Democrats could have established cover for Manchin and Heitkamp well before Christine Blasey Ford stepped up with her sexual assault allegations against Kavanaugh. Once the Republicans withheld some 100,000 pages of relevant Kavanaugh documents under unprecedentedly broad claims of executive privilege, the Democrats should have mustered an opposition based solely on the integrity of the confirmation process. Yet not even the Democrats'$2 2016 vice-presidential standard-bearer, Tim Kaine of Virginia, found the words to say: If I am asked to confirm a nominee whose knowable record has not been disclosed, my default answer is no.
Instead of a face-off between Team Ford and Team Kavanaugh, the real conflict was already evident – one between Team Process and Team Abuse of Process. But now the Republicans could use any shadow of a "he said, she said" doubt to retroactively white-out the numerous other deceits Kavanaugh has advanced under oath dating back to confirmation hearings in 2004 about his role as a Bush political operative promoting judgeships with the help of stolen emails and discussing torture and surveillance policies.
This favorite fact-bending ploy of Republicans is a cousin of the Big Lie strategy reflected in Kavanaugh's overdetermined denials, with their easily disprovable garnishes of arrogance (such as: "She and I did not travel in the same social circles"). The Minor Inconsistency is likewise deployed to "refute" (in Kavanaugh's specious sense of the word) a fundamental truth. Thus, the serial untruths (notably about the timing of his awareness of the Debbie Ramirez sexual misconduct allegations) that might have added up to a process-based perjury offense for the Democrats – "How much mendacity is too much for Republicans to accept in a Supreme Court justice?"– is batted into a rim shot by the Republicans' insistence on trial-level corroboration of a sexual assault charge.
Republican double standards have been throwing Democrats off balance since at least the days of Joe McCarthy, who forms a devil's triangle with Trump via their mutual fixer, Roy Cohn. A New York Times review of William F. Buckley Jr.'s 1954 celebration of the Communist-hunting senator, "McCarthy and His Enemies," pointed out, "Mistakes, in this book, are not tolerable when made by non-McCarthyites. When made by McCarthyites, however, and especially by Mr. McCarthy himself, they call only for a gentle chiding." And so Team Kavanaugh's extraordinarily reckless mistaken-identity scenario – burnished by the PR firm that Swiftboated presidential candidate John Kerry in 2004 – becomes a mere "oops" once the theory has been conveniently injected into the Fox bloodstream.
Meanwhile, Democrats on the Senate Judiciary Committee eschewed the energy of insurgency mounting outside the chamber against Republican zeal to plow right through – steering clear of the anonymous accusers and a witness produced by lawyer Michael Avenatti, the rare streetfighter on the Democratic squad.
But the Republicans, who have parlayed "no sense of decency" into vile political theater, will undoubtedly recycle those "We Believe All Survivors" signs carried by Team Ford as payback against Democratic nominees for the "false accusations" against their guy. Or in the prophecy of Kavanaugh himself, "What goes around comes around." The Democrats refrained from pointing out the karmic irony of Bill Clinton's pornographic Boswell being forced to answer questions about what the meaning of the word "boofing" is.
Get our free weekly newsletter
If no Republicans defect from Kavanaugh, it would be nice if the Democrats denied them the fig leaf of "bipartisanship" and mounted a unanimous dissent, something to make their grandchildren, their party and maybe one day even their country proud. They must realize we cannot normalize lying in a legal system whose very authority depends on the presumption of truth telling. The reward of being on the right side of history is the reason we know the name of Justice John Marshall Harlan, the lone dissenter in Plessy v. Ferguson, but not the "separate but equal" majority opinion author (Henry Billings Brown, Yale 1856; I Googled).
And that's why Atticus Finch, who did his righteous duty in the face of futility, is the most respected lawyer in America. A few months before her death in early 2016, Harper Lee knowingly destroyed her great American hero from "To Kill a Mockingbird" by releasing a long-ago-rejected first novel in which Atticus is the champion of white segregationist privilege. Perhaps she foresaw the swamp into which the rest of our national myths would sink come Election Day.
This article has been updated to reflect Heidi Heitkamp's Thursday statement.