Story highlights
ThirdLove, a direct-to-consumer bra brand, launches new collection of cotton bras and underwear
Shop now for the new styles available in four stylish colors
(CNN) —
ThirdLove, a direct-to-consumer lingerie brand, has bra fitting down to a science. The female-run startup, which launched in 2013, has turned into a cult-favorite bra brand — and it's easy to see why.
Now offering bras in over 70 sizes (including half-cups), ThirdLove's thoughtful dedication to creating functional, flattering bras has shaken up the bra and underwear industry. By shopping ThirdLove's various bra styles, women everywhere can find an option that feels as good as it looks — which as it turns out, is no small feat for almost 80% of women.
On Thursday, ThirdLove announced an exciting new launch — its new cotton collection (!) — which took more than two years to develop. According to the brand, the No. 1 request they've gotten from customers is a "bra "that women could live in, day in and day out." This new line of 24/7 Cotton T-shirt Bras ($68; thirdlove.com) definitely fits the bill.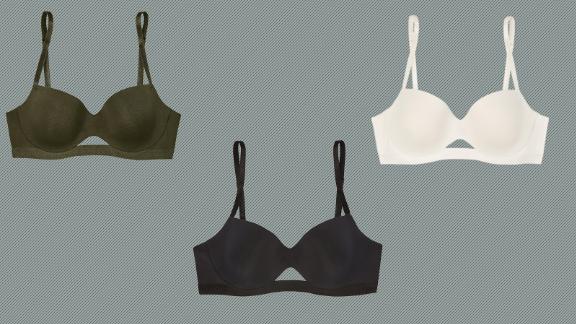 Available in four colors, the new style fits comfortably because it's both seamless and made from luxurious Pima cotton. With memory foam cups and a comfortable double-layer band, the bra sits undetected beneath T-shirts and tops, making it the perfect everyday bra. When ordering, customers can also complete the set by choosing from the various matching bottoms, including the Cotton Hipster or Cotton Thong bottoms ($12 or 3 for $30; thirdlove.com).
What makes these bras and underwear different has to do with ThirdLove's approach to getting the fit right. Unlike other brands, ThirdLove doesn't rely solely on sizing templates. Instead, they've created the Fit Finder® tool, a 60-second questionnaire that narrows down which size and styles will suit you best. To get the most accurate read, ThirdLove asks a handful of quick questions, including which brands you normally buy, specifics regarding your bra's usual fit, and whether you're normally between sizes and would need a half-size cup.
We tried it and were seriously impressed. Now's your chance to get it right in the lingerie department.
Note: The prices above reflect the retailer's listed price at the time of publication.