(CNN Business) —
At a machinery firm near Shanghai, China's sprawling business capital, engineers rely on the United States for parts they need to make precision measuring equipment for automakers and other industries.
Smart Take
The trade war with the United States could help China's economy in the long runThe tariffs are pushing Chinese companies to upgrade technology to become more competitiveThe conflict is also expected to prompt Beijing to double down on efforts to boost homegrown innovation
But the company, Suzhou Osaitek Photoelectric Technology, is now speeding up plans to produce the components itself, according to He Zhongya, its chief engineer.
The reason? New tariffs in the trade clash between the United States and China have made the American-made parts too expensive.
The company, which employs about 100 people, would have made the shift to local production eventually, but "the trade war accelerates the transition," He told CNN.
The world's top two economies have imposed tariffs on hundreds of billions of dollars of each other's goods. The measures are expected to take a heavier toll on China's economy, which relies more on exports and has already started losing steam this year.
But the conflict is encouraging Chinese companies and government officials to move ahead with changes that could eventually make the economy more competitive and more appealing to foreign investors.
"The crisis incentivizes China to develop faster," said He.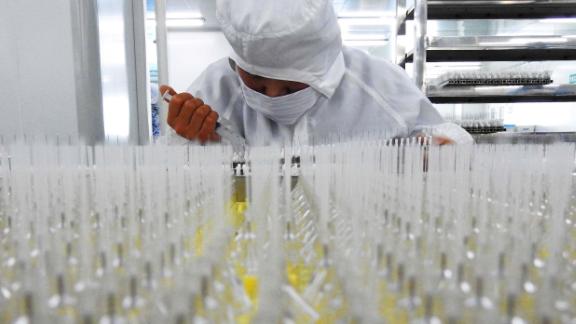 AFP/Getty Images
'Doubling down' on tech
The US Commerce Department starkly exposed China's reliance on American technology this year when it blocked US companies from selling vital components to Chinese telecommunications hardware maker ZTE, forcing it to halt almost all of its operations.
In China, ZTE's crisis reinforced the belief that the country needs to become more self-sufficient.
"You're going to see probably more intensive efforts at domestic innovation," said Scott Kennedy, an expert on the Chinese economy at the Center for Strategic and International Studies.
OECD
But developing advanced tech industries, such as semiconductors, while cutting dependence on the United States "will be difficult" in the short term, he cautioned. That's because Chinese companies rely heavily on American-made chips to build smartphones and mobile networks.
Beijing's aggressive campaign to build more sophisticated manufacturing industries is one of the US government's main grievances in the trade war. The Trump administration has accused China of using unfair practices, such as intellectual property theft, to get hold of American tech secrets. The Chinese government disputes the allegations.
The deteriorating relations with the United States may prompt China to step up cooperation on advanced technology with Japan, South Korea, Israel and European countries, Kennedy said.
Beijing has been pushing through reforms in areas like intellectual property protection in recent months as it seeks to encourage the development of more homegrown technology, according to Kenny Liew, an analyst at research firm Fitch Solutions.
"The government is doubling down," he said. "The trade war will de