People get worked up over the Lamborghini Urus. Even people who could never afford a Lamborghini get upset by the idea of yet another automaker making yet another SUV.
To the accusation of pandering to the SUV-enthralled masses, Lamborghini's best defense is that it has created an awesome machine. Lamborghini's engineers and designers successfully imbued an SUV with the excitement of a supercar. The Urus has the soul — the sound, the speed, the quickness — of a genuine Lamborghini. With a starting price of $200,000, it also has the price tag. But, as Lamborghinis go, it's a moderate extravagance.
Executive Brief
The Lamborghini Urus puts supercar performance in an SUV package.
The Urus is quick, responsive and thrilling.
Those not used to piloting a supercar may find some controls annoying.
And on that, the defense can rest.
One thing that doesn't fit the Lamborghini archetype is the Urus's turbocharged V8 engine. Lamborghini typically uses bigger V10s and V12s. But you won't care. It can make 650 horsepower, which is a little more than you can get from the engine in Lamborghini's Huracán supercar. Granted, the Urus is bigger and heavier. But with this much power, it's capable of reaching 60 miles per hour in just 3.5 seconds. And it does it with all the proper pops and snarls you'd expect from an Italian supercar.
This SUV's cornering ability is shocking. The Urus takes a turn more aggressively than any SUV I've driven or could even imagine. Going fast through the curves of a mountain road in California, the Urus never felt as if it was anywhere near its limits — even as I pulled away from a pack of Ford Mustangs following behind me. It was exhilarating enough that, except for the fact that I was higher off the ground than I would be in any other Lamborghini, I could almost forget I was in an SUV at all. Steering is quick, connected-feeling and responsive.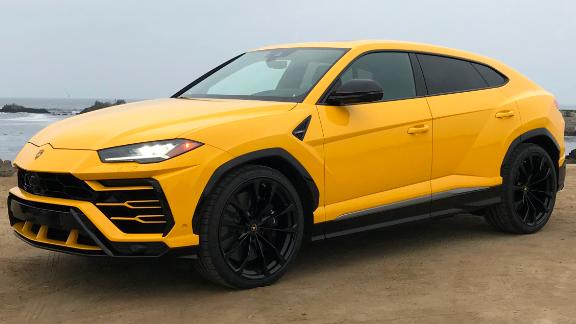 Peter Valdes-Dapena/CNN
A small lever allowed me to put the Urus (Lamborghini pronounces it oo-ROOS) in one of several driving modes. Burbling patiently in heavy traffic, I opted for Strada, or Street, mode in which the Urus was comfortable and its aggressive tendencies were mellowed. When I approached a fun stretch of mountain road, I put it in Sport Mode and the Urus came alive. Its suspension stiffened a little, the steering quickened, the SUV bolted more aggressively at a press of the gas pedal and the engine roared louder. I tried Corsa, or Track, mode when I wanted to see what the Urus felt like at full attack. There are also modes for sand, snow and rough terrain, as well as an Ego mode that