(CNN Business) —
New York has a new Playboy Club — again.
More than three decades after its previous Manhattan outpost closed its doors, the 42nd Street lounge opened in September. There were the cotton-tailed waitresses and "membership keys." Martha Stewart, Robin Thicke and other celebrities made opening-night appearances.
But in the post-#MeToo era — when Miss America is eliminating swimsuits, when Hooters is shutting locations, when every news cycle brings a new thread about consent and feminism and the "pink wave" of women in politics — what exactly is Playboy hoping to tap into with its new club?
Executive Brief
Promoting the "Playboy fantasy" is a key part of the Playboy path to success.
The clubs were extensions of the Playboy brand, which was once an authority on men's issues, politics, culture and lifestyle.
The Playboy experience
In 1960, Hugh Hefner cut the ribbon on the first Playboy Club in Chicago. Two years later, the New York club opened between Fifth and Madison Avenues. In their 1960s and 70s heyday, the clubs positioned themselves as a real-life version of Playboy magazine.
"When I was a kid, I used to walk by the Playboy Club," says Richie Notar, creative director of the new Playboy Club. "And I'd look in and say, 'I can't wait to be 21. I'll get a key and be a grown-up.' It had nothing to do with the bunnies. It represented a martini and a jacket, being a grown-up."
But it wasn't all so glamorous.
Feminist legend Gloria Steinem famously infiltrated the club in 1963, posing as one of the bunnies and later writing a tell-all magazine piece. She described long hours, less-than-glamorous work and tales of women shoving Kleenex and cut-up Kotex inside their bras, all to fill out the costume per guests' fantasies.
That fantasy has always been a big part of Playboy's success, says Mara Einstein, professor of media studies at Queens College.
The Playboy Club is trying to enliven an decades-old brand with deep associations, many of which feel out of sync today, for a generation of customers who appreciate a brand experience.
"Millennials are very experiential-oriented. It's not about just buying a brand, it's about experiencing a brand," she says. "If you're going to create a retail space to engage with the brand — from that perspective, it makes all the sense in the world."
After the start of the Chicago and New York clubs, franchises later spread to cities like Des Moines and Lansing, Michigan, and even celebrated openings in Manila and Japan.
But even in a period of such expansion, these far-flung lounges struggled to make money.
"I think if I'd been smarter I would have recognized that [we were diluting the clubs' glamour]," Hefner told Vanity Fair. "I think that in some ways we became the victims of our own success."
By the late 1980s, poor attendance forced the last official US Playboy Clubs to close.
In the decades since the old clubs shuttered, the magazine has acted as consumers' primary introduction to the Playboy brand. But the new clubs aim to change that.
"We want to focus on what we call the 'World of Playboy,' which is so much larger than a small, legacy print publication," CEO Ben Kohn told The Wall Street Journal in January. "We plan to spend 2018 transitioning it from a media business to a brand-management company."
In 2016, Playboy announced it would no longer publish fully nude photographs in the magazine. But the dramatic relaunch only lasted a year — by late 2017, naked centerfolds were back.
With Hugh Hefner's death and the selling of his famous mansion, that "World of Playboy" has fewer ambassadors, Einstein says. The Club may be its last effort to reach a new generation of consumers.
But, Einstein cautions, the brand needs to update. So far, Playboy has been relying heavily on nostalgia for the clubs and the bygone era they represent.
"Well, they've reopened the club, but they haven't changed the mythology," she says. "The mythology is Hugh Hefner sitting in a mansion with a bunch of women with no clothes on."
Life as a bunny
The Playboy Club has always had an important rule: "Don't touch the bunnies."
That's something very important to the new club, too, Notar says.
"If there is anyone who felt it was OK to touch, that's not someone we have inside our four walls," he says. "You do so much work, putting in everything — 'How is the silverware laid out?' 'What's the lighting?' — and it takes one table of drunk knuckleheads to throw off the whole thing. So you have to comb your clients and you have to teach them as much as anyone else."
In a world where women are lifting the veil on a systemic culture of harassment — one that often leads to bartenders fighting off customers and waitresses battling handsy clients — there's something to be said for a workplace that stands by such a rule, says Andi Zeisler, author and co-founder of Bitch Media, a feminist media company.
"I could absolutely see where a 'glamorous' job adjacent to a lot of rich people, where you have a screen of protection that you would not have if you were working at a regular restaurant … I'm sure that if you posed a choice to a lot of women and it was the same wages, same hours, and emphasized the fact that the Playboy Club seems sincere about wanting to protect its workers, that would be more attractive," Zeisler says.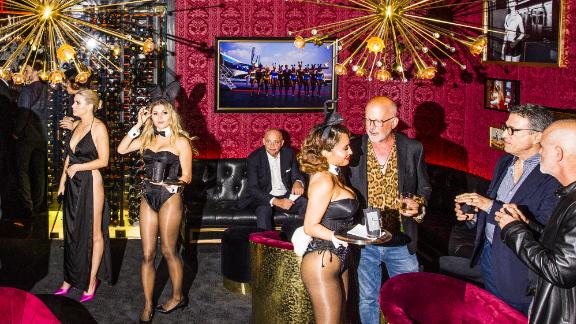 Bloomberg/Bloomberg/Bloomberg via Getty Images
Angie Castillo, a bunny working at the new club in New York, says she hasn't had an issue with customers feeling "entitled" to more than waitress service.
"I understand that people are going to have a couple drinks and they're going to want to grab or whatever, but most people respect you and they respect your space," she says.
When she first got measured for her satin ears and bunny tail, Castillo says the fitting felt like "a moment I won't forget."
"When I put that costume on, it's so empowering," she says. "You feel so good to wear it and to represent this brand."
Resurrecting the brand
Even beyond the clubs, the events and the bunny costumes, Playboy once was known for more than the eponymous centerfold. Back in the day, the magazine knew how to push the envelope. There's that famous joke: "I only read it for the articles."
"I've always tried to argue there's more to the story that they haven't been given credit for," says Carrie Pitzulo, professor at Colorado State University and author of "Bachelors and Bunnies: The Sexual Politics of Playboy."
In the 1960s, Pitzulo says, Playboy published quality journalism, useful advice columns and how-tos on contraception and other then-revolutionary topics.
But in 2018, much of that sense of authority has faded away. All that remains is a sold mansion, a struggling magazine and 50 years of dated brand mythology — and now, of course, a brand new club on 42nd Street in Manhattan. As Zeisler puts it, "It does seem like a real 'read the room' moment here."
"All they're left with at this point is women walking around in bunny costumes: the sexist, objective part," Pitzulo says. "They're not a leader in politics like they were in the 60s. The culture has evolved beyond that."