Brett Kavanaugh's confirmation was suddenly thrown into doubt Friday after Republicans and the White House agreed to a one-week delay so the FBI can investigate sexual assault allegations facing President Donald Trump's Supreme Court nominee.
"I've ordered the FBI to conduct a supplemental investigation to update Judge Kavanaugh's file," Trump said in a statement. "As the Senate has requested, this update must be limited in scope and completed in less than one week."
The fast-moving developments Friday mean that the full Senate will not vote early next week, as expected. Members voted Friday night to formally open consideration of Kavanaugh's nomination, a procedural move that allows Senate Majority Leader Mitch McConnell to keep his options open.
The delay is the result of a last-minute change of heart by Arizona Sen. Jeff Flake, whose stunning move to force an investigation was quickly backed by several senators considered swing votes on Kavanaugh's confirmation.
Flake made the demand for the FBI probe after a chaotic scene at a Senate Judiciary Committee meeting in which the panel advanced Kavanaugh by a 11-10 party line vote – saying his vote was conditioned on a probe taking place, and that he would oppose Kavanaugh on the floor of the Senate unless his demand was met.
Swing votes Alaska GOP Sen. Lisa Murkowski, Maine GOP Sen. Susan Collins and Democratic Sen. Joe Manchin subsequently backed an FBI investigation before they'll vote to confirm Kavanaugh.
The Judiciary Committee officially requested the FBI investigation, saying it should probe "current credible allegations" against Kavanaugh, and Republicans said it would be up to the FBI to decide what allegations are considered credible.
It was Flake, Collins and Murkowski who set the terms of the investigation, three sources familiar with the matter told CNN.
A separate Republican source familiar with the matter told CNN that the undecided GOP senators believe a key FBI focus should be on, but not limited to, Mark Judge, Kavanaugh's friend who Christine Blasey Ford has alleged was also in the room during the alleged assault and is also named as a witness to other incidents alleged by Julie Swetnick. Judge has said he does not recall incidents alleged by Ford or Swetnick. Kavanaugh has denied allegations made by Ford and Swetnick.
The FBI is looking at the accusation of another woman, Deborah Ramirez, who has alleged Kavanaugh exposed himself to her at dormitory party while the two were undergraduate students at Yale. The FBI has reached out to Ramirez, her attorney said, confirming a report in The Washington Post.
"We can confirm the FBI has reached out to interview Ms. Ramirez and she has agreed to cooperate with their investigation," the attorney, John Clune, said in a statement. "Out of respect for the integrity of the process, we will have no further comment at this time."
Kavanaugh has denied Ramirez's allegation, which was reported by The New Yorker.
"This alleged event from 35 years ago did not happen, Kavanaugh said in a statement last Sunday when The New Yorker published the article. "The people who knew me then know this did not happen and have said so. This is a smear, plain and simple."
Separately, on timing, a senior GOP leadership aide told CNN the agreement among the three key Republican senators and GOP leadership was to take the first key procedural vote on the Senate floor on the nomination no later than next Friday. It could happen earlier if the FBI is finished before then.
The expectation is that like other FBI background checks, the results of the FBI's investigation will be private and put in Kavanaugh's file and made available to senators but not the public, the aide said.
The tumult came just hours after Kavanaugh appeared to be on solid footing, with Republicans rallying to his side after his denials of Christine Blasey Ford's allegation in a Judiciary Committee hearing Thursday.
In a statement Friday, Kavanaugh said he would "continue to cooperate" with the FBI.
"Throughout this process, I've been interviewed by the FBI, I've done a number of 'background' calls directly with the Senate, and yesterday, I answered questions under oath about every topic the Senators and their counsel asked me," Kavanaugh said. "I've done everything they have requested and will continue to cooperate."
Ford's attorney welcomed the new investigation but criticized the time frame.
"A thorough FBI investigation is critical to developing all the relevant facts," said Debra Katz. "Dr. Christine Blasey Ford welcomes this step in the process, and appreciates the efforts of Senators Flake, Murkowski, Manchin and Collins – and all other senators who have supported an FBI investigation – to ensure it is completed before the Senate votes on Judge Kavanaugh's nomination. No artificial limits as to time or scope should be imposed on this investigation."
Kavanaugh, a Republican who played a lead role in the Ken Starr investigation of Bill Clinton's sexual misconduct and later worked in former President George W. Bush's White House, is a DC Circuit Court of Appeals judge. He would replace the retiring Supreme Court swing vote, Justice Anthony Kennedy, possibly cementing a conservative majority for a generation.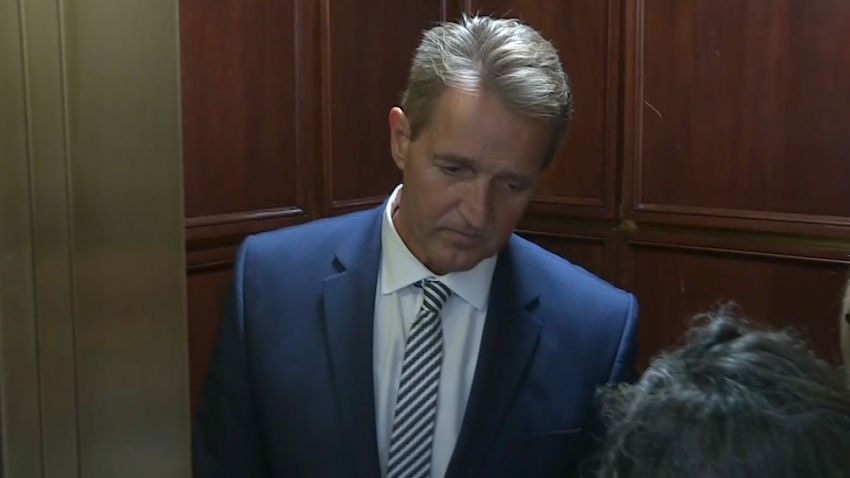 Tearful woman confronts Sen. Flake on elevator
Flake changes his mind
Senate Republican leaders appeared Friday morning to have 49 solid yes votes, one shy of the 50 they need to confirm Kavanaugh – meaning they could lose one Republican and have Vice President Mike Pence break a potential tie.
On Friday morning, Flake – who had been seen as one of three swing votes in the Republican caucus – announced he would support Kavanaugh's confirmation.
Then, on the way to the Judiciary Committee's hearing room, he was involved in a dramatic confrontation, when two protesters blocked Flake's elevator. By voting to confirm Kavanaugh, "you're telling me that my assault doesn't matter," one tearfully told him live on CNN, as Flake listened and nodded.
Inside the committee room an hour from Friday's scheduled 1:30 p.m. vote, Flake tapped his friend Sen. Chris Coons, D-Delaware, on the shoulder, and the two retreated to a private anteroom. It set off an hour of frantic behind-the-scenes negotiations, as questions about whether Flake had changed his mind hovered.
"Jeff said, 'I'm concerned that we are tearing the country apart,'" Coons told CNN. "That the powerful testimony of Dr. Ford did not seem to be taken seriously and investigated – and that Judge Kavanaugh and his family were distraught by allegations that weren't credible."
When Flake emerged, he announced his position: He'd vote for Kavanaugh Friday – giving the committee an 11-10 majority to send him on to the Senate floor – but wouldn't vote for him in the full Senate unless the FBI could investigate first.
"We ought to do what we can to make sure that we do all due diligence with a nomination this important," he said.
WATCH: Flake confronted by two female protesters after announcing he'll back Kavanaugh
There was no guarantee at the time an FBI probe would happen, however.
"This is all gentlemen's and women's agreement," Grassley said after the vote to committee members.
Wrenching hearing
Watch Brett Kavanaugh's full opening statement
During an intense, day-long hearing Thursday, Ford, a California professor, testified that Kavanaugh sexually assaulted her while they were both teenagers in the early 1980s. Kavanaugh later offered a vociferous and emotional defense, alternately shouting and tearing up on national television.
On Thursday, Ford told the committee she is "100%" certain it was Kavanaugh who attacked her at a party when the two were teenagers in 1982.
As the nation watched, she said she "believed he was going to rape me." She told senators it has "haunted me episodically as an adult."
Then, Kavanaugh denied that allegation and other accusations of inappropriate sexual conduct he has faced in recent days. He blamed Democrats for what he said was a "calculated and orchestrated political hit" designed to keep him off the Supreme Court. He also refused to support a Democratic push for an FBI investigation of the allegations.
"I've never done this," Kavanaugh said of Ford's assault charge. "It's not who I am. I am innocent."
Late Thursday night, the American Bar Association took the extraordinary step of recommending the Senate Judiciary Committee pause on Kavanaugh's nomination until a FBI probe into the allegations is completed. The association had previously given Kavanaugh a unanimous "well-qualified" rating, its highest rating.
"The basic principles that underscore the Senate's constitutional duty of advice and consent on federal judicial nominees require nothing less than a careful examination of the accusations and facts by the FBI," said Robert Carlson, president of the organization, in a Thursday night letter.
"Each appointment to our nation's Highest Court (as with all others) is simply too important to rush to a vote," Carlson wrote. "Deciding to proceed without conducting additional investigation would not only have a lasting impact on the Senate's reputation, but it will also negatively affect the great trust necessary for the American people to have in the Supreme Court."
Graham has message for Kavanaugh daughters
CNN's Clare Foran, Ashley Killough, Lauren Fox, Daniella Diaz, Jeff Zeleny and Betsy Klein contributed to this report.