Editor's Note: This story was originally published August 26, 2018
When Terence Kwok went traveling to Europe as a student in 2011, he returned home to a $900 phone bill.
For the frequent traveler, who was then 20 years old and studying at the University of Chicago, that incident turned into a money-making opportunity.
"It made me realize that, even with smartphones, staying connected while traveling abroad was highly costly and inconvenient," Kwok said.
To solve travelers' internet woes, Kwok created Handy, a cell-phone designed for guests staying in hotels overseas.
Handy allows guests to use 3G internet and make unlimited calls. It features local travel guides and controls for things like lighting and curtains in the hotel room — but it can also be taken out and about like a regular phone.
Today, the devices are available in more than 2,000 hotel companies in 82 countries. And Kwok's backers include Japanese tech conglomerate SoftBank (SFTBF).
Starting out in Hong Kong
In 2012, Kwok dropped out of his studies in Chicago to pursue his idea for Handy in Hong Kong, his hometown. He founded a startup, Tink Labs, that year.
Kwok secured initial funding for his cell-phone idea from a friend who had also been unpleasantly surprised by a huge roaming bill after traveling overseas. He hired two employees and rented a small office in Hong Kong.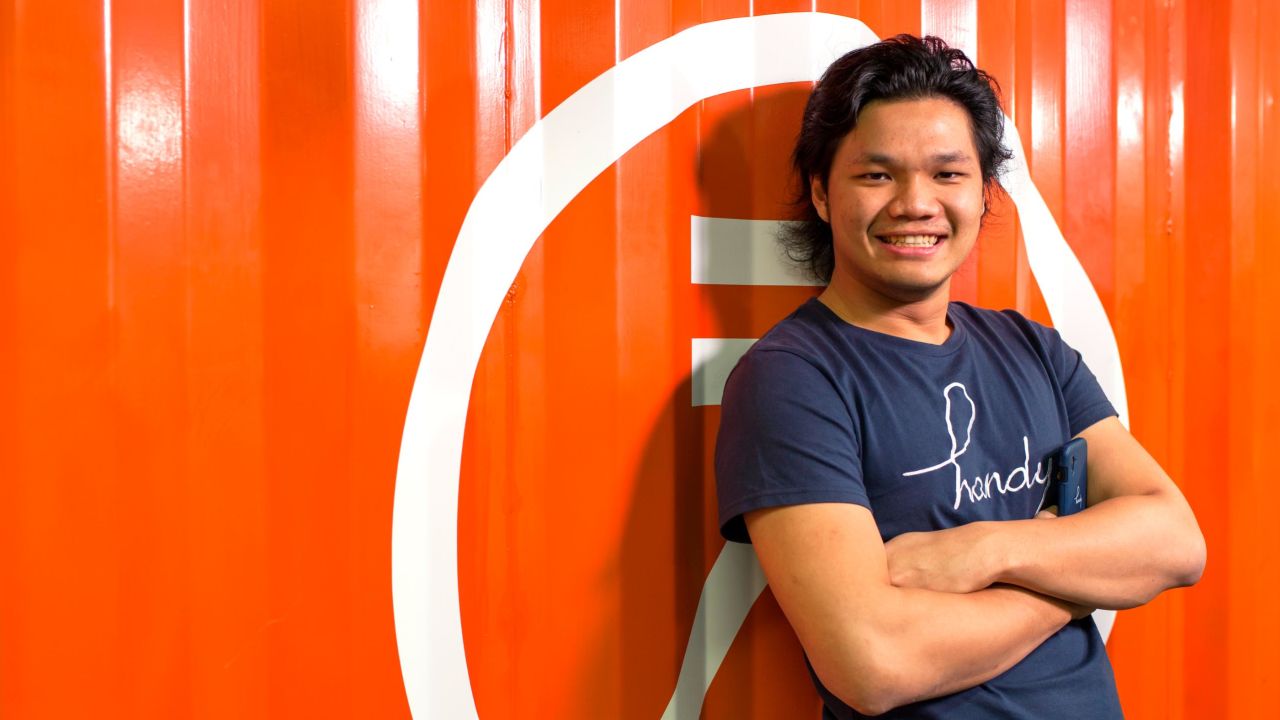 Kwok said Hong Kong appealed as a place to start the business because it's "where my roots lie" and one of the world's top travel destinations, providing a great opportunity to start trying to reach Handy's target audience.
At first, the phone was available to rent at airports. It later became a device exclusively for hotel guests.
Handy runs on a customized version of Google's (GOOGL) Android operating system, which Tink Labs modifies for hotel guests' use.
'A product that guests really wanted'
It took nine months for the startup to secure its first hotel partner in Hong Kong, according to Kwok.
"Hotels are very traditional, but we had created a product that guests really wanted," he said. "The idea was to provide everything they need — connectivity, recommendations, coupons, attraction tickets."
After Tink Labs signed its first five-star hotel partner in 2014, the company raised multiple rounds of funding. The turning point came two years later, when Kwok raised $125 million from investors including Taiwan-based electronics giant Foxconn and investment firm Sinovation Ventures, which was founded by the former president of Google China.
This summer, SoftBank invested in Tink Labs' Japanese business. The companies are aiming to add features like keyless room entry and express checkout to Handy devices.
Tink Labs now has around 400 employees in 52 countries. Building the business has enabled Kwok to pursue his passion for travel.
"I am working in a field that I absolutely enjoy," he said. "It has taken me to many different cities and countries."