Story highlights
Pressed juices can provide an added boost of nutrients when you're on the go
The Hurom H-AI Slow Juicer makes creating green juices easier than ever
CNN —
Sometimes there's nothing more refreshing than a cold-pressed juice – and there are plenty of days where we'd choose a green juice, chock full of nutrients, over a cup of joe for a morning wakeup. These beverages have become a staple for many health enthusiasts, as they can provide an added nutritional boost when you're on the go.
If you make your own green juices or fruit juices at home, you probably know that a major downside is that many juicers are pretty manual to operate; you have to push down the ingredients toward the blade to pulverize your fruits, veggies or nuts. Hurom's brand new juicer, however, finally eliminates the need for you to help out your machine, and instead operates completely hands-free. The H-AI Slow Juicer ($699.99; amazon.com) is arguably one of the most hands-free juicers to date, allowing you to simply pop in your ingredients and hit the on button to make your favorite drinks.
The appliance features a self-feeding hopper, which has a built-in, automatic blade that will chop and push down your ingredients to be blended. From there, your juice is pushed toward a tilted chamber that pours out the juice more easily. Pulp is then discharged into a container for simplified cleanup.
There are a few notable features, aside from the juicer's automation, that make it a stellar option. First is the size. Unlike bulkier juicers, the H-AI Slow Juicer is relatively compact and doesn't take up much counter space at all. In terms of the quality of your drinks, we were impressed after testing the appliance with just how smooth and pulp-free our drinks were on the fine strainer setting. But if you love that extra bit of fiber, the coarse straining option can deliver the type of drinks you prefer. Hurom says the device features slow squeeze technology that mimics the motion of a hand squeezing juice. The idea is that this helps ensure your juice stays fresh and in its most natural state. And if you're concerned about noise level, this model runs fairly quietly (depending on the foods you're blitzing).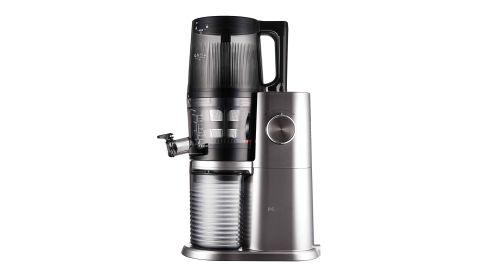 Amazon
The level of customization is also unusual in a juicer. In addition to the choice of pulp settings, the appliance can be used as a traditional juicer. Simply remove the self-feeding hopper and replace it with the regular Alpha hopper for a more hands-on experience.
The only major downside is the price. And hey, we get that dropping a few hundred on a juicer isn't necessarily ideal. But there are a few things to consider while you're debating the price tag. Hurom is best known for making premium and high-quality juicers; they're some of the best you can get. So essentially, you're investing in the Ferrari of juicers. And if you've been spending big money on prepackaged juices, the device could make up for the cost pretty easily. For instance, if you're guzzling down a $7 juice every day, you're spending $2,555 annually on your nutrient fix. And if you're big on juice cleansing, that number could add up even more drastically as you'd be needing six juices or more in a day.
The Hurom H-AI Slow Juicer isn't for everyone. But if you frequently drink juices and love creating your own beverages, plus don't mind that you're investing in a premium option that's the best in its class, it might be for you.
Note: The price above reflects the retailer's listed price at the time of publication.