Mexican state and federal authorities have taken control of Acapulco's police after a recent spike in homicides sparked suspicions that criminal groups had infiltrated the department, a joint force said in a statement.
Tuesday's seizure was conducted by the Guerrero Coordination Group, a joint operation of Mexican state and federal departments, including the National Secretary of Defense, the marines, federal police, the state prosecutor's office and state police, said Roberto Álvarez Heredia, the group's spokesman.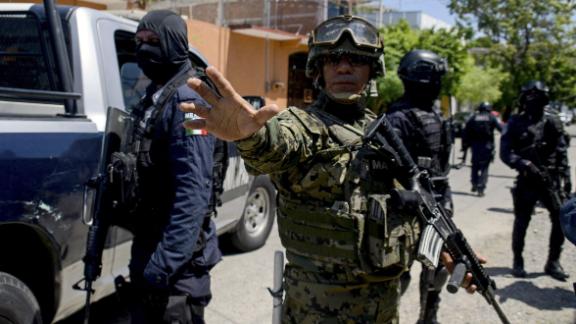 Francisco Robles/AFP/Getty
The takeover led to the disarmament and detainment of police officers and the confiscation of "weapons, ballistic vests, cartridges and communication radios," Álvarez Heredia said.
On Wednesday the task force carried out "intervention operations" on facilities used by Acapulco's municipal police, he said.
In a statement, Guerrero officials said the state will evaluate and overhaul all police and security recruitment, training and operations with assistance from the federal government.
The move came before a new municipal administration takes power on October 1.
Two police commanders were arrested on murder charges and moved to a prison outside Acapulco "for their protection," Álvarez Heredia said. The rest of the municipal police officers will be investigated and "subjected to exams of confidence control," according to the organization's statement.
Acapulco, a beach resort on the Pacific Ocean in the southern state of Guerrero, has been plagued with violence, with murders surging to 2,316 last year, according to a government report released in January.
The state government statement said the city will continue to operate normally as a tourist hub, hosting a petroleum convention with 15,000 participants this week and receiving nearly 30 cruise ships during the coming cruise season. During the summer, the city saw an 11% increase in visitors, according to the statement.
Officials said the police and soldiers seizing control in Acapulco would respect due process and human rights.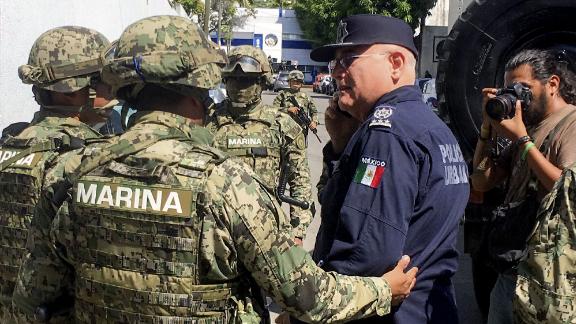 Francisco Robles/AFP/Getty
Previously human rights groups have alleged that when the Mexican military and federal police have taken over epicenters of the drug trade it has led to torture, forced disappearances and summary executions carried out by authorities.
Álvarez Heredia confirmed that Acapulco's security situation is now in the hands of the marines and federal and state police, though he doesn't know how long they will have to be there.
CNN's Patrick Oppmann and Jaide Timm-Garcia contributed to this report.