Norristown, Pennsylvania
CNN
—
The judge in Bill Cosby's case had stern words at the comedian's sentencing on Tuesday for sexual assault.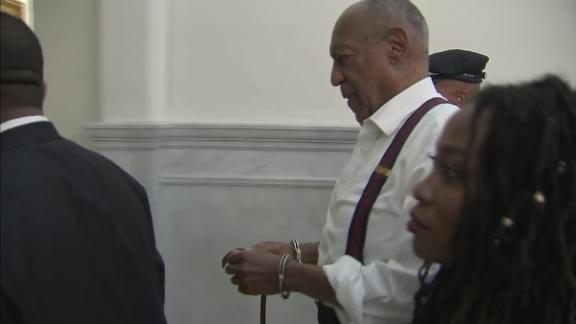 Pool
"This was a serious crime," Montgomery County Judge Steven O'Neill said as he sentenced Cosby to three to 10 years in state prison. "Mr. Cosby, this has all circled back to you. The day has come, the time has come."
Cosby, 81, was convicted of assaulting a woman in his Pennsylvania home 14 years ago.
His defense attorneys asked that the disgraced TV star be released on bail pending appeal.
O'Neill said no, and Cosby was taken out of the courtroom in handcuffs.
The judge explained his options for sentencing, and the guidelines and factors he considered.
"This is a serious crime, but it would be an error for the court to base its decision solely on the seriousness of the crime," O'Neill said.
"The jury's verdict must be heard loud and clear," O'Neill said.
Cosby was convicted in April of three counts of aggravated indecent assault for drugging and sexually assaulting Andrea Constand in 2004.
O'Neill said he would apply the principle of equal justice under the law. "No one is above the law, and no one should be treated differently or disproportionately," he said, adding Cosby would be sentenced regardless of "who he is or who he was."
Cosby faced a maximum of 10 years after prosecutors and defense attorneys agreed to merge the three counts of his conviction into one for sentencing. State guidelines suggest 22 to 36 months in prison, plus or minus 12 months because of circumstances.
He didn't have to follow the guidelines and could order shorter or longer sentences – up to the 10-year maximum.
Prosecutors wanted five to 10 years. Cosby's defense attorney asked for a sentence of house arrest, given his age and blindness.
O'Neill said he considered Cosby's age, poor eyesight, risk of reoffending, and rehabilitation needs.
He gave "great weight" to Constand's testimony about the impact the assault has had on her. As she said, O'Neill told Cosby, "You took her beautiful young spirit and crushed it."