The nomination of Judge Brett Kavanaugh, a Republican golden boy with insider connections, had seemed so inevitable that in May 2016 when then-candidate Donald Trump released his first list of Supreme Court possibilities, journalists and political commentators seized on the absence of Kavanaugh's name.
The list "omits two of the biggest stars of the conservative legal world," the Associated Press reported, referring to Kavanaugh and former George W. Bush solicitor general Paul Clement. For years it was practically a Washington parlor game: Who would be first to the Supreme Court, Kavanaugh, a veteran of a prominent US appeals court, or Clement, a high-profile appellate lawyer?
By November 2017, President Trump overcame whatever resistance he had to Kavanaugh, the Washington-area native who, as a top aide to President George W. Bush, embodied the GOP establishment that Trump had railed against. Kavanaugh's name was added to the list. Then, it was just a matter of time.
Justice Anthony Kennedy, to whom Kavanaugh had been a law clerk, announced his retirement on June 27. On July 9, Trump tapped Kavanaugh in a primetime TV announcement.
"You talk about central casting. They were saying it 10 years ago about him. He was born for the U.S. Supreme Court. He was born for it. And it's going to happen," Trump said at a Missouri rally last week.
But inevitability has given way to the improbability of sudden allegations of inappropriate sexual behavior and real jeopardy for a nominee who had been working toward this moment for decades and whose character was believed to be unimpeachable.
The strange turn of events led to a first-of-its-kind TV interview for a Supreme Court nominee on Monday night, when Kavanaugh appeared on Fox News. "I've never sexually assaulted anyone," he said, sitting next to his wife Ashley.
It was a surreal moment for a nominee who began with a presumption of perfection. It also demonstrated how a jurist Trump believed could be swiftly confirmed and bring glory to his legacy is beginning to teeter toward the opposite result. For Republicans, Kavanaugh's embattled nomination in the #MeToo era could become an albatross, just weeks before the midterm elections.
Kavanaugh denies the allegations of Christine Blasey Ford, a Palo Alto University professor who says that he attacked her at a party in the early 1980s when they were both teenagers. Ford's claim and his response are scheduled to be aired on Thursday in front of the Senate Judiciary Committee.
Then, late Sunday night, another bombshell surfaced when The New Yorker reported that Deborah Ramirez, 53, attended Yale with Kavanaugh and said she remembers Kavanaugh exposing himself to her at a dormitory party. Kavanaugh and the White House denied the new allegations.
"This alleged event from 35 years ago did not happen. The people who knew me then know that this did not happen, and have said so," Kavanaugh said in a statement Sunday. "This is a smear, plain and simple. I look forward to testifying on Thursday about the truth, and defending my good name – and the reputation for character and integrity I have spent a lifetime building – against these last-minute allegations."
Where Supreme Court nominee Brett Kavanaugh stands on key issues
Groomed for legal stardom
Kavanaugh, now 53, grew up in suburban Washington, obtained his undergraduate and law degrees at Yale, served in the US solicitor general's office, and clerked for Kennedy at the Supreme Court. He further burnished his resume in private practice and joined Ken Starr's independent counsel investigation of President Bill Clinton in the 1990s.
After returning briefly to private practice, he joined the Bush administration in 2001 as an associate White House counsel and then, 2003-2006, as staff secretary, working closely with Bush. The president nominated him to the prestigious US Court of Appeals for the District of Columbia Circuit in 2003.
His nomination was pending for years, caught up in controversy with Senate Democrats who believed Kavanaugh too much a partisan to be a neutral jurist.
"You have been the 'go to' guy among young Republican lawyers appearing at the epicenter of so many high-profile controversial issues in your short career," Sen. Chuck Schumer, now the Senate minority leader, told Kavanaugh in 2006.
During the confirmation wars of the early 2000s, the Bush administration cut several deals with Democrats. Some nominees were left in the dust, but not Kavanaugh. Bush never wavered on Kavanaugh.
The Senate ultimately approved him in May 2006. Bush presided over a Rose Garden ceremony for Kavanaugh, and Justice Kennedy administered the oath. Holding the Bible was Kavanaugh's wife, Ashley, who had been President Bush's personal secretary. Their marriage, the President joked, "was the first lifetime appointment" he'd arranged for Kavanaugh.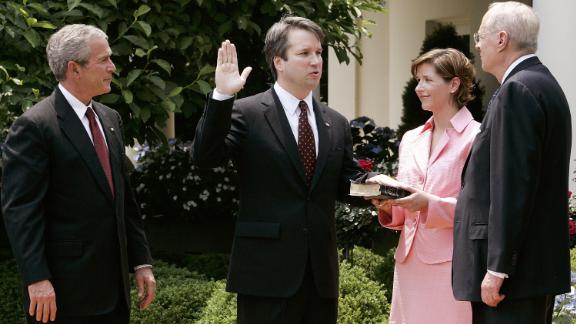 Alex Wong/Getty Images
The nomination screener
During his Bush administration service, Kavanaugh helped select and vet judicial nominees for the lower courts. When Bush was narrowing his choices for a Supreme Court seat, he consulted Kavanaugh. Bush has credited Kavanaugh for helping him settle on John Roberts, who is now chief justice of the United States.
Kavanaugh was involved in background screening and battles over what documents would be revealed for nominees. Along the way, he also picked up friends and allies for the future.
As much as anyone, from his own days behind the scenes, Kavanaugh understood the importance of vetting, careful pacing, knowing what's out there, and what can and can't be survived.
When Trump was making his choice a few months ago, he was surrounded by several Kavanaugh backers, including White House counsel Don McGahn. Kavanaugh had also won the support of conservative advocates, such as the Federalist Society's Leonard Leo, who were advising the Trump team.
When he was nominated in July, Kavanaugh immediately touted Trump's thoroughness in his search.
"No president has ever consulted more widely or talked with more people from more backgrounds to seek input about a Supreme Court nomination," Kavanaugh said at the White House.
The Trump White House and Republican-controlled Senate Judiciary Committee worked to move Kavanaugh's nomination through quickly this summer. The nominee's records from his staff secretary days were kept secret, and his White House counsel materials were heavily screened. Given the volume of documents, it's difficult to believe the administration fully examined all six years of records before the nomination.
During the early September Senate hearings, Sen. Richard Blumenthal suggested that Kavanaugh was added to Trump's Supreme Court list in November 2017 because of his October 2017 dissenting opinion when the full DC Circuit allowed a teenage migrant to obtain an abortion, over the objections of the Trump administration.
The Connecticut Democrat said that Judge Kavanaugh had insisted the court majority's view would lead to a right to "abortion on demand," a loaded phrase that Blumenthal deemed a political message to the Trump administration.
Kavanaugh rejected the assertion linked to his stance on abortion. He told senators it was more basic: "A lot of judges and lawyers … made clear to various people" that, given his record, he should be on the list.