Water appears to have receded in some areas of the Carolinas, but more flooding from Hurricane Florence could arrive through the weekend, officials say.
More than a dozen rivers in North and South Carolina already have overflowed their banks and the water – particularly the Waccamaw River, which spans both states – is expected to swell putting additional residents in harm's way. Officers were going door-to-door along the river in Brunswick County, North Carolina encouraging residents to evacuate.
President Donald Trump met with first responders in Conway, South Carolina on Wednesday and warned them of the danger of rising rivers.
"It's going to get rough for South Carolina," he told them.
"You're going to have a rebuilding process, and we are behind you from day one," Trump said, calling this the "calm before the storm, because you're going to have a lot of water."
Conway's city spokesman Taylor Newell said water could be "4 feet higher" there than when Hurricane Matthew struck in 2016.
In North Carolina, Gov. Roy Cooper warned residents to "stay alert" as water rises.
"People in flood prone areas or near waterways need to remain alert as rivers crest and stay above their banks in coming days," Cooper said.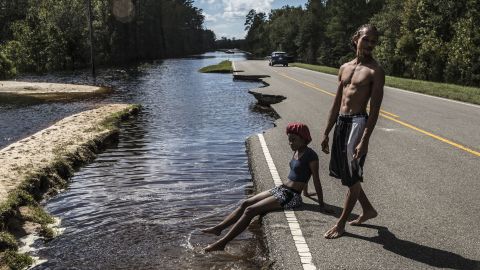 Bodies of women trapped in flooded police van recovered
There are still unanswered questions surrounding the deaths of two mental health patients who drowned Tuesday in a prison transport van swept away by rising floodwater in South Carolina.
The victims, whose bodies were recovered by divers on Wednesday, were identified as Windy Newton, 45, and Nicolette Green, 43, the Horry County Sheriff's Office said.
The women were being transported by sheriff's deputies from a hospital in Loris and from the Waccamaw Center for Mental Health in Conway to McLeod Health Darlington, CNN affiliate WPDE reported.
The two deputies escaped the vehicle but were unable to open the doors to get the women out, authorities said. They have been placed on administrative leave, the sheriff's office said.
"We are sorry," Horry County Sheriff Phillip Thompson told reporters Wednesday. "We take a lot of pride in what we do. We work hard to protect and to serve our citizens. We are just very sorry that this event has taken place."
The investigation has been handed over to the South Carolina Law Enforcement Division and the sheriff's office has launched an internal investigation, officials said.
The women are among at least 41 people who have died because of the storm.
Cooper said Thursday there were 31 storm-related deaths statewide. The South Carolina Department of Public Safety says the statewide death toll is 9. One person was killed during a tornado in Virginia, which was part of the Florence storm system.
Thousands remain in shelters
More than 8,100 people are taking refuge at dozens of shelters across North Carolina, South Carolina and Virginia, according to the Red Cross.
Of those, approximately 7,800 are in shelters in North Carolina.
Some residents are waiting until the floodwater recedes from their homes. Others can't get to their neighborhoods because the extensive road closures or simply because they don't have a ride home. And some who went home have returned after finding out they don't have power, CNN affiliate WRAL reported.
Roads have been so impassable in Kinston, North Carolina, the National Guard has used helicopters to distribute water.
In Conway, South Carolina some residents were heading home Wednesday but only to collect their belongings and evacuate again after officials say more flooding could be on the way.
"We are cautioning everyone not to be overconfident," City Administrator Adam Emrick said. "The water is going to come back up. We are worried about Friday."
Chris Ross has been staying at a shelter since he fled his Fayetteville home about a week ago when the National Guard pulled people out of his neighborhood.
"People can only take so much," Ross told WRAL. "It's wearing on a lot of people here, trying to keep their sanity together."
Farmers hit hard
Even after farmers moved thousands of animals to higher ground ahead of the storm, many have suffered losses.
North Carolina farms lost an estimated 3.4 million poultry birds and 5,500 pigs, the state Department of Agriculture & Consumer Services said.
Allison Cavenaugh and her husband, who own a home and a poultry farm with 80,000 chickens in Wallace, North Carolina, returned home for the first time this week on a boat just to find out that their chickens have drowned.
"It's all gone," Cavenaugh told WRAL.
North Carolina Agriculture Commissioner Steve Troxler, who conducted an aerial survey of damage on Tuesday, said the flooding has affected the top six agricultural counties in the state.
"This was an unprecedented storm with flooding expected to exceed that from any other storms in recent memory," Troxler said in a statement. "The footprint of flooding from this storm covers much of the same area hit by flooding from Hurricane Matthew in 2016, which only worsens the burden on these farmers."
In South Carolina, farmers face damage to cotton, peanut and hemp crops, the state said.
CNN's Jay Croft, Steve Almasy, Amanda Watts, Andrea Diaz and Carma Hassan contributed to this report.