Editor's Note: This story was originally published on September 19, 2018.
Extreme weather events are often pointed to as harbingers of what is to come, thanks to manmade climate change.
Unfortunately, Tropical Storm Barry, like Hurricane Florence last year and Harvey the year before, looks like it will once again provide us with an example of what the climate crisis is doing to storms right now, with heavy rainfall from slow moving storms leading to devastating floods. Forecast projections for Barry show rainfall totals up to 20 inches could fall over portions of Louisiana.
Barry hasn't hit yet, but it's getting stronger as it creeps across the Gulf of Mexico's warm waters en route to a landfall expected early Saturday in Louisiana.
While it could reach hurricane strength, the real peril it poses to roughly 10 million people in its path is rain, which could quickly trigger unprecedented flooding.
Ten to 15 more inches of rain are on the way, threatening to inundate ground already soaked from a Wednesday storm that flooded some New Orleans homes and businesses.
Another risk looms in the Mississippi River. Usually at 6 to 8 feet this time of year around the Big Easy, the river is at 16 feet after a year of record flooding, and Barry could push in a storm surge of 2 to 3 feet.
Conditions are ripe for extreme weather events
The planet has warmed significantly over the past several decades, causing changes in the environment in which extreme weather events are occurring.
Some are small and inconsequential, and some – such as increased wind shear that tears apart hurricanes, could actually be beneficial. But there can be destructive consequences.
One of the impacts that scientists are most certain of is increased rainfall amounts and rainfall intensity – a result of warmer than normal ocean temperatures that create a warmer and more moist environment for the storm.
Kevin Trenberth, a senior scientist at the National Center for Atmospheric Research, said that climate change leads to these warmer and wetter environments and sets the stage for what can be the storms' biggest threat: heavy rainfall and flash flooding.
We saw it in Florence and Harvey and it appears we may see it again with Barry.
Sea surface temperatures in the northern Gulf of Mexico, where Barry formed and is currently strengthening, are around 87-90 degrees Fahrenheit (30-32 degrees Celsius). These temperatures are about 2-4 degrees Fahrenheit (about 1-2.5 degrees Celsius) above average for July.
Warmer planet, warmer ocean
Human-caused greenhouse gases in the atmosphere create an energy imbalance, with more than 90% of remaining heat trapped by the gases going into the oceans, according to the National Oceanographic and Atmospheric Association. Ocean heat content, a measure of the amount of heat stored in the upper levels of the ocean, is a key indicator of global warming.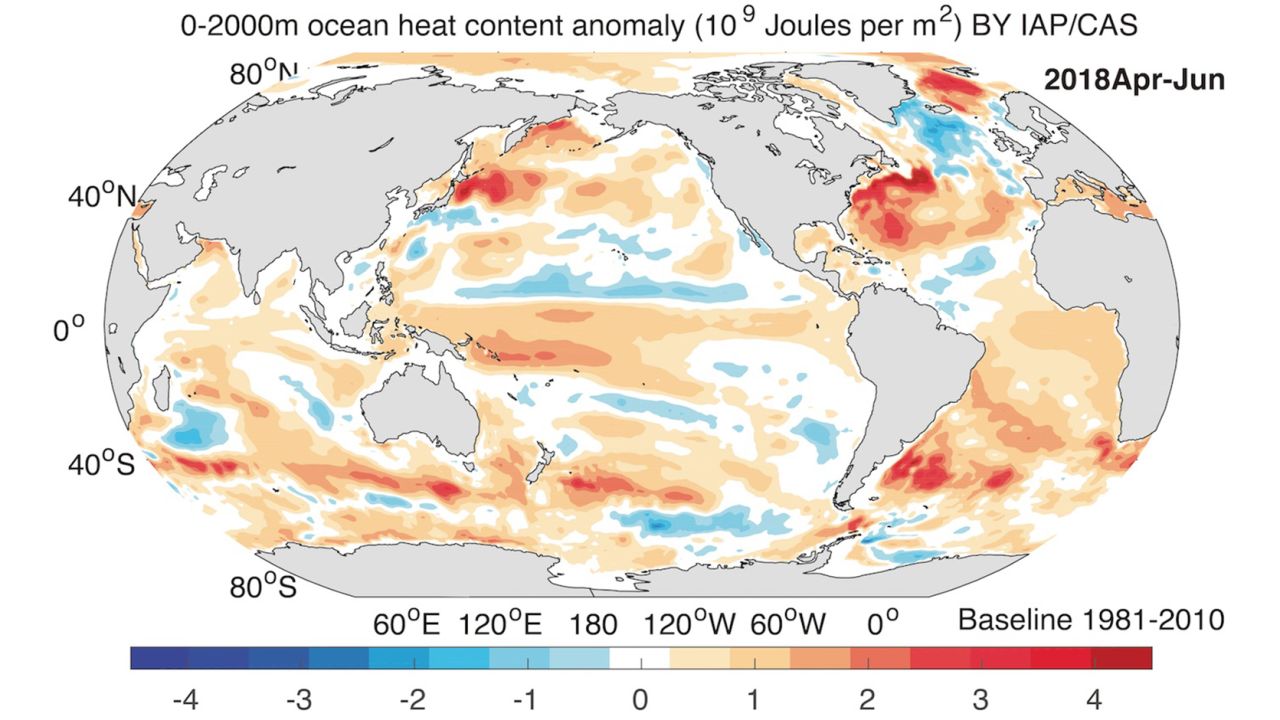 Last year was the hottest on record for the Earth's oceans, with a record high for global heat content in the upper 2,000 meters of the oceans, which broke the record from the year before.
"The heat fuels storms of all sorts and contributes to very heavy rain events and flooding," Trenberth said.
"The observed increases of upper (ocean heat content) support higher sea surface temperatures and atmospheric moisture, and fuel tropical storms to become more intense, bigger and longer-lasting, thereby increasing their potential for damage."
Warmer oceans mean more moisture is available in a warmer atmosphere.
"It's one of the simplest relationships in all of meteorology," said Michael Mann, professor of atmospheric science and director of the Earth System Science Center at Pennsylvania State University.
For every 1 degree Celsius (1.8 degree Fahrenheit), there is 7% more moisture in the air. Ocean temperatures around Florence trended 1.5 degrees C (2.7 degrees F) warmer than normal, contributing to about 10% more moisture available in the atmosphere.
This certainly helped make Florence the wettest tropical system to strike the US East Coast, dumping almost 3 feet of rain on parts of North Carolina.
Higher sea levels, higher surge
Florence brought the tides to record levels in portions of North Carolina last September despite having weakened to a Category 1 storm, with peak winds of 90 mph.
The National Oceanic and Atmospheric Administration's tide gauge at Wrightsville Beach, North Carolina, surged more than 4 feet above the normal high as the storm was making landfall, breaking a record set by Hurricane Joaquin in 2015 by more than a foot.
Flooding in Beaufort and Wilmington, North Carolina, also topped high-water marks that go back decades.
Several factors combined to make Florence such a prolific coastal flood threat. Its large size, slow movement and previous Category 4 intensity all helped pile up a huge amount of water.
But those characteristics are mainly a product of the day-to-day weather patterns around Florence and are somewhat random – a roll of the weather dice, if you will.
One important threat enhancer is that ocean levels along the East Coast have risen by nearly a foot in the past century, thanks primarily to global ocean warming.
The added height of the ocean is a reality faced every day by coastal residents, even when storms are not present, such as with sunny-day floods in Miami and the Outer Banks of North Carolina.
But when a storm such as Florence or Barry comes ashore, the destruction is even worse than it would have been decades ago – one reason why Category 1 hurricanes such as Matthew and Florence produced higher water levels on the North Carolina coast than did 1954's Hurricane Hazel, a Category 3 storm when it made landfall in the same region.
Florence, Harvey and now Barry should not be treated as an example of what human-fueled global warming could bring us at some point in the future. They are unfortunate examples of what global warming, caused by ever-increasing greenhouse gas emissions, is doing to storms in the present day.
Better coastal infrastructure and flood defenses, along with an immediate reduction in greenhouse emissions, can help minimize the future threat.
President Donald Trump got a close-up view of the damage when he toured the hardest-hit areas of the Carolinas last year, just as he did in Houston with Hurricane Harvey in 2017.
The visit once again provided the President with evidence that climate change is already affecting the country.