The future of Brett Kavanaugh's Supreme Court nomination is in question after a woman went public over the weekend with accusations that the 53-year-old federal judge physically and sexually assaulted her when the two were in high school.
Kavanaugh said in a statement Monday that the allegation was "completely false" and he would be willing to speak with lawmakers to refute it.
Republicans hold a narrow 51-49 majority in the Senate, meaning they can afford to lose only one of their own if every Democrat ends up voting against Kavanaugh (if it becomes 50-50, Vice President Mike Pence could step in and cast the tie-breaking vote).
Before the recent allegations, a few red-state Democrats had indicated openness to supporting Kavanaugh. At least three of them – Sens. Joe Donnelly of Indiana, Joe Manchin of West Virginia and Heidi Heitkamp of North Dakota – are calling for the Judiciary Committee to investigate the allegations further.
Republican leaders in the Senate appear to be steadfast in continuing with the nomination process. Judiciary Chairman Chuck Grassley of Iowa said in a statement Monday that he's working to set up phone calls with Kavanaugh and his accuser, Christine Blasey Ford.
For now, all eyes are on the moves of a few key Republican senators.
Here's where they stand:
Sen. Susan Collins
A moderate Republican from Maine, Collins is often a closely watched senator on key votes, especially after she lined up with GOP Sen. Lisa Murkowski of Alaska and the late Sen. John McCain of Arizona to sink their party's effort to repeal the Affordable Care Act last year.
Collins tweeted Monday that Ford and Kavanaugh "should both testify under oath before the Judiciary Committee."
Her comments add pressure to Republicans on the committee, which she is not on, who are deciding how to navigate the increasing calls for Kavanaugh to answer more questions.
Collins met with Kavanaugh on Friday after reports emerged about a woman accusing him of sexual assault at a party when they were teenagers. At that point, Ford had not gone public with her allegations, only sending a letter earlier this summer to her congresswoman, Democratic Rep. Anna Eshoo of California, who then gave the letter to Sen. Dianne Feinstein of California, the top Democrat on the Judiciary Committee.
Over the weekend, however, Ford did an interview with The Washington Post, revealing herself and describing her experience in more detail.
Collins said she had read the letter last week and asked Kavanaugh about it in their meeting on Friday. While he denied committing assault, as he's done publicly, Collins said he "was very emphatic" in their conversation.
Asked by CNN on Sunday whether she believed Ford's account in The Post, Collins said she "was very surprised" by the report but added, "I don't know enough to create the judgment at this point."
Collins, in an interview Sunday night with The New York Times, echoed the refrain by some other Republicans and questioned why Democrats waited to discuss the letter until after Kavanaugh's confirmation hearings.
"What is puzzling to me is the Democrats, by not bringing this out earlier, after having had this information for more than six weeks, have managed to cast a cloud of doubt on both the professor and the judge," she said. "If they believed professor Ford, why didn't they surface this information earlier so that he could be questioned about it? And if they didn't believe her and chose to withhold the information, why did they decide at the eleventh hour to release it? It is really not fair to either of them the way it is was handled."
Sen. Lisa Murkowski
Murkowski told CNN late Sunday night that the Judiciary Committee may need to look into the allegations and possibly delay its vote this week. While she considers Kavanaugh's legal background "very solid," she said it would only be fair for the American public to get more answers. "So if there are more questions that need to be asked and answered, then I think it would be appropriate to allow for that time," she said.
"Having said that, I haven't had the opportunity to dig further into this," she added.
Delaying the vote to review the matter further "may be something the committee needs to look into," she said. Murkowski is not on the committee but her vote on the Senate floor holds significant sway.
She had not yet taken a position on which way she would vote, saying she's still having conversations with her constituents. Like Collins, Murkowski spoke with Kavanaugh on Friday.
"You have allegations out there that while they are very old – I grant you that – seem … to go into fair amount of detail," she said, noting that Ford had already taken a lie-detector test knowing she would be subject to a great amount of scrutiny. "I don't want to prejudge anybody, but I am one who you take seriously allegations of, of sexual assault. I don't know whether there is any there there, but it is my job along with 99 other members of the Senate to determine if there is."
Sen. Jeff Flake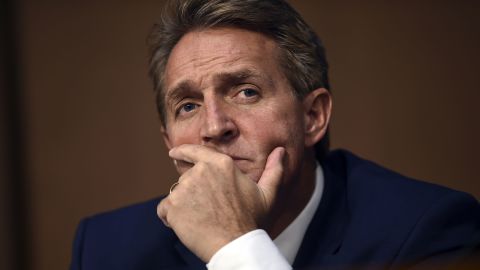 One of Trump's greatest critics in the Senate, Flake, of Arizona, is another no-guarantee vote for Republicans on controversial issues, though he has tended to side with his party in the end on key votes. His decision to not run for re-election has also allowed him greater flexibility in going against his own party at times.
As a member of Judiciary Committee, where there's a slim 11-10 Republican majority, he could affect the outcome of the vote. And he's saying he wants to hear Ford's story before moving forward with the scheduled vote on Thursday.
"I've made it clear that I'm not comfortable moving ahead with the vote on Thursday if we have not heard her side of the story or explored this further," said Flake.
Even if the committee reports an unfavorable recommendation to the full Senate, Kavanaugh's nomination could still move forward. His nomination could also be brought to the floor by Republican leaders without a committee vote – a controversial step but possible.
Sen. Bob Corker
Corker, another Trump critic and a key Republican vote for Kavanaugh who is retiring at the end of his term, said he believes that Kavanaugh's accuser should be heard out before there is a committee vote, according to spokeswoman Micah Johnson.
His office has yet to respond to CNN's request for additional comment.
Republican leadership
CNN reported that Senate Majority Leader Mitch McConnell of Kentucky and Judiciary Chairman Grassley want – and plan – to move forward with Kavanaugh's nomination as it currently stands.
They are too far along in this process not to, and they both think very highly of him, especially after his hearings earlier in September.
To pull him would throw confirmation of anyone else past the midterm elections and create new potential hurdles at a time when the Senate isn't guaranteed to be in Republican hands in the next Congress.
What matters is what individual Republican senators say they need to be satisfied. If those concerns can be addressed, things will stay on track – whether this week or in the weeks ahead. If they can't, then, and only then, there are real problems.
Grassley said Monday that he had asked Feinstein this weekend to join him in scheduling follow-up calls with Kavanaugh and Ford. "Thus far, they have refused," he said. "But as a necessary step in evaluating these claims, I'll continue working to set them up."
Republicans, according to sources, hope to have the calls either Monday or Tuesday, CNN reported. While they "hope" they can still have the committee vote on Thursday, they recognize that might slip.
CNN's Phil Mattingly, Manu Raju, Ted Barrett, Ariane de Vogue, Steve Brusk, Greg Clary, Sunlen Serfaty, Kristin Wilson and Elizabeth Landers contributed to this report.