(CNN) —
In 1991 when Supreme Court nominee Clarence Thomas faced sexual harassment claims, the public mantra toward men in the Senate and elsewhere was, "They just don't get it."
Now, in the #MeToo era, men get it and have lost their jobs for it.
Such is the new atmosphere that confronts current Supreme Court nominee Brett Kavanaugh as he faces accusations that echo eerily of the 1991 Anita Hill episode. That context will no doubt influence how the current drama develops, just as will today's intense partisanship and Republicans' grip on the Senate.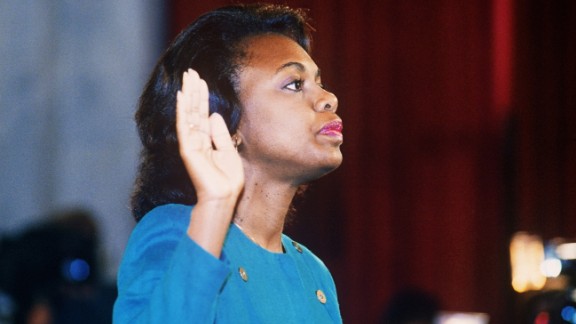 Twenty-seven years ago, Thomas, the choice of Republican President George H.W. Bush, ended up being confirmed 52-48 in the closest Supreme Court confirmation vote in more than a century, and with the help of 11 Democrats. It is impossible to imagine that kind of bipartisanship for a high court nominee today.
In 1991 as now, both Thomas and Kavanaugh served as judges on a prominent Washington-based US appeals court. And as the Senate Judiciary Committee was vetting the nominees, some rumors of past sexual misbehavior were in the air. But during both September confirmation hearings, the public remained unaware of what was simmering.
The similarities
The women alleging misconduct, coincidentally both professors, were reluctant to come forward with their names and full stories. Hill eventually publicly accused Thomas of harassing her with descriptions of pornographic films and other materials when they worked together at the Equal Employment Opportunity Commission in the 1980s; as emerged on Sunday, Christine Blasey Ford more seriously has accused Kavanaugh of sexually assaulting her when they were high school students in the early 1980s.
Both of their stories burst forth in news reports as crucial Senate votes approached. For both, it also appeared that Senate Judiciary Committee members blew it by not addressing the claims earlier. Both Thomas and Kavanaugh categorically denied the charges.
Making headlines in 1991 as much as Hill's sensational harassment charges was the assertion from women's rights advocates that senators failed to realize the magnitude of harassment women endure in the workplace.
The episode became a cultural watershed that helped lead to the "Year of the Woman" in electoral politics. A record number of women won seats in Congress, and among them, former San Francisco mayor Dianne Feinstein, now the senior Democrat on the Senate Judiciary Committee.
Feinstein, however, has been criticized for not moving faster on a letter passed on to her from Ford, who alleged that Kavanaugh sexually assaulted her when they were both teens in suburban Maryland. Feinstein, who said last week that she passed the letter on to the FBI, said Ford had wanted the information in it to remain confidential.