Editor's Note: How are you preparing for Hurricane Florence? Text, iMessage or WhatsApp your videos, photos and stories to CNN: 347-322-0415
Carolina Beach, North Carolina
CNN
—
Officials in the potential path of a still fierce Hurricane Florence had a stern, clear message for people still in coastal towns under evacuation orders.
Leave. Now.
"You put your life at risk by staying," North Carolina Gov. Roy Cooper said. "Don't plan to leave once the winds and rains start."
Cooper and his South Carolina counterpart, Henry McMaster, told the more than 1 million people who have been told to leave that if they don't, they are on their own.
In Carolina Beach, authorities at 8 p.m. stopped allowing traffic to the island via the only bridge between the island and the mainland. They also instituted a 24-hour curfew. Officials worry that as many as 1,000 of the town's 6,300 residents are staying in the town, which is less than 5 feet above sea level.
Town Manager Mike Cramer said law enforcement officers will try to assess how many people are still on the island immediately south of Wilmington.
Mayor Joe Benson said the storm will batter the oceanside town through two high tide periods. Storm surge of 13 feet on top of a high tide at 7 feet could overwhelm Carolina Beach.
"Our sand dunes are healthy but they're not going to be able to keep back a wall of water like that," he said. "Flooding is almost guaranteed."
Florence is forecast to crawl up to the North Carolina coast late this week and turn slowly left – a development that would smash the Tar Heel State with life-threatening storm surge, catastrophic winds and inundating rain while also endangering a large portion of South Carolina.
Florence, one of the strongest storms on the Eastern Seaboard in decades, is a strong Category 2 hurricane with winds of 110 mph. It is predicted to deliver tropical-storm-force winds by noon Thursday to North Carolina's coast, and hurricane-force winds and dangerous storm surges by late Thursday or early Friday. Tornadoes are possible Thursday in eastern North Carolina.
Latest developments
• Location: By 11 p.m. Wednesday, the storm was about 280 miles east-southeast of Wilmington, North Carolina, with maximum sustained winds of 110 mph.
• Rain and storm surges: The National Hurricane Center warned that although wind speeds in Florence have dropped, wind fields are still expanding, and Florence has more total energy, which will "create a significant storm surge event." Florence could bring life-threatening storm surges, up to 13 feet.
• 10 million under warning or watch: The National Weather Service said more than 10 million people live in areas under warnings or watches for hurricane- or tropical storm- force winds.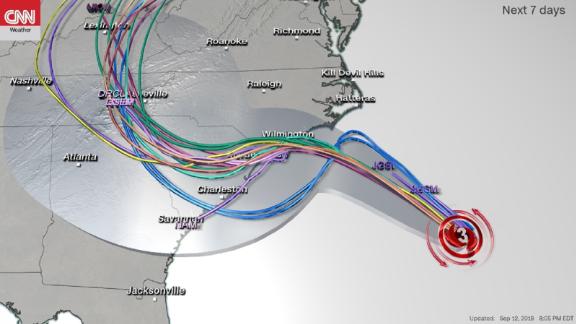 CNN
• The punishing crawl: Florence's predicted slow southward turn on Friday would mean some coastal areas could get damaging hurricane-force winds for more than 24 hours. "If this blows at 120 mph for four hours, … you lose a shingle every two minutes, and all of the sudden, you've lost your whole roof after four hours," CNN meteorologist Chad Myers said.
• 83-foot wave: The hurricane center said wave heights in the worst part of Florence are as high as 83 feet. "These enormous waves are produced by being trapped along with very strong winds moving in the same direction as the storm's motion."
Residents flee as storm gets closer
Forecast models predict Florence's center may slow to a crawl just off North Carolina early Friday and make a southwesterly turn – punishing the coast while moving perhaps only 2 to 3 mph. When and where it will make landfall is unclear.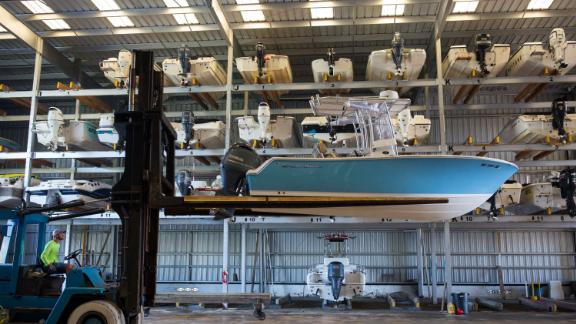 LOGAN CYRUS/AFP/Getty Images
The precipitation from Florence will start midday Thursday and then it will rain for four days, said CNN Meteorologist Tom Sater.More than 1 million people are under mandatory evacuations in Virginia and the Carolinas, where up to 40 inches of rain could fall.
Hurricane and storm surge warnings are in place from South Santee River, South Carolina, to Duck, North Carolina. Hurricane warnings are issued 36 hours before tropical-storm-force winds hit the areas. Storm surge warnings indicate a danger of life-threatening inundation from rising water moving inland from the coastline during the coming 36 hours.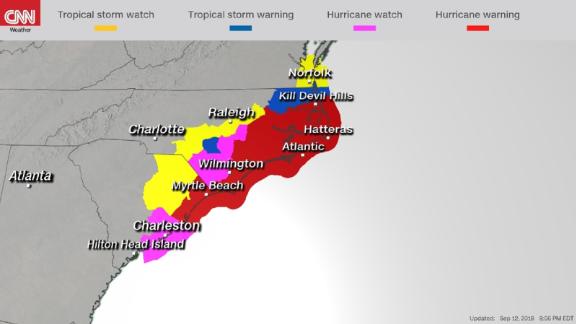 CNN
As Florence closed in, some residents weighed whether to ride it out.
McMaster told residents in some counties that emergency responders will be pulled from areas expected to be hit hard.
"Even the rescuers cannot stay there," he said.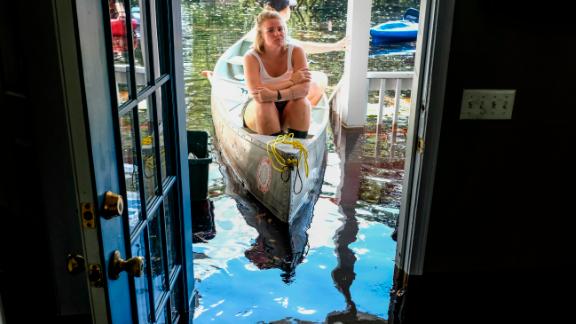 Photos: In pictures: Hurricane Florence and its aftermath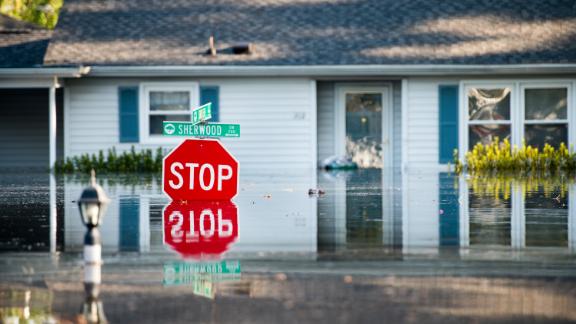 Photos: In pictures: Hurricane Florence and its aftermath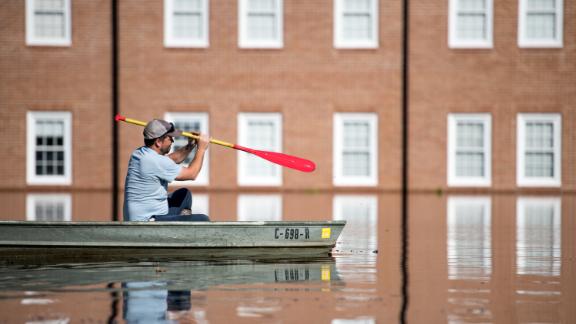 Photos: In pictures: Hurricane Florence and its aftermath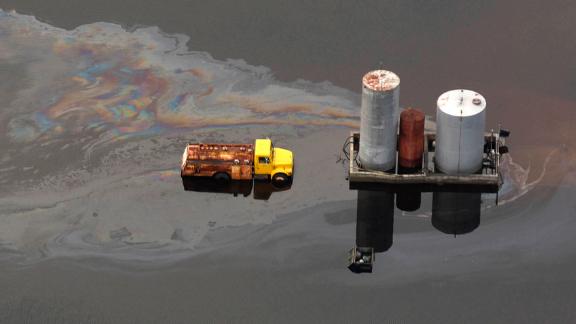 Photos: In pictures: Hurricane Florence and its aftermath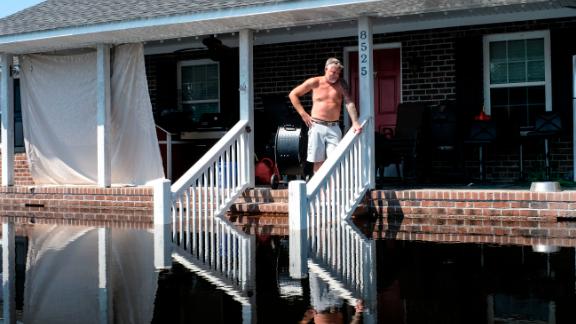 Photos: In pictures: Hurricane Florence and its aftermath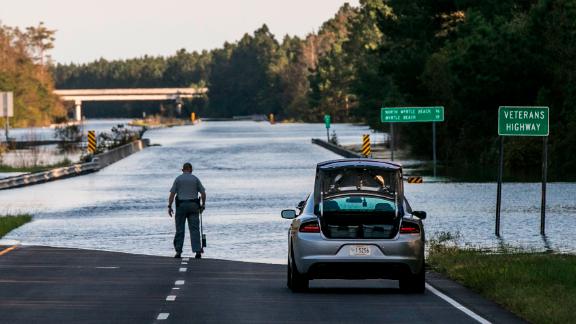 Photos: In pictures: Hurricane Florence and its aftermath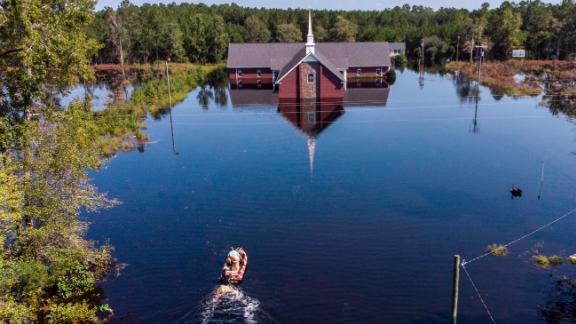 Photos: In pictures: Hurricane Florence and its aftermath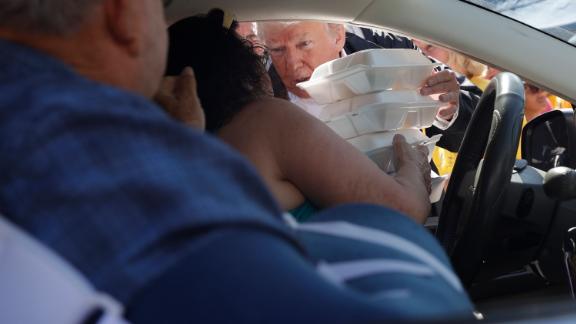 Photos: In pictures: Hurricane Florence and its aftermath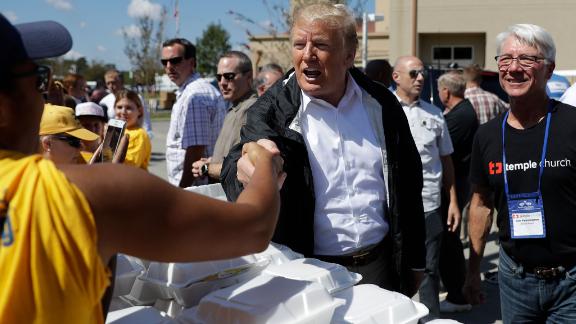 Photos: In pictures: Hurricane Florence and its aftermath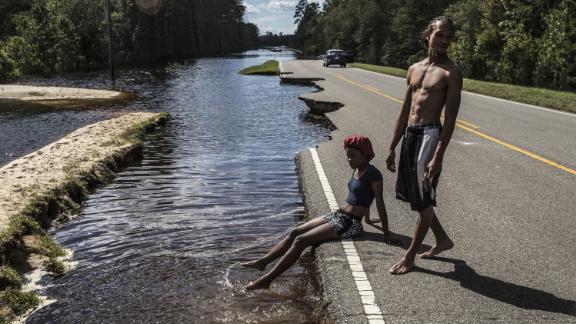 Photos: In pictures: Hurricane Florence and its aftermath