A Dallas police officer stands charged with manslaughter in the fatal shooting of a man she mistakenly thought was in her apartment, but a prosecutor would not rule out a more serious charge Monday.
"The grand jury will be that entity that will make the final decision in terms of the charge or charges that will come out of this case," Dallas County District Attorney Faith Johnson told reporters. "We prepare to present a thorough case to the grand jury of Dallas County, so that the right decision can be made in this case."
How everyday racial profiling hurts everyone
Amber Guyger, who is white, was off-duty when she shot Botham Shem Jean, a black man, in his apartment, police said Thursday. Guyger told police she thought she was entering her own apartment not realizing she was on the wrong floor. Upon encountering Jean, she thought her home was being burglarized and opened fire, according to police.
Botham, a 26-year-old native of St. Lucia, was unarmed. He died at a hospital.
Guyger was released from the Kaufman County Jail on Sunday evening after posting a $300,000 bond.
Though Jean's family stood alongside Johnson at her news conference, they also appeared minutes later at a separate news conference with St. Lucia's prime minister and three attorneys. There, they told reporters that they felt Johnson and other officials had not been forthcoming with information about Botham Shem Jean's death.
Attorney S. Lee Merritt said the family has not been satisfied with the information coming out of the district attorney's office. Nor were they pleased it took three days to charge Guyger when, in Merritt's view, the officer's admission she shot him was sufficient to merit an arrest on manslaughter charges, he said.
"The promise of transparency to this family has been a blank check," Merritt said.
Officer entered the wrong apartment
The fatal shooting happened Thursday night at the South Side Flats in Dallas, where both Jean and Guyger lived. Guyger's apartment is directly beneath Jean's.
What investigators may be looking for
Jean was home alone when Guyger, still in uniform after her shift, entered the apartment, Dallas Police Chief Ulysha Renee Hall said Thursday.
Guyger parked her vehicle on the fourth floor, entered the building and walked toward what she thought was her apartment, according to an arrest warrant affidavit.
The door was slightly ajar as she tried to use her key, which has an electronic chip, to enter. When she was able to open the door, she saw the interior was nearly completely dark, according to the affidavit. She described seeing a large silhouette and, believing there was a burglar in her apartment, drew her firearm.
Her verbal commands to Jean were ignored, the affidavit said, and Guyger fired two shots at Jean, striking him once in the torso.
Guyger then entered the apartment, called 911 and started administering first aid to Jean.
She turned on the lights while on the phone with 911, and when they asked for her address, she realized she was in the wrong apartment.
Officers "responded in about four minutes," Hall said.
Guyger told responding officers that she thought she was in her own apartment when she fired her weapon.
Both apartments are identical or extremely similar in terms of layout, the affidavit says.
Guyger also involved in a 2017 shooting
Guyger, 30, is a four-year veteran of the department, assigned to the Southeast Patrol Division. It wasn't immediately clear if she had an attorney.
Guyger was involved in another shooting incident in May 2017, Dallas police said.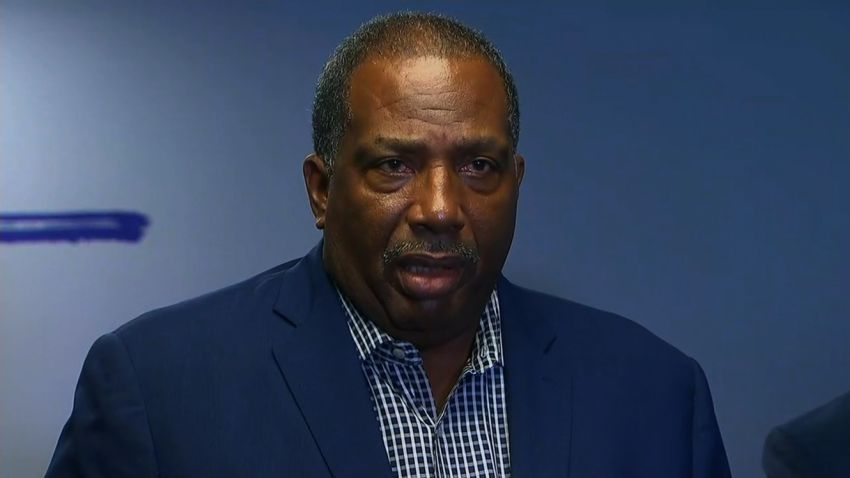 Senator: For some strange reason, door was open
In that case, Guyger was attempting to identify a woman in a car when another passenger in the vehicle got out and took her taser. Guyger shot and injured the suspect, according to the department's statement. The suspect was later charged with taking a weapon from an officer, possession of meth and marijuana, and a parole violation.
State law enforcement leading the investigation
The investigation into the recent shooting has been handed over to the Texas Rangers, the state law enforcement agency, to "eliminate the appearance of any potential bias," the police department said in a statement Saturday.
"At the very early stages of this investigation – initial indications were that they were what we consider circumstances of an officer-involved shooting," Hall said. "However, as we continued this investigation it became clear that we were dealing with what appears to be a much different and very unique situation."
Hall said investigators obtained a blood sample from Guyger to test for drugs and alcohol.
Dallas Mayor Mike Rawlings thanked the Texas Rangers and praised Hall, who asked the state agency to take over the investigation.
"Please continue to pray for the family of Botham Jean tonight and in the weeks and months ahead," Rawlings said in a statement.
Jean remembered as a loving son and brother
Guyger's arrest was announced as Jean's family and their attorneys say they met with Dallas County District Attorney Faith Johnson to demand the officer be taken into custody.
Police give details of fatal apartment shooting
"We don't need evidence beyond a reasonable doubt at this point," Jean family attorney S. Lee Merritt told reporters Sunday. "At this point, we need probable cause of a crime. And the existence of probable cause is painstakingly clear to everyone."
Merritt said attorneys presented prosecutors with a witness, and video evidence, which didn't capture the shooting, but declined to elaborate. Jean and Guyger did not have any known relationship prior to the shooting, Merritt said.
"We're still dealing in America with black people being killed in some of the most arbitrary ways, driving while black, walking while black and now we have to add living while black," co-counsel Benjamin Crump said.
Jean worked as a risk assurance experienced associate at PricewaterhouseCoopers in Dallas, according to his LinkedIn page.
He earned a bachelor's degree from Harding University in Arkansas in 2016. Crump said Jean was "living, doing everything that you want a young person to do."
"He had no criminal history. He was an amazing student. He was an amazing citizen. He loved God," Crump said.
Friends and family gathered at a vigil at Jean's church, the Dallas West Church of Christ on Saturday, CNN affiliate CBS 11 reported. He was remembered by classmates, coworkers and family members as a loving son and brother, a hard worker and a powerful singer who enjoyed helping others.
"Botham loved mankind," Jean's mother, Allison Jean said to those gathered. "Botham never saw color, never saw race. Botham wanted all of us to unite."
Funeral services for Jean are scheduled for 11 a.m. Thursday at the Dallas West Church of Christ.
CNN's Lauren Leslie, Keith Allen, Susannah Cullinane and Ray Sanchez contributed to this report.