The caller on the line is agitated.
Minutes earlier, he'd grabbed a knife and held it to his body, threatening to kill himself. Staffers at the group home where he lives wrestled it away, but he still feels like he wants to do himself harm. So he calls a suicide hotline.
A crisis counselor named Aaron answers. He listens intently.
"Hey, you feeling any better?" Aaron asks after a minute. "Well, just try to hang out with the staff there, OK? Can you stay there with them?"
After determining the man is no longer an immediate threat to himself or others, Aaron gets his permission to send over two counselors who can address his needs in person.
"We're gonna come by and check up on you and make sure you stay safe," Aaron tells him. "We'll see you soon, OK? Alright, take care."
The call ends. Soon, there will be another. And another.
Suicide rates have gone up 25% in the US in the last 20 years. Every state, except Nevada, has experienced an increase.
So, while the calls are emotionally grueling, Aaron and the other staffers know to soldier on.
How the call center works
Nestled in a downtown Atlanta high-rise, the call center for the Georgia Crisis & Access Line looks like any other call center in the world. About 30 men and women in headsets sit in cubicles, chatting and typing. Bulletin boards with motivational messages surround them. Fluorescent lights cast a pallid glow over the room.
They work for Behavioral Health Link, a crisis services company, contracted by the state of Georgia. When a person calls 1-800-715-4225 from anywhere in the state, the folks here answer – 24 hours a day, seven days a week.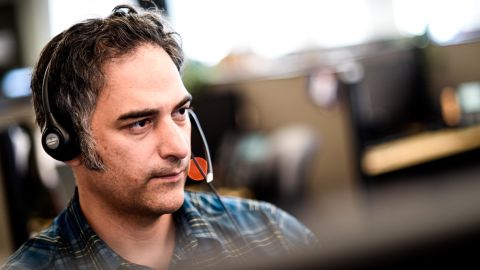 They are busy, but even more so since the high-profile suicides earlier this summer of fashion icon Kate Spade and celebrity chef Anthony Bourdain.
There's usually an uptick in calls to suicide hotlines after a celebrity suicide because the hotline number is publicized more.
How to get help for someone who might be suicidal
"Hopefully people will know that calling a crisis line is an easy thing to do, even though that phone feels like it weighs 400 pounds before you pick it up," says Wendy Martinez Farmer, the CEO of Behavioral Health Link. "But once you pick it up and talk to a caring person, everything gets easier."
Unlike most crisis hotline call centers in the nation, which are staffed by volunteers, Behavioral Health Link is paid by the state to answer calls. It's contractually required to answer within 15 seconds.
Staffers here are either licensed clinicians or "care consultants." All the clinicians have master's degrees and have been extensively trained to counsel people in distress. The care consultants try to calm callers down and refer them to one of the licensed clinicians if needed.
Half of Behavioral Health Link's 200 employees work the phones. The other half does what's called mobile crisis work – like the team Aaron sent out: go to someone's city or town and counsel them face to face.
"About 80% of the time, when the mobile teams go out and check in on a person, nobody has to go to the hospital," Farmer said. "They can stay in the community and stay home."
Most people ask the mobile crisis teams to come to their homes. The second-most popular meeting location? Waffle House. Well, this is the South after all, and some folks just feel more comfortable hashing out their troubles over a tasty meal.
They're not always busiest when you might think
The Atlanta crisis center gets between 800 and 1,000 calls a day.
Sunday night and Mondays are the busiest, because many callers dread going back to school or work and feel miserable when they get there.
Contrary to public perception, winter is not the season with the most suicides, said Farmer, who has worked in crisis counseling for 20 years. It's spring, because people think their feelings of depression will ease when winter ends. When warmer temperatures arrive and those feelings don't subside, they sink even deeper into depression.
Another big misconception, she said, is that people kill themselves more during the holidays. People battling depression actually benefit from being around friends and family during festive holiday periods, Farmer said. It's when the holidays are over, and a depressed person again finds themselves alone, that thoughts of suicide start to creep in.
Most of the calls are from adults. But, sadly, occasionally even elementary school children will call.
A lot of calls are from family members
Fortunately, not all the calls are life-or-death situations.
"The crisis line is not just for people who are suicidal. We want people to call us when they are having any emotional distress, and that can take on many forms," Farmer said. "We have people who call us who are having substance abuse problems, who are experiencing anxiety, some depression symptoms.
"It doesn't always have to do with suicide. Certainly, suicide is something that we deal with … but we want people to reach out before it gets that bad."
A lot of callers are actually the family members of people who need help.
"Many family members are concerned that their loved ones don't believe they need care," Farmer said. "With many serious and persistent mental illnesses, there is a lack of insight about needing help so it can be very hard to convince them."
After a call is over, staffers at the center often don't know how much they have helped the person on the other end of the line. So they call them back within a few hours or the next day and conduct customer satisfaction surveys.
If the caller feedback is good, their comments are displayed on a large monitor in the call room for everyone to see. One recent comment, from a male caller, described how much the chat had helped him.
"I really liked and enjoyed (the) conversation with the lady…" he said. "She made me feel at peace."
For clinicians here, it's positive reinforcement.
"It makes it a lot easier to do (this work)," Farmer said, "if you know what you're doing makes a difference."
Sometimes staffers must retreat to the Zen room
Many of these workers have dramatic stories about callers they coaxed from harm.
One staff member, Felicia – no last names are used in the call center – said she's fielded many difficult calls during her 12 years working the crisis line.
The toughest call she ever had came right after she first started working the crisis line. A truck driver called to say he was hauling around a bomb and was going to drive it into a building.
Felicia alerted the authorities and stayed on the phone with him for an hour and a half. But she never found out if the bomb threat was real or what happened to the man.
She particularly remembers a call a few years ago from a teen girl who wanted to end her life.
"I asked her why. Her answer to me was, 'I've lived my 18 years on this Earth and I don't want to be here anymore.' That was particularly difficult for me," Felicia said. "This was coming from a young teenager with so much life, so much to live for."
By working with the teen's mom, Felicia was able to direct the girl to the help she needed.
Listening day after day to people struggling through some of the darkest moments of their lives can take an emotional toll. That's why the Georgia suicide call center has a Zen room.
Calming, abstract paintings adorn the walls. A corner bookshelf holds titles like "The Little Zen Companion" and "The Art of Relaxation." Next to a dark love seat is a small blue table with a box of tissues.
"If you've had a rough call and need a minute, you can decompress in there," Farmer said.
To protect their own mental health, staffers are encouraged to take breaks when needed. Supervisors sometimes listen in on calls and are constantly on the lookout for staffers who may need a respite from the phone.
And above all else, they say, staffers are encouraged to talk with each other about the really tough calls. Don't hold it inside, they are told.
"That's one of the ways I decompress," Felicia said. "Being able to grab one of my friends and say, 'I was just on this call for 45 minutes, this is what I just went through.'"

One counselor is uniquely qualified to help
If you've never been severely depressed, it can be a hard thing to understand.
But there's one person in the call center who can personally relate. Her name is Carol, and she's the certified peer specialist.
Carol is a licensed clinician who has struggled with mental health problems. That makes her uniquely qualified to counsel callers and gives her added credibility when she tells them she knows what they're going through.
"I live with a mental health condition. So I have had experiences that other people don't. I thought the FBI, the CIA were after me. I've been really sad to the point where I would cry myself to sleep every night," she said.
"I use those experiences, as well as my family's experiences … to support parents and to support people like myself."
Carol's own son is battling depression. Two years ago, she even called the hotline herself, seeking help for him.
Today her son, now in fourth grade, is doing better. And thanks in part to the call center, she's developed strategies to help him on days when he struggles.
Because she's been on both sides of crisis calls, Carol also helps evaluate how her co-workers counsel people on the phone. She can tell them, based on her own experience of calling into the hotline, if their tone and language is effective.
Carol often conducts the customer satisfaction surveys, assessing how much the phone conversations with callers is making a difference.
And she always tries to end her conversations with callers with a little bit of hope.
"Remember, we're here," she tells one caller. "So if things get worse for you, you can call back, OK?"
The call ends, but not the work. Because somewhere out there, someone is hurting.
Asking for help
The suicide rate in the United States has seen sharp increases in recent years. Studies have shown that the risk of suicide declines sharply when people call the national suicide hotline: 1-800-273-TALK.
There is also a crisis text line. For crisis support in Spanish, call 1-888-628-9454.
The lines are staffed by a mix of paid professionals and unpaid volunteers trained in crisis and suicide intervention. The confidential environment, the 24-hour accessibility, a caller's ability to hang up at any time and the person-centered care have helped its success, advocates say.

The International Association for Suicide Prevention and Befrienders Worldwide also provide contact information for crisis centers around the world.
CNN's Andrea Diaz contributed to this report.