Alejandro and his mom journeyed for days without eating, stuck in a putrid bus with 65 strangers stuffed "all on top of each other."
Then they reached the US, where they say their nightmare really began.
The Guatemalan migrants, desperate to flee violence back home, left everything they knew for one dangerous attempt to seek US asylum. But what they faced in the US turned out to be far more arduous than their grueling 9-day trek across Mexico.
Asylum:
A protected status that allows people fleeing persecution to live legally in another country.
"We just thought that they would empathize with us and that it would be different. But it didn't go that way," 13-year-old Alejandro said. "We had to suffer. I was inside a shelter for two months, and my mom was in prison for two months."
In a rare interview with a child separated at the border, we see through the eyes of a boy what life was like inside a shelter with strangers during the government's "zero-tolerance" policy.
We hear directly from a child about the long-term trauma he says he experienced as a result of his sudden removal from his mother.
And with hundreds of kids still separated from their parents, Alejandro's story could be just one of countless tales of ongoing anguish.
'I will never see them again'
Alejandro has already endured the pain of family separations many times in his young life.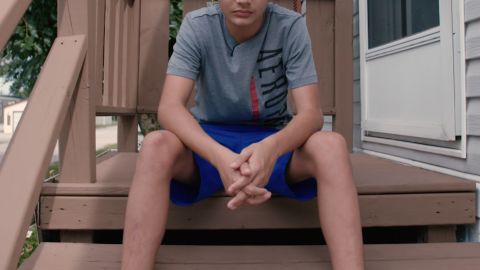 Back home in Guatemala, his mom and grandparents did their best to give him a stable life – despite relentless threats of violence from his estranged father.
"I would wake up in the mornings there, and I knew I would see my grandfather. My grandmother would make breakfast," he said.
But the love from his family couldn't mask the bullet hole on the side of the house – a frequent reminder of the danger they faced.
The boy's mother, Dalia, said she could no longer stand the threat of domestic violence from her estranged partner.
"My best friend was killed by her husband," Dalia said. "She lived just like I did, and she's dead now. He shot her. I didn't want to be like her, another victim."
Both she and Alejandro wanted to be identified only by one name, for fear of retaliation against their family in Guatemala.
Dalia said she got a restraining order against her estranged boyfriend. But she said in her country, that didn't matter. Her partner was "well connected."
"The police in my country protect the people that give them money all the time," she said. "They are bought."
Alejandro stepped up to protect his mom, insisting on walking her home from work every day.
"He would go every day, rain or shine, thinking that one day (his father) would suddenly kill me," Dalia said. "We couldn't take it anymore. That's the only reason why I came to this country. … Every day, I had that fear that one day I wouldn't return home. I couldn't take his threats or abuse anymore."
So Dalia made the gut-wrenching decision to leave her parents in a gamble to give her son a better life in the US.
Alejandro said the separation from his grandparents was particularly heartbreaking.
"It's hard to come and know they are no longer with you, to know that you left them behind, to know that you're not going to be there anymore to enjoy their company," he said.
"I'll never see them again, hug or spend a single moment with them, a plate of food, a dinner, a birthday. And my family is so close that they were with me up until the moment that I left the country."
9 days of hell
The journey from Guatemala to San Luis, Arizona, stretched more than 1,800 miles. Dalia said she paid people to help get her and her son to the US.
"Days and nights in a bus, we slept hidden in the mountains," she said. They went "entire days without eating, with my son, crammed in buses without seats …. with 65 people all on top of each other."
Alejandro gets emotional when recalling that journey.
"We endured hunger. We endured cold. We endured thirst," the boy said.
In May, they made the final leg of their journey on foot. They crossed over the Mexico-Arizona border, with hopes of seeking asylum once inside the US.
"Yes, we did something that we shouldn't have. We crossed illegally," Alejandro said. "But we were fleeing danger."
Dalia said she and Alejandro had been denied visas to the US. When they arrived at the US border, they had no control of where the smugglers would drop them off. So they were left at an area with no legal port of entry.
They both said they were expecting to turn themselves in to border patrol, armed with Dalia's documents to make a case for asylum. But shortly after crossing, Dalia said, a border patrol agent had already approached them.
As expected, the mother and son were taken into custody. What they didn't expect was the trauma of separation.
No time for a hug goodbye
Like thousands of other migrants, Dalia and Alejandro had no idea they would be split up and sent to detention centers across the country.
Under the Trump administration's "zero-tolerance" policy, any adult caught crossing the border illegally would face federal prosecution – though they still had the right to seek asylum.
That meant children were sent to federal shelters nationwide while their parents' immigration claims or criminal cases progressed – even though the government had no clear plan on how to eventually reunite children with their parents.
Alejandro vividly remembers the day in an Arizona detention center when he was suddenly removed from his mother.
"I'll never forget that day. It was a Tuesday that they took me out of the prison and they took me on a flight to Miami," Alejandro said.
The separation happened so quickly, he wasn't allowed to hug his mother goodbye.
"No, they wouldn't allow any physical contact. We couldn't touch," Alejandro said. "I only told her through the window that I loved her very much and that everything would be OK. All I could say was 'goodbye,' and they took me."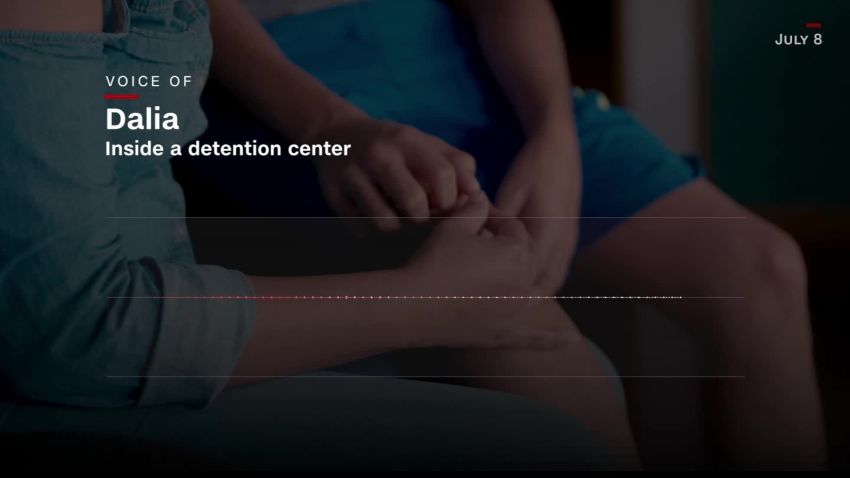 Dalia inside detention: 'my heart is destroyed'
'A nightmare that would never end'
Across the country, in a children's shelter full of strangers, Alejandro's mind raced with anxiety.
"My days were just thinking, what was going to happen? What am I doing here?" he said. "I was so worried that the frustration wouldn't let me sleep … I felt like it was a nightmare that would never end."
He said he was treated kindly by staff members, who fed him well, made sure he went to classes, and gave him time to play outside.
But for a boy accustomed to protecting his mother, "to know that she was suffering" from the separation overwhelmed him.
"I couldn't do anything for my mother, not even defend her," he said. "I fell into a deep depression."
In their two months apart, Alejandro said he was able to speak with his mother by phone about three times.
He filled his days with classes, games and playing soccer with other detained children.
"The friends I made, I'd go out and play, (and) they helped me forget a little that I was inside there."
One friend gave him a glimpse into the horrors that other migrant children faced.
"I had a friend that I was close to, he was fleeing his country because of the mafia," Alejandro said.
"The gang members wanted him to join the gang, and he didn't want to. And he told me that he came home from school and found his mother dead in the bathroom and his sister in her bedroom and there was a note on the table that said, 'This is the consequence for not joining the gang.'"
As the weeks passed, Alejandro said he became emotionally numb doing "the same thing every day – like we were mannequins doing the same thing every day because we didn't have any feelings."
One morning, as Alejandro brushed his teeth, an adult came and told him to pack his suitcases. Then he heard the words he'd been waiting for: "Congratulations. You're leaving."
He was put on a plane to Phoenix for his long-awaited reunion with his mother – this time, at another detention center.
"I couldn't hug her because the official didn't allow to touch. Physical contact wasn't permitted," Alejandro said. "They took us to another cell, and we were talking there, whispering, because they didn't permit us to speak. And (I) started telling my mom everything."
Dalia, whose asylum case is pending, was fitted with an ankle monitor and was allowed to leave with her son.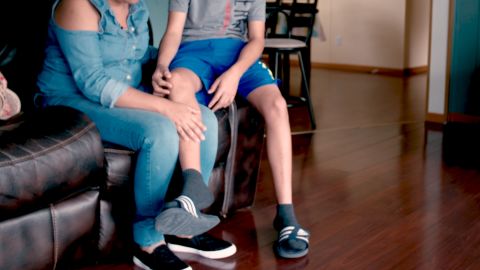 "They were going to leave us on a bus stop," Dalia said.
But the nonprofit RAICES – the Refugee and Immigrant Center for Education and Legal Services – picked them up and paid for their flight to Chicago, where Dalia's sister lives.
They hoped to find some type of normalcy there. But that kind of calm remains elusive.
The never-ending trauma
Alejandro and his mom are now in Chicago, free from the threats of violence back home but terrified of what could happen next.
Dalia's case for staying in the US could face long odds. Attorney General Jeff Sessions has reinterpreted asylum law to make it much more difficult for immigrants fleeing gang and domestic violence to get asylum.
But Alejandro's nightmares aren't about deportation.
"They are about being far from my mom," he said. "My mom was far, in another place. My mind was so frustrated that sometimes I still think that I'm there. Sometimes I sit in one spot and I start to visualize everything that I lived, everything that happened to me."
The gravity of that trauma can only be understood by the children who endured it.
"It hurt me so much because (my mom) was the only thing I had. I was completely alone," Alejandro said. "My mom, the person who supported me since I was little … she's always been by my side. I didn't have any other support – nothing more than my family and my mom."
While many kids his age are embarrassed by their moms or want to assert their independence, Alejandro now clings to his mother like a toddler.
"I wish I could be with my mom 24 hours a day," he said. "I want to have her near me always. … Sometimes my mom jokes with me, 'You still sleep with me? Aren't you embarrassed?' "
Dalia says she doesn't mind her son curling up next to her, or trailing her everywhere she goes.
"He says he does not feel safe sleeping alone," Dalia said. "He doesn't want to leave my side because he thinks they're going to separate us again."
So after all this agony, the grueling separation and the lasting trauma, would Dalia make the same decision again to come to the US?
"Honestly, to protect my life and to have a better life with my son, yes."
Alejandro said his dream is to grow up in the US – "to live with my mom, go to school, get an education, and when tomorrow comes, be somebody."
He knows making a life in a new country would be difficult, and there will be plenty of critics who don't want him here. But "everything in life costs something. Nothing is easy. And whatever is easy isn't worth it."
Alejandro still grapples with the heartache of missing his grandparents. But he says life back home is just too dangerous.
"I can't return to my country, even though I want to see my family again," he said.
"I wish I could have put them all in my suitcase and bring them with me. But I couldn't."
CNN's Alexandra King, Estephani Cano and Tal Kopan contributed to this report.