As officials in Washington prepared to honor the late Sen. John McCain, President Donald Trump headed to Evansville, Indiana, to headline a campaign rally for GOP Senate nominee Mike Braun. If you thought Trump might honor McCain's passing or adjust his fiery campaign rhetoric in any way, you thought wrong! (Trump never mentioned McCain by name in the speech.)
I went through the transcript of Trump's speech and pulled out the most, um, memorable lines. They're below.
1. "You love our country. You're proud of our history. And you always respect our great American flag."
While this is a standard Trump line, it takes on a bit of a different meaning since the flag over the White House went back to full-staff on Monday morning – even as the US Capitol Building had the flag still at half-staff to honor McCain. Later in the day, Trump issued an order for the flags at the White House to hang at half-staff until McCain's burial at the Naval Academy on Sunday.
2. "And now tomorrow you're going to read headlines, 'Trump had protesters all over the place.' One person. One person."
You wouldn't have read headlines like that except for the fact that a Trump volunteer blocked a photographer trying to take a picture of the protester.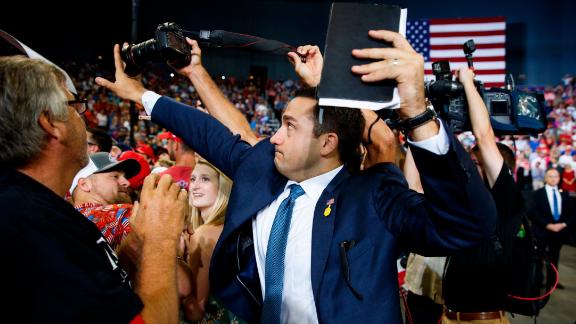 Evan Vucci/AP
3. "But are they going to talk about the thousands and thousands of people inside of this arena and outside of the arena, where we put screens? No."
The Indianapolis Star reported that all of the arena's 11,000 seats were full – and that people "spilled out onto the floor."
4. "These are just dishonest, terrible people. I'm telling you that. Terrible people."
Trump's attack on the media came on the same day that a California man was charged for making violent threats against reporters for the Boston Globe. He insisted that the media was "the enemy of the people." Sound familiar?
5. "They do suppression polls. You know what a fake poll is. It's called a suppression. They make you think you can't win, so you go to see a movie."
This is not a thing. Or at least not a thing any credible, mainstream media outlet would get anywhere near. What Trump means is that sometimes polls don't come out well for him or his side. When that happens, he calls those "suppression polls" because they might have the effect of discouraging people to vote for a lost cause. That, of course, is not the aim of polls. The aim of polls is to provide a snapshot of where a race stands.
6. "But the word is they're firing the head of NBC. What a great thing to do. How smart. That's what the word. Who knows? With these people, you never know."
A classic in the Trump rhetorical catalog. I hear someone might get fired. But that could change. Who knows? By doing this, Trump injects the idea into the minds of his supporters and forces some level of media coverage – even if it's very skeptical. He does all of that without a single shred of evidence that NBC News President Andrew Lack is getting fired.
7. "But when I start screaming 'fake news,' you see those red lights go off for a little while. You know, excuse me, we have technical difficulties, OK, then they go back. "
So. The President of the United States is alleging, with no proof, that TV cameras are faking technical difficulties when he starts talking about "fake news." Which is weird, because I watched him say this line on TV last night.
Like what you're reading?
8. "It's tough to have a network where you're calling them 'fake news' and they're supposed to be proud."
[narrator voice] It's not tough at all, actually.
9. "That just shows when you get good ratings, you can say anything."
He said the quiet part out loud! If you needed Trump's view on the media – and on life more generally – condensed into a single sentence, this would be the sentence I would write. If you listen closely enough to Trump, he always tells you exactly what he thinks, and who he is.
10. "We're so far ahead of schedule."
There's a schedule? Who knew!
11. "I gave Mike, a little while ago, something that I saw – but he's seen it – the Indianapolis Star did a story, and I guess it's a poll of some kind. Joe Donnelly rated least effective Democrat in Senate in a new study."
Two things: 1) Here's the study Trump is referencing and 2) It's amazing how Trump sees zero hypocrisy in calling the media "dishonest, terrible people" one moment and then citing a mainstream media story to make a point that is good for him.
12. "Today's Democrat Party is held hostage by left-wing haters, angry mobs, 'deep state' radicals, establishment cronies, and their fake news allies."
This is a pretty remarkable thing for a president – even Trump – to say. The opposition party is haters, angry mobs, people who make up the news, swamp-dwellers and embedded bureaucrats working to bring down his presidency. What's even scarier is that I think he may genuinely believe it.
13. " You can have the biggest story about Hillary Clinton – I mean, look at what she's getting away with. But let's see if she gets away with it."
Trump never specifies what Clinton is "getting away with." Doesn't matter. The crowd erupts in an extended "Lock Her Up!" chant. What are we locking her up for? No one seems to know!
14. " All I can say is, our Justice Department and our FBI – at the top of each, because inside, they have incredible people – but our Justice Department and our FBI have to start doing their job right and doing it right and doing it now."
This is more "deep state" conspiracy stuff. Remember that the head of the Justice Department – Jeff Sessions – was a top Trump supporter during the campaign and was hand-picked by the President for this job.
15. "What's happening is a disgrace."
A Republican president offers his thoughts on his own Justice Department.
16. "I wanted to stay out. But at some point, if it doesn't straighten out properly – I want them to do their job – I will get involved, and I'll get in there, if I have to."
Trump, translated: The Justice Department better start pursuing my personal whims – or else.
17. "Republicans stand for stopping illegal immigration, fixing bad, horrible, obsolete trade deals, unleashing American energy, cutting taxes, supporting our militaries and our great vets, our great, great vets."
Great vets like, say, John McCain?