(CNN) —
The wave of teacher strikes spreading across Washington has forced seven school districts to miss their first day of school.
And unless Seattle officials find a resolution soon, more than 53,000 students in the state's largest district could miss school indefinitely.
The Seattle deal came a few days after teachers voted to give their union the power to call a strike.
Negotiations between local teacher associations, the school districts and state-appointed mediators are ongoing, the school districts said.
On Tuesday, students were supposed to start classes at Evergreen Public Schools and the Washougal School District. But those plans got derailed because teachers and district officials are still negotiating new contracts.
Strikes in Washington follow a wave of nationwide teacher protests last spring. Educators have demanded higher salaries and better school funding for their students to replace crumbling textbooks and archaic supplies.
Seattle teachers get ready to strike
On Tuesday night, members of the Seattle Education Association voted to give their union the power to call a strike if the SEA and Seattle Public Schools can't reach a deal on teacher contracts.
Seattle schoolchildren are supposed to start school next Wednesday. But if the adults can't reach an agreement before then, the kids might stay home indefinitely.
School district officials said they doesn't want to see that happen.
"We remain optimistic that school will begin September 5," Seattle Public Schools said Wednesday in a statement.
More teachers declare a 'work stoppage'
About 200 miles south of Seattle, members of the Camas Education Association have announced a work stoppage – starting with their first day of school next Tuesday, Camas School District Superintendent Jeff Snell said.
"While our district offered teachers the option to continue working under the current contract, CEA has stated that unless an amended agreement is reached, teachers will not return to the classroom," Snell said in a statement.
"If an agreement is not reached 24 hours before the start of school on September 4, we will notify you that school will not open as scheduled. Each day after that, we will continue to give you updates until an agreement is reached."
In Monroe, about 30 miles northeast of Seattle, teachers rallied this week demanding better pay. But it's not clear what will happen next Wednesday, when the school year is supposed to start.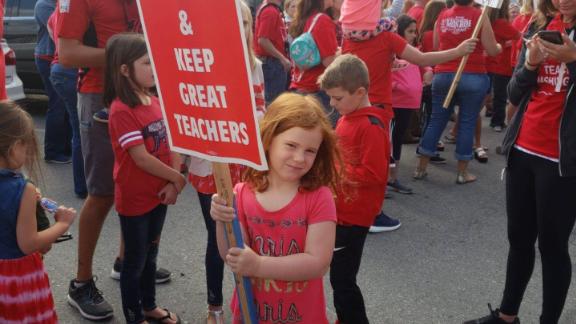 Monroe special education teacher Michael Jones said he's willing to go on strike if needed – not just for better salaries, but for the future education of children.
"I care for my salary and for the salaries of my colleagues as well, but beyond that, I care about the education my own children will receive in Monroe," he said.
"This next week will literally impact the community of Monroe for generations to come because many surrounding districts have already agreed to big raises. … I've always believed that when we start thinking that the 'grass is greener elsewhere' that it is our responsibility to water our own grass and make it greener. If it takes a strike, then so be it."
'#sorrynotsorry'
Shelli Blake, a paraeducator at Vancouver Public Schools, said she understands the hardships some parents are facing due to the strike there.
"I'm sorry the teachers have 'inconvenienced' you by going on strike. I understand daycare needs so you can go to work," Blake posted in an open letter to parents on Facebook.
"While teachers are on strike they will also be 'inconvenienced' by not getting paid, standing in the heat, bargaining with the district, and finding care of thier [sic] own children. They do this to ensure quality educators, special services, and smaller class sizes."
And because the school year might be extended, Blake said students won't miss out on important lessons.
"I get that extended daycare needs can be costly but with the extended school year teachers will be 'watching' your children at the beginning of next summer; therefore no need to pay for childcare," she said.
She signed off her letter with the hashtag "#sorrynotsorry."
CNN's Janelle Davis and Chris Boyette contributed to this report.