(CNN) —
South Korea's Premier League star Son Heung-min is one game away from avoiding national service.
The 26-year-old Tottenham forward can skip military conscription if his South Korea side win the Asian Games final against Japan Saturday.
South Korea beat Vietnam 3-1 in the semifinal at the Pakan Sari Stadium outside Jakarta Thursday to set up the life-changing finale. Japan beat UAE 1-0 in the other semifinal, also on Wednesday.
Any South Korean athletes who win Olympic medals or Asian Games titles are exempt from the usual mandatory military service.
Under the country's law, all able-bodied men between the ages of 18 and 35 are required to perform at least 21 months of military service. The Defense Ministry has pledged to reduce the term to 18 months by 2020.
READ: Golf's Players champion Kim Si Woo to undertake military service
READ: South Korea knocks holder Germany out of World Cup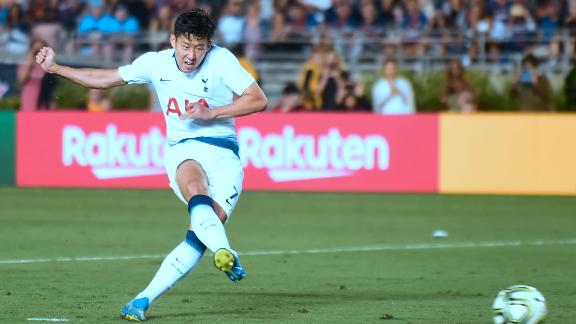 FREDERIC J. BROWN/AFP/Getty Images
Son turns 28 on July 8, 2020, and if he wants to enlist in the military's Armed Forces Athletic Corps – its home for elite sportsmen – he would have to begin by then or face regular military service.
Missed chance
He missed his chance for exemption in 2014 when the South Korean team won Asian Games gold as his German Bundesliga club Bayer Leverkusen refused to release him – the tournament isn't officially recognized by FIFA, and clubs aren't obliged to release their stars.
Son – one of three over age players in this year's South Korea squad – didn't play in the first two group games against Malaysia and Bahrain but scored the winner against Kyrgyzstan and was a starter in the quarterfinal win over Uzbekistan and the semifinal against Vietnam.
The striker scored South Korea's second goal as it knocked holder Germany out of the World Cup this summer.
Son has made more than 100 appearances for Tottenham since signing from Bayer Leverkusen for £18 million ($23.1M) in 2015.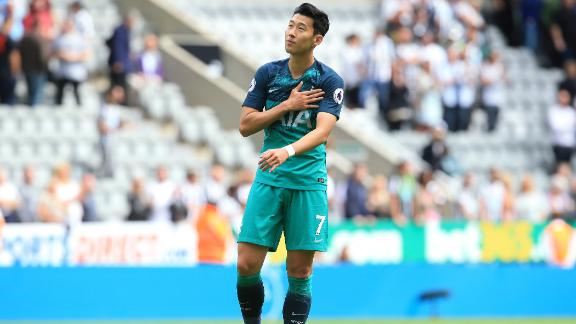 LINDSEY PARNABY/AFP/Getty Images
In the army now
The law has derailed the careers of many of the country's biggest male sports stars and K-Pop artists, with hugely popular boy band Big Bang having to take a break recently while its members performed their military service.
Despite knocking champions Germany out of this year's World Cup – before themselves crashing out in the group stages – South Korea's football team have still not done enough to escape the service.
Multiple petitions have been filed to the official Blue House website urging President Moon Jae-in to issue the football players an official exemption – the members of South Korea's 2002 squad, which surpassed expectations by reaching the tournament's semi finals, had their obligations waived.
Those without a chance of a presidential pardon have turned to more drastic measures – many young men intentionally gain or lose weight, feign mental illness, get full body tattoos, or self-harm in order to get an exemption, according to the Yonhap news agency.
In the past there has been tremendous public criticism of those, such as the children of government officials, who manage to find loopholes in order to avoid military service.
Visit CNN.com/sport for more news, videos and features
Yoo Seung-jun, a popular singer in the 1990s, had to give up his career in South Korea after he was accused of evading military service by becoming a US citizen. He is still banned from entering South Korea.