LaTonya McIntyre made sure she was first in line outside the Charles H. Wright Museum of African American History in Detroit to say goodbye to Aretha Franklin.
"I've been waiting since Monday," McIntyre told CNN early Tuesday morning. "I got in line at 4 p.m. on Monday."
The Las Vegas resident joined other fans who sang, hugged and shared their memories of the Queen of Soul. Franklin died earlier this month at the age of 76 after a battle with pancreatic cancer.
As the line of those wishing to pay tribute grew, cars rolled past the museum, honking horns, waving to those assembled and yelling, "Aretha Franklin!" as they went by.
Franklin's body will lie in repose at the museum Tuesday and Wednesday, befitting a queen who was known as much in the black community as a civil rights symbol as she was for her music.
Detroit native LaTonya Edwards, 40, brought her 14-year-old son, Lamon.
"I wanted to be a part of the homegoing for Ms. Franklin," she said. "This is history."
Lamon said he didn't know as much about the singer as his mother, but he knew how important she was to his family.
"[Older family members] would listen to her music," he said. "I came with my mom to make sure she was OK."
Emotions ran high – both celebratory and sad – for those who embraced Franklin as a part of their extended family, even if they never met her in person.
Tiffany Dorsey wore a t-shirt with Franklin's face on the front and "RIP Auntie Reatha Queen on Soul" written on the back.
She said Franklin grew up with her older family members and was beloved in the Detroit community.
"She was real loving," Dorsey recalled. "She would give gifts to people and do things for them and a lot of times people didn't even know it was her. She's going to be missed."
The last time Detroit honored Aretha Franklin
Many in the line said a niece of Franklin's showed up early with burgers, water and t-shirts to thank the fans who waited.
Stuart Popp, who drove from Plymouth, Michigan in his pink 1956 Cadillac Grand Seville, was greeted by the crowd singing Franklin's hit, "Freeway of Love." Popp told CNN he's been asked to display the car at the museum Tuesday and Wednesday, as well as drive in the Franklin's funeral procession on Friday.
"This was way bigger than I thought it was going to be," he said as fans clamored to jump in the front seat for photos. "I was a fan of her music."
Camille Howard came from Austin, Texas and stood third in line with her sister.
She said that the love between Franklin, her family and fans was typical, and she felt she had to be present to honor the legendary singer.
"She deserves it," Howard said. "She gave so much to this world and she is worth it. The void that she's left in the community…this is the only way we knew to thank her and to thank her family for sharing her with us."
A few steps ahead at the front of the line, McIntyre recalled being a seven-year-old little girl in Alabama and hearing Franklin sing the gospel song "Holy, Holy."
"It was just pleasing to my soul," McIntyre said. "She wasn't the Queen of Rock and Roll or the Queen of R&B, she was the Queen of Soul. Because she touched your soul."
Inside the museum, Franklin lay in an open, gold casket, dressed in a red lace dress, red satin high heels and her hair perfectly coiffed in waves and pin curls.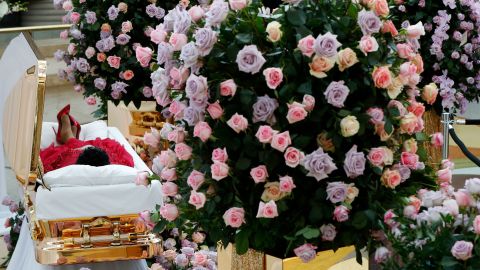 At the request of the family, only Franklin's gospel music will play during the viewing.
Her niece, Sabrina Owens, told CNN the significance of Franklin's attire and the large floral arrangements being displayed.
"If you ever received flowers from my aunt they would be big, beautiful arrangements," Owens said. "She sent them on birthdays, holidays and special occasions."
Franklin's crimson dress, earrings and shoes signified her honorary membership in the Delta Sigma Theta sorority, which Owens said was planning a ceremony to be held Tuesday night to honor her aunt.
A star-studded, private funeral is set for August 31 at 10 a.m. at Greater Grace Temple in Detroit.