Serena Williams is taking the sartorial high road when it comes to the French Open's ban on catsuits, but that hasn't stopped critics from saying she is being singled out – again.
The critics howled when French Tennis Federation President Bernard Giudicelli announced the new dress code at Roland-Garros, saying that players "must respect the game and the place."
Respect, yeah right, these people huffed. How about respecting a woman's discretion to wear what she wants for a sporting match? What about respecting that the catsuit is functional, as Williams told Reuters, and helps her with blood clots?
The angriest among them called it flat-out racism. Anna White once wore a catsuit at the much-stricter Wimbledon venue! (It's worth noting that was 33 years ago, and White was reportedly asked not to wear it again.)
Williams didn't seem terribly fazed addressing reporters Sunday ahead of her first-round match in the US Open.
"We already talked. We have a great relationship," Williams said of Giudicelli, laughing as she added, "Everything is fine, guys."
It may sate some of Giudicelli's detractors, but not all of them. Given Williams' response, it would be easy to accuse the latter of needlessly playing the racism or misogyny cards, but when you look at how history has treated Williams, do they have a point?
Can you see a consummate world champion male athlete enduring constant criticism of his looks?
Michael Jordan wins his sixth NBA title and the first thing out of a commentator's mouth is, "I don't know, Brent; do you think his shorts left too little to the imagination?" Or Michael Phelps holds aloft his 23rd gold medal and Bob Costas asks his fellow commentators if Phelps has a bigger butt than the other swimmers.
Off the field, Tom Brady has pimped Uggs, Cam Newton has stepped to a podium wearing a campaign hat so comically large it might fit Smokey the Bear himself and Russell Westbrook showed up to a game looking like he'd survived a mauling by a wild animal. They were mocked for a minute, and fans moved on.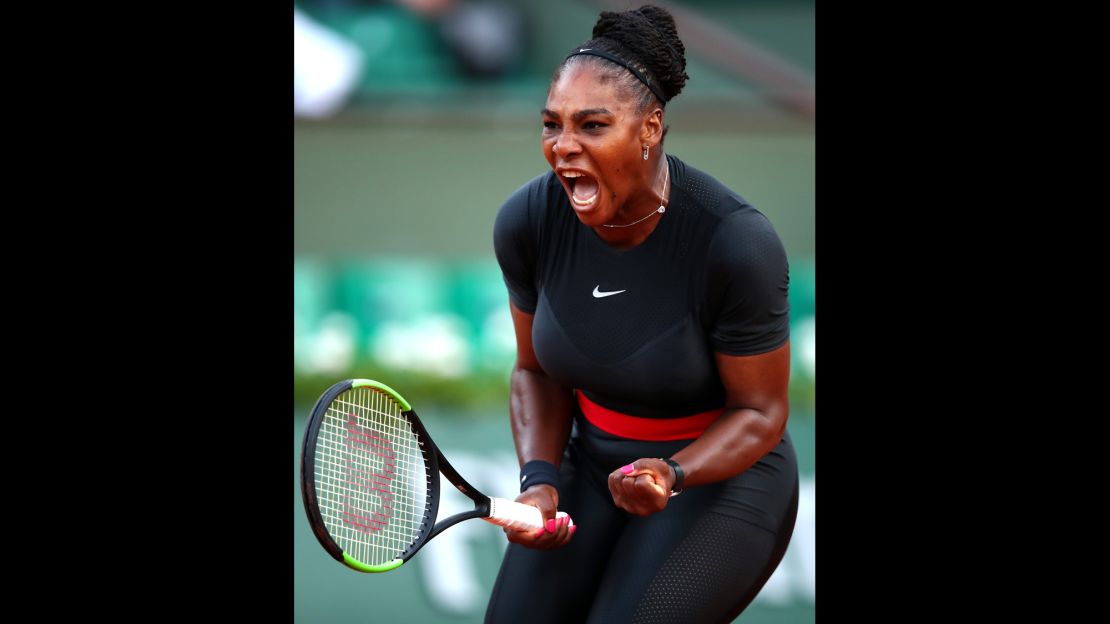 Tennis is different, you say? There's a different level of decorum? OK, Rafael Nadal went sleeveless for years. How many times did you hear his biceps compared to those of an animal, or see his success tethered, at times wholesale, to his freakish guns?
Perhaps not since the end of Jim Crow have athletes of Williams' ilk – and, to be clear, with 23 Grand Slam singles titles and counting, that's a tiny circle – had to weather so much criticism about their facade, be it melanin level, physique or choice of attire.
So, before assailing Giudicelli's critics, consider:
Gorilla comparisons
This one is so pervasive, there's no need to spend much time on it. Just Google the words Serena and gorilla for a host of vile, bigoted juxtapositions.
If it's helpful, David Leonard, a professor in the department of critical culture, gender and race studies at Washington State University, Pullman, compiled some of this content for his blog a few years back.
She's been compared unfavorably to other animals as well, but you get the picture.
Claims she's a man
Calling Williams' physique manly invokes two stereotypes. One is that no woman could be this dominant; she's so good she must have a penis. The other is that black women are not feminine and thus less attractive than their white counterparts.
The most successful family affair in tennis
This may sound like the offering of a Klansman or some rube trapped in a hopeless time warp, but with Williams it came from no less than the head of the Russian Tennis Federation, Shamil Tarpischev, who in 2014 earned a suspension after referring to Serena and her sister, Venus, as "the Williams brothers." He later apologized, calling it a joke.
To provide a sense of how long the Williamses have endured such nonsense, 13 years earlier, radio personality Sid Rosenberg was temporarily booted from a nationally syndicated show after calling Venus Williams an "animal" and the sisters "boys" who were "too muscular." He then said they had a better shot at posing for National Geographic than for Playboy.
Even Don Imus, who himself was axed in 2007 after calling the Rutgers women's basketball team "nappy-headed hos," seemed offended, calling Rosenberg a degenerate, according to reports at the time.
Body shaming
Again, you could expect this from an anonymous nitwit on Twitter, but even journalists and her fellow tennis stars have joined the fray.
Caroline Wozniacki, Andy Roddick and Novak Djokovic have all stuffed towels up the fronts of their shirts and down the backs of their shorts to mock or emulate the build of one of tennis' greatest players.
Poppy Harlow to Serena Williams: Thank you
In 2006, a columnist for the Telegraph – after questioning Serena Williams' commitment and stating that her "acting" was such that she could play Scarlett O'Hara's maid, Prissy, if "Gone With the Wind" were remade (yes, seriously) – basically called Williams fat.
"Generally, I'm all for chunky sports stars," he wrote. "But tennis requires a mobility Serena cannot hope to achieve while lugging around breasts that are registered to vote in a different US state from the rest of her."
Keep in mind, Williams was no upstart at the time of this derision. She was 24 years old and already had won each of the Grand Slam events at least once.
A Rolling Stone writer, in an otherwise effusive piece on Williams, years later wrote that she was "black, beautiful and built like one of those monster trucks that crushes Volkswagens at sports arenas." No, it's not the same as calling her chunky, but if you think it's a compliment, try this: Make a monster truck comparison to your wife or sister when she gets home from the gym one day. See what she says.
She's denied credit for her greatness
Naturally, those who engage in the aforementioned criticisms are quick to deny Williams the credit she has earned. It's not that she's a world-class athlete who loves the game she's played since 4 and that she trains with abandon. It's that she's big or black or unfairly built – all of which serves to strip her of the accolades her prowess demand.
Sharapova on her rivalry with Serena (2017)
In June at the French Open, a reporter took this denial of credit to a special low when he asked one of the more bizarre questions in the history of sports journalism. Saying he had been waiting 14 years to ask the question, the reporter referred to a 2004 remark by then-businessman Donald Trump who raised the prospect that Williams was intimidated by Maria Sharapova's "supermodel good looks."
Williams handled it with undue grace – saying she'd never been intimidated by any opponent – but many decried the reporter's audacity: You waited 14 years for that? To insult one of the greatest athletes ever by saying a pretty opponent could psyche her out? Did it occur to the reporter that Williams' career highlights include owning Sharapova – beating her in 18 straight matches, no less?
This is like asking Jordan if he was thrown off by Bryon Russell's taut pecs when he sank that jump shot in Game 6. Or asking Brady how he was able to concentrate while staring into the dreamy eyes of the Buffalo Bills safety. It just wouldn't happen.
The tennis reporter later apologized for his "awkward question."
Williams doesn't give a flying – forehand
Williams has graced the pages of Sports Illustrated's swimsuit issue, and she's posed nude for the cover of Vanity Fair, while pregnant.
Serena Williams shows off new baby girl
In November, a month after giving birth to her first child, she took to Instagram to post a selfie wearing skimpy shorts and showing she was ready to return to the courts she has ruled for the last decade and a half.
Later, she posted a note to her mom, saying of her daughter, Olympia, "She has my arms and legs! My exact same strong, muscular, powerful, sensational arms and body."
In a May profile for Bazaar – for which she posed for another cover shoot, in another swimsuit – she laughed at her 22-year-old self striving to be a size 4 and said she would use her battle with body image as a cautionary tale in rearing Olympia.
"Oh God, I'll never be a size 4! Why would I want to do that, and be that? … This is me, and this is my weapon and machine," she said, gesturing to her bicep.
How you like those guns, Nadal?