A handwritten document titled "Phases of a Terrorist Attack." Talk of confronting and attacking "corrupt" institutions, including Atlanta's Grady Memorial Hospital. Jokes about dying in jihad. An underground stash of weapons and ammunition.
New court documents revealed these and other details in the case against five adults who lived in squalor with 11 starving children in a ramshackle New Mexico compound.
In a case infused with allegations of abuse and terrorism, prosecutors this week asked a judge to reconsider an order granting bond to all five adults arrested at the compound.
As part of the request, prosecutors on Friday cited not only the death of three-year-old Abdul-Ghani Wahhaj at the remote site but also plans by the defendants to attack law enforcement and "specific targets such as teachers, schools, banks and other 'corrupt' institutions."
The dead boy's father, Siraj Wahhaj, 40, and his partner, Jany Leveille, 35, have been charged with abuse of a child resulting in death, a first-degree felony with a penalty of up to life in prison, according to court documents. They were also charged with conspiracy to commit child abuse, also a first-degree felony.
The couple and three other adults – Wahhaj's sisters, Hujrah Wahhaj and Subhannah Wahhaj; and Lucas Morten – were previously charged with 11 felony counts of child abuse.
'The one-time terrorist'
Prosecutors: Kids trained for school shootings
The 13-page motion filed Friday said items found at the compound included the "Phases of a Terrorist Attack" document.
The handwritten document contained "instructions for 'The one-time terrorist,' instructions on the use of a 'choke point,' a location 'called the ideal attack site,' the 'ability to defend the safe haven,' the 'ability to escape-perimeter rings,' and 'sniper position detection procedure,'" according to the court filing.
Some of the children at the compound told police that Morten allegedly "stated he wished to die in Jihad, as a martyr," prosecutors said in the motion.
"At times, Jany Leveille would laugh and joke about dying in Jihad as would Subhanna Wahhaj," according to the court document.
The state's case includes a letter from Morten encouraging the brother of Siraj Wahhaj to follow Allah "until he makes you die a martyr as you wanted and the only way is by joining the righteous."
The relative was advised to "take all your money out of the bank and bring your guns," according to the court document.
'Displeasure with Grady Hospital'
New Mexico compound suspects granted bail
The children told police that Leveille "intended to confront 'corrupt' institutions or individuals, such as the military, big businesses, CIA, teachers/schools and reveal the 'truth' to these corrupt institutions or individuals," the document said.
If her message failed to persuade members of those institutions, the plan called for her to signal Siraj Wahhaj to "shoot or otherwise attack the non-believer."
One such institution was Grady Memorial Hospital, the document said. Leveille, in a journal, had "expressed her displeasure with Grady Hospital … due to the treatment she and her mother received there."
The document contained no details about how she said she was treated.
Grady, in downtown Atlanta, is one of the largest public hospitals in the Southeast.
A weapons stash in a tunnel
11 children rescued from New Mexico compound
The court document also revealed Siraj Wahhaj had instructed the group to defend the compound with weapons in the event of a nighttime police raid.
Authorities have said the property included a makeshift shooting range. Police said they recovered an AR-15 rifle, loaded 30-round magazines, four loaded pistols and many rounds of ammunition.
The children told investigators in recent interviews that a tunnel on the property was to be used as an "escape route" if police arrived as Siraj Wahhaj and Morten "stayed behind and battled with police," according to Friday's court filing.
"The guns located at the exit of the tunnel were stored there … so that as the group exited the tunnel, the group could arm themselves with weapons and ammunition," the document said.
Advance firearms training
Suspect's dad: My son can be a little extreme
The court document said two children told an FBI agent that they had been trained in "advanced firearms handling and had been instructed to shoot law enforcement personnel when the time came and that they would be instructed in the future to attack specific targets such as teachers, schools, banks and other 'corrupt institutions.'"
Police raided the squalid compound on August 3, hoping to find Abdul-Ghani. His remains were found there days later. His mother in Georgia said the boy had been missing for more than eight months.
He was last seen leaving his Jonesboro, Georgia, home with his father in late November. His mother had said he couldn't walk, suffered seizures and required constant medical attention.
'Terrorist watch list'
CNN obtained dashcam video and lapel audio from a June 30 trespassing complaint at the compound.
A couple, Tanya and Jason Badger, told the responding officer the suspects had set up the compound on their lot. They had previously called authorities to report a possible missing child living on the property.
The officer told the Badgers that one of the men in the compound was on a "terror watch list." He said local authorities had not responded to calls about the missing child because of an FBI investigation.
"We've gotten multiple calls on this child but, at the same time, our hands are tied because the FBI has whatever they got going on up there with them,'" Officer Bryan Donis said in the recording.
Donis said calls about a missing boy on the property began in January. Tanya Badger said she only started making calls a few weeks earlier.
"All I know is that he's on the terrorist watch list," Donis is heard saying, without naming the person.
"I know this boy is missing from Georgia and that this guy is on the terrorist watch list and that there is a group of people they're (FBI) keeping an eye on for whatever reason."
Frank Fisher, an FBI spokesman in Albuquerque, said the agency cannot confirm or deny whether a person is listed in a terrorist screening database. He declined comment on the officer's claim that local authorities were unable to intervene because of a federal investigation.
"It would be inappropriate for us to comment at this time," he said via email.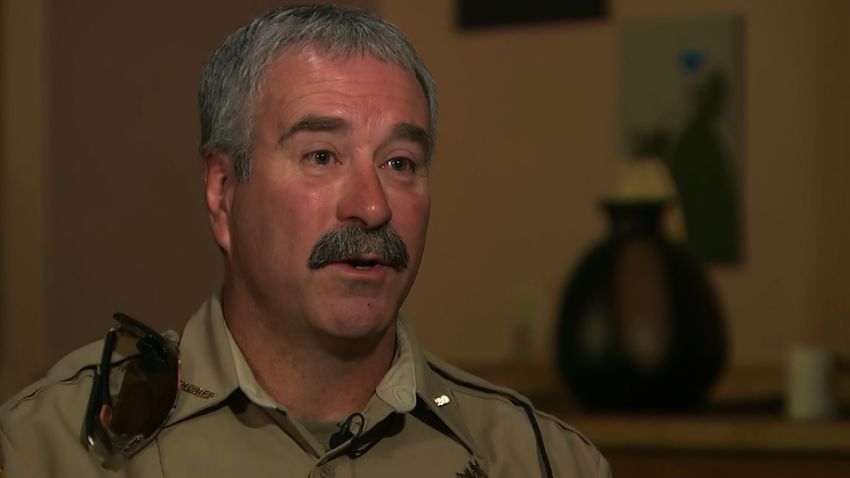 Sheriff walks out of interview about compound
Taos County Sheriff Jerry Hogrefe this month walked out of a CNN interview after defending his decision not to search the compound despite having the property owners' permission to do so.
Hogrefe said the FBI surveilled the property for weeks starting in May. In June, a sheriff's deputy showed up to serve an eviction notice.
But the sheriff said the horrifying conditions that investigators later encountered didn't prompt more immediate action. No children were seen at the time, he said.
FBI surveillance had spotted children, including one who walked with a limp, he said.
"It's not like it's hard enough to live every day wishing that I could have got there quicker, but you've got to get there lawfully," he said before walking out on the interview.
CNN's Shawn Nottingham, Hollie Silverman, Nicole Chavez, Sara Weisfeldt, Scott McLean and Chuck Johnston contributed to this story.