This week a photograph of a little girl swinging at a playground with the debris the Iraqi war as a backdrop was shared across social media.
What's the story behind the photo?
The girl is Maysaa Ahmed Siddiq. She's 7 years old and lives in war-ravaged Mosul with her parents and four brothers.
The photo was shot on a special day. When Maysaa's family celebrated the Islamic holiday Eid al-Adha, she put a ribbon in her braid, dressed up in a white dress and lacy socks and went to a playground in her neighborhood.
Photographer Ayham Omer captured her on the swing, doing what a child is supposed to do, despite being surrounded by piles of twisted metal, wrecked cars and broken concrete.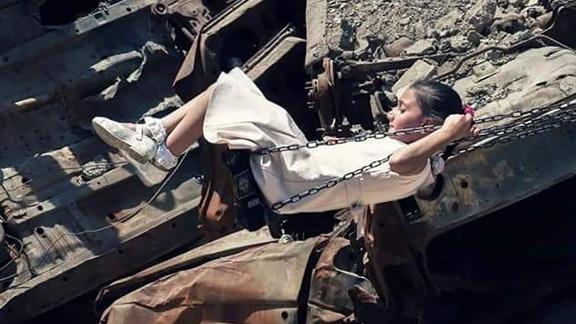 Courtesy Ayham Omer
Maysaa's family evacuated Mosul after ISIS took over. They lived in a camp for displaced people near Irbil for almost a year.
Mosul was liberated from ISIS last summer after a nine-month siege by the Iraqi army. When residents returned, they found the city barely habitable. Bombing had turned entire blocks into mounds of rubble.
Mayssa and her family went back to the Bab-Jadid neighborhood in the old part of the city. Their home was badly damaged but livable. She goes to a primary school, which has electricity but no water.
And in the midst of the rubble, the neighborhood still has a playground, where children can still be children.