(CNN) —
For more than three decades, the Catholic Church has been rocked by sex abuse scandals spanning the globe.
And for decades, the church has been accused of protecting itself rather than the victims of child sexual abuse.
Here are some major scandals and revelations involving the Catholic Church and allegations of abuse.
USA, 2018
A Pennsylvania grand jury released a report in August 2018 detailing decades of alleged sexual abuses by priests and cover-ups by bishops.
The report said internal documents from six Catholic dioceses in Pennsylvania – some held in a secret archive to which only the bishop had a key – showed that more than 300 "predator priests" have been credibly accused of sexually abusing more than 1,000 child victims.
Pope Francis issued an unusually blunt letter six days after the report's release, acknowledging "with shame and repentance" the Catholic Church's failure to act, writing "we showed no care for the little ones; we abandoned them."
The letter directly referred to the Pennsylvania report, which "detailed the experiences of at least 1,000 survivors, victims of sexual abuse, the abuse of power and of conscience at the hands of priests over a period of approximately 70 years."
Looking ahead, the pontiff said the church was working on a "zero tolerance" policy on abuse and coverups. He added, "If, in the past, the response was one of omission, today we want solidarity, in the deepest and most challenging sense, to become our way of forging present and future history."
USA, 2018
In July 2018, Pope Francis accepted the resignation of Cardinal Theodore McCarrick, 88, who once led the Archdiocese of Washington and was a force in American politics, after a decades-old allegation of sexual abuse of a teenage altar boy forced the Vatican to remove him from public ministry.
A month earlier, McCarrick issued a statement saying he was shocked by the allegations: "While I have absolutely no recollection of this reported abuse, and believe in my innocence, I am sorry for the pain the person who brought the charges has gone through, as well as for the scandal such charges cause our people."
McCarrick was also accused three times of sexual misconduct with adults "decades ago" while he served as a bishop in Metuchen and Newark, New Jersey, the current bishops of those cities said in June. Two of those allegations resulted in settlements, the bishops said.
The Vatican said Pope Francis had ordered McCarrick to "a life of prayer and penance until the accusations made against him are examined in a regular canonical trial."
Chile, 2018
Pope Francis called the country's bishops to Rome in May after he received a 2,300-page report detailing sexual abuses by priests in Chile.
The report alleged that for decades, church officials in Chile had known about cases of sexual abuse and led a massive cover up, even destroying records.
Seven years earlier, the Vatican had found Chilean priest Father Fernando Karadima guilty of child sex abuse.
In January, while visiting Chile, Francis defended a Chilean bishop accused of concealing the abuse, saying he had been "slandered."
But after Vatican investigators said church officials in Chile had helped cover up multiple cases of sexual abuse by the clergy, the Pope apologized.
After the 3-day emergency summit at the Vatican in May to discuss the sex abuse scandal, all 34 of Chile's active and retired bishops offered the Pope their resignations.
In June, the Vatican said Pope Francis was sending investigators back to Chile.
In August, police arrested one former priest over the alleged abuse of seven minors. Prosecutors say there are 158 people including bishops, priests and lay people under investigation.
Australia, 2018
Australian Archbishop Philip Wilson of Adelaide was found guilty in May of concealing the abuse of altar boys in the 1970s by pedophile priest James Fletcher.
Wilson was the highest-ranking Catholic official ever to be convicted of covering up sex abuse.
In July he said that he intended to appeal the ruling under the "due process of law" and would resign if his appeal was unsuccessful.
The next week the Vatican announced that Pope Francis had accepted Wilson's resignation.
Australia, 2017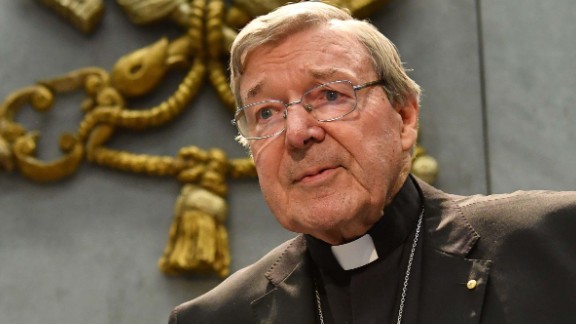 ALBERTO PIZZOLI/AFP/Getty Images
Cardinal George Pell, one of the most senior members of the Catholic Church, was charged with multiple historical sexual assault offenses in his home country of Australia, police said in June.
Pell serves as a top adviser to Pope Francis and heads the Vatican's secretariat for the economy. In 2013, he was named one of eight cardinals tasked with investigating ways to reform the church. He is the most senior member of the Catholic Church in Australia but has been placed on leave from the Vatican while the allegations are investigated.
Pell said he's innocent and maintains that the charges – relating to claims of sexual abuse spanning three decades – are false.
In May 2018, a magistrate ordered him to stand trial and he entered a formal plea of not guilty.
In a statement, the Vatican said: "The Holy See has taken note of the decision issued by judicial authorities in Australia regarding His Eminence Cardinal George Pell. Last year, the Holy Father granted Cardinal Pell a leave of absence so he could defend himself from the accusations. The leave of absence is still in place."
A 2017 commission found that 7% of Australian priests were accused of abusing children between 1950 and 2015.
Dominican Republic, 2014
Erika Santelice/AFP/Getty Images
Jozef Wesolowski, a former Vatican ambassador to the Dominican Republic was found guilty of sexual abuse of minors by a Vatican tribunal and defrocked in 2014. He was accused of sexual abuse of minors and possession of child pornography during his time as papal nuncio to the Dominican Republic. Italy's Corriere della Sera reported that Wesolowski's laptop contained more than 100,000 files with pornographic images and videos.
Wesolowski was the highest-ranking Catholic official arrested for alleged sexual abuse of minors. He died in 2015, before he could be put on trial.
The Netherlands, 2011
Thousands of children suffered from sexual abuse in the Dutch Roman Catholic Church over more than six decades, and about 800 "possible perpetrators" have been identified, according to an independent Commission of Inquiry, issued in 2011.
The commission said it received 1,795 reports of church-related sex abuse of minors and the "reports contained information about possible perpetrators."
Multiple countries, 2010
Allegations of sexual abuse spread across a half dozen countries – including Austria, Germany, the Netherlands, Spain, Switzerland and Brazil, home of the world's largest Catholic population.
Revelations about church abuse included the Munich, Germany, archdiocese where Pope Benedict XVI once served as archbishop.
Under the Pope's tenure as archbishop in the early 1980s, the Munich archdiocese ignored warnings to keep a molesting priest away from children, said the doctor, Werner Huth, who issued those warnings.
Huth demanded the priest, Rev. Peter Hullermann, never be allowed to interact with children again. Instead, the church allowed the priest to return to work and to deal with children. Hullermann was convicted of abusing minors in 1986. Pope Benedict had left the Munich archdiocese for a new post in 1982.
Ireland, 2009