Tommy Frenck is the proud owner and proprietor of The Golden Lion, a traditional, half-timbered guesthouse surrounded by meadows in a small village in central Germany.
Schnitzel topped with a fried egg is the specialty here, but his patrons come for more than food and drink: they come to share what they call "patriotic" views.
"I bought the guesthouse because we could not go into the other guesthouses," says Frenck. "Every time the police or other people would kick us out: 'Don't let the right-wing in! Don't let the Nazis in!'"
Germany has seen a resurgence in far-right sentiment over the last few years, along with the rapid rise of the anti-immigration, anti-Islam Alternative for Germany (AfD). But few embrace their political identity as flamboyantly as Frenck, whose neck is tattooed with the word "Aryan."
"I am proud of my nation. I am proud of my heritage," he says. "That's the thing in Germany: if you are proud of your heritage, you are the bad guy… Every person who's not politically correct is somehow a 'Nazi.'"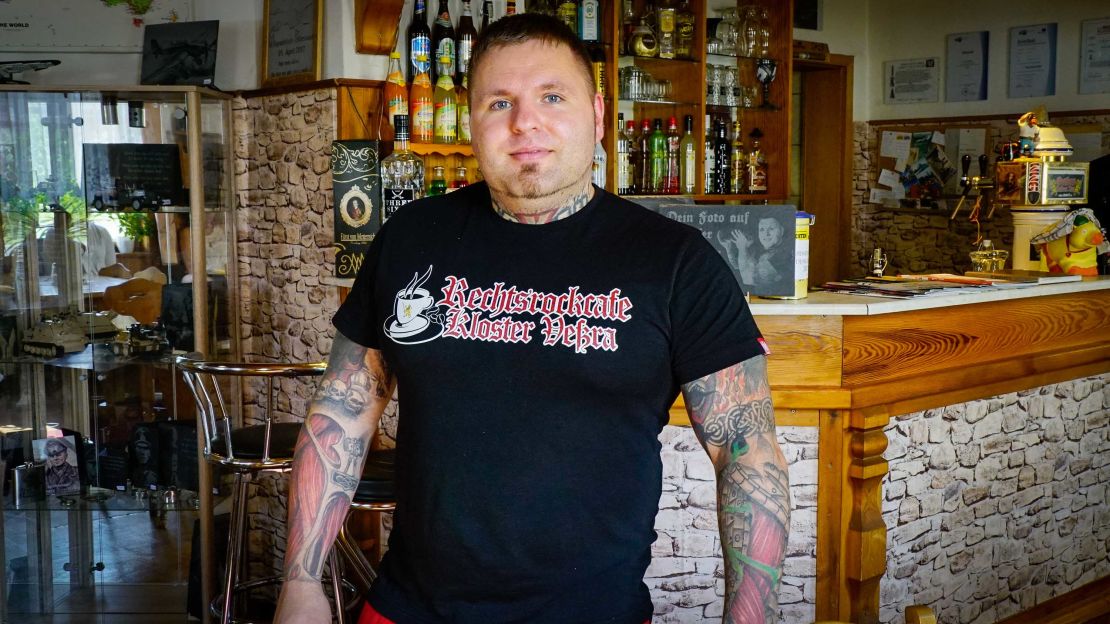 Frenck bought the guesthouse in 2015 not just as a place for like-minded citizens but also as a warehouse for his growing business in Nazi merchandise, much of which barely skirts Germany's stringent hate speech laws.
The place is decorated with World War II memorabilia, including the German imperial flag and a row of liquors named after tank, air force and SS commanders.
On a top shelf, a wooden doll has its arm permanently raised in a Nazi salute and several cushion covers are printed with "I heart HTLR" logos.
And with the AfD surging in Germany, the pub is far from alone in spreading its message to far-right supporters, despite Germany's criminal code prohibiting the public use of "symbols of unconstitutional organizations" – that includes the swastika, the Celtic cross, the Nazi salute and other symbols associated with the Nazi Party.
Punishment can range from fines to three years in prison. As a result, far-right supporters have developed a coded language, in which Frenck is fluent.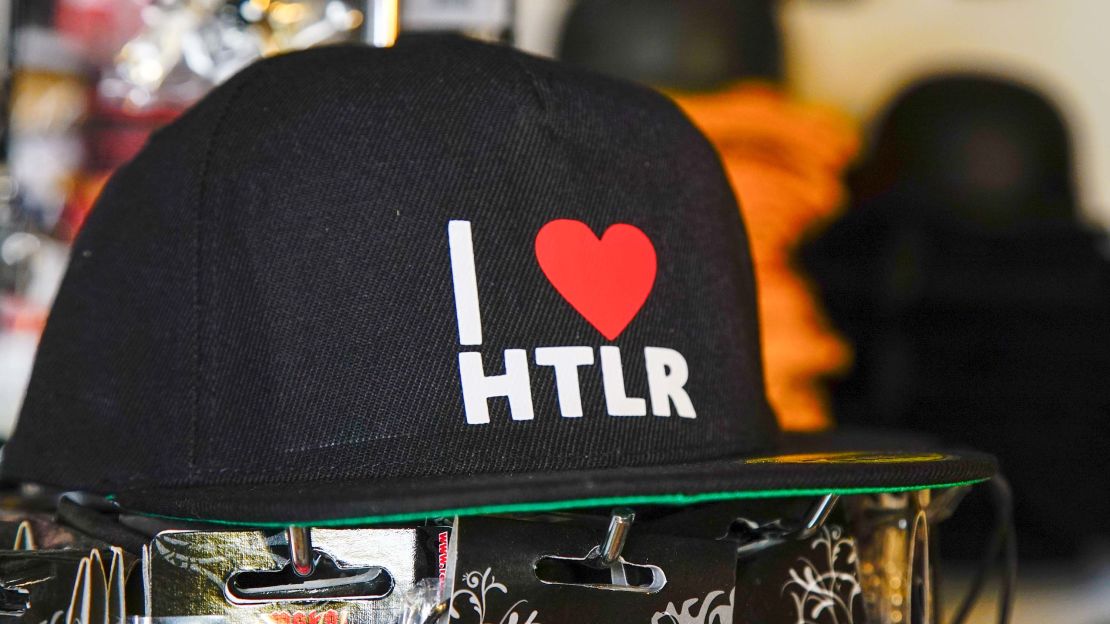 One T-shirt reads "88," signifying "HH" or "Heil Hitler" (H being the 8th letter of the alphabet). Every April 20 – Adolf Hitler's birthday – customers at the guesthouse can enjoy a "HTLR SCHNTZL" for 8.88 euros.
According to Frenck, sales of his products have grown 10% since the beginning of 2016, coinciding with the arrival of more than 1 million refugees in Germany in 2015.
And his customers are not all tattooed, middle-aged men. On the day CNN visits, a family from the southern state of Baden-Württemberg is also visiting with their primary-school-aged daughter. She picks out a pink "Little German" T-shirt and pays with her pocket money, fishing around in her purse for the right coins.
Her mother, who does not want to be named, says the family makes a point of visiting the guesthouse every year.
"We come here because this is what we think," she told CNN, "This is how we want to live."
Politics must be 'for the German people'
Frenck wants to stop immigration to Germany and ban Islam. He voted for the AfD in last year's federal elections, when the party won 12.6% of the vote nationally – and 22.5% in Frenck's home state of Thuringia.
Echoing the party's politicians – who now occupy 92 seats in the country's parliament – he says he is not a white supremacist, but just doesn't like globalization and the mixing of cultures.
"Most important for me is that the German government makes politics for German people and not for the European Union or refugees in Africa," he says. "They have to be for the German people."
He points to his world map of travels, studded with pins across Asia and the Middle East.
"I love all these countries and I have friends all over the world! I like the food there. The thing is, they want to make from all these nice cultures just one culture. You know what I mean?"
Across Europe, such views are becoming more common, and those who hold them more vocal. Anti-immigration politicians in former Soviet bloc nations such as Hungarian prime minister Viktor Orban – who in February likened immigration to a "flu epidemic" – have been joined by party leaders in countries such as Denmark, France and Austria, previously considered bastions of liberalism.
Far-right parties are gaining ground across much of the continent, and are now in power in Italy, Austria and Hungary.
"We are currently engaged in a political cultural struggle in Europe," said Hajo Funke, professor of political science at Berlin's Free University. "We have this right-wing shift in parts of (the continent)."
He believes German Chancellor Angela Merkel has resisted this shift, by refusing to form a coalition with the AfD and by defying the attempts of her interior minister to drift to the right on immigration.
Her approach "represents a middle course," he said. "And this middle course is what the majority wants."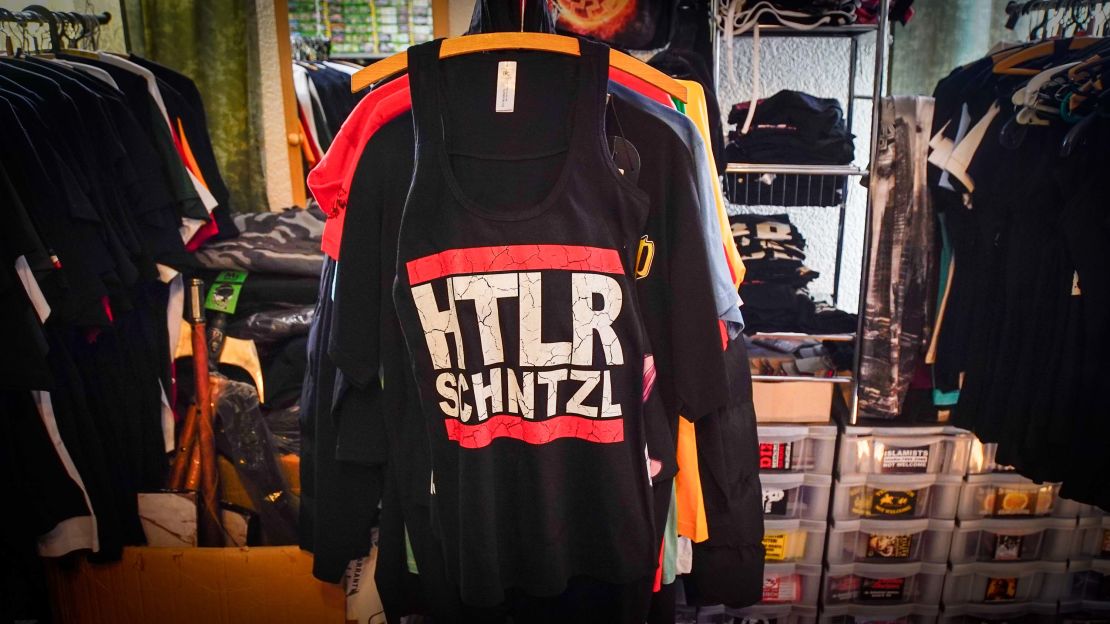 Far-right concerts are 'dangerous for society'
While central government may be holding a relatively steady centrist course, the impact of right-wingers such as Frenck (and his merchandise) is a big concern for some Germans.
"Superficially, some of the T-shirts try to be funny," says Stefan Herdegen, a local activist who monitors far-right extremist groups in Thuringia. "They are not funny. They are serious because they promote Nazi ideas to people. And that is dangerous."
He's also concerned about the music festivals Frenck organizes in the state each year.
"These events are dangerous, not only because there have been violent incidents reported, but because of their political nature they are dangerous for society. Neo-Nazi content is spread here."
Frenck's activities have put him on the radar of local police. The domestic intelligence service in Thuringia became especially concerned last year when Frenck organized a "Rock for Identity" music festival that attracted around 6,000 people, according to a statement sent to CNN by the domestic intelligence service in Thuringia.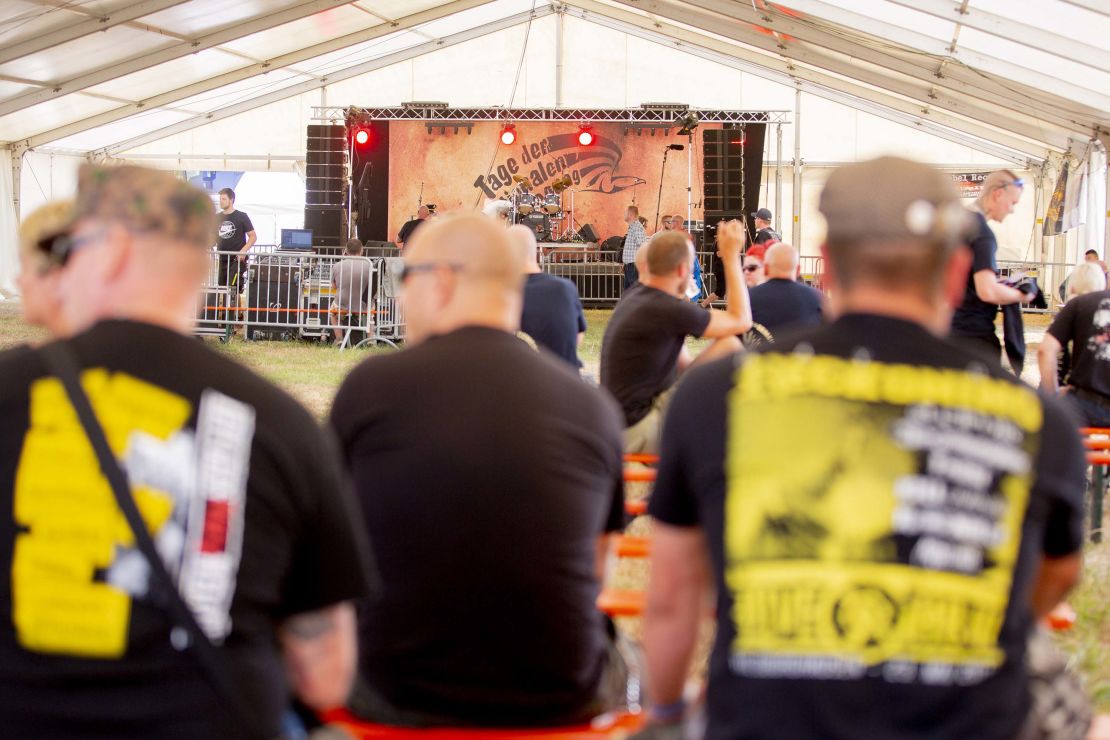 Following heavy criticism of their tactics at that event, police took a tougher approach at this year's event – a "Day of Identity" concert in June featuring far-right heavy metal bands and guest speakers from the AfD.
Fewer than 2,500 people came, according to police, attendance dampened by rain and an overwhelming police presence that cut off road traffic to the event.
Police said they recorded 84 violations at the concert, some of which were hate speech offenses including the display of banned symbols – but one journalist was also punched in the face by a concert-goer.
Funke is concerned that authorities have allowed Frenck too long a leash in the past and was pleased to see more police intervention at this year's concert. "But more can always be done," he said.
Frenck knows he is monitored by police but insists he has broken no laws and has no criminal record. He says that police concerns about his music festivals are overblown and that he was happy with this year's turnout.
"For me, it was a good business day. We had people from Switzerland, Norway, some Swedes, also Poland, Hungary and Russia," he says, rifling through a guestbook in which concert-goers left messages.
"We're hoping that at the next event, police will stop searching us before going in to listen to bands. It just intimidates us and keeps people from attending."
He's planning another event this summer and also has a fresh batch of designs and new products for his online business, including a set of queen-size bedsheets emblazoned with the German imperial flag.
"I am a regular guy who pays his taxes like anyone else. I am not doing anything wrong," he says. "If people label me as a Nazi it's not my problem."