Story highlights
Matt Maxey was born with profound hearing loss and has used hearing aids his whole life
He founded DEAFinitely Dope to help bring music to the deaf community
As A$AP Rocky's "Praise the Lord" begins blaring through the speaker, Matt Maxey smiles. "Turn it up," he says, pointing his finger to the sky. Maxey is animated, kinetic. But he isn't just dancing; he's bringing the song to life. Every move has meaning.
Maxey is the founder of DEAFinitely Dope, an organization that aims to bring the deaf and hearing communities together through music.
Deaf jam
"Music is life. Music is my passion. It's my motivation. It's my everything."
Maxey listens to music in a very different way than most. He was born with profound hearing loss. When he was very young, his mother and grandmother discovered that he couldn't hear when they would turn on the vacuum cleaner behind his back. When he didn't react, they began yelling. He didn't flinch.
His mother and a doctor decided to get him hearing aids and speech therapy so he could get used to communicating with the hearing world. There was no need to learn sign language.
"She figured that with the way I read, I was smart and could learn sign language later in life."
Maxey says his level of hearing loss is like "trying to hear underwater."
"Without hearing aids, I can hear about 25% of what's going on. With hearing aids, I can hear about 60% to 75%."
Vital signing
Maxey took an interest in music at an early age because he could hear it better than he heard people. It was easy for him to understand and connect with.
The Atlanta native gravitated toward local artists like Lil' Jon and Usher but also liked country music.
"It gave me a new appreciation for the soul in people's voices. You can hear the pain, the joy. That's something that I never completely understood communicating and interacting with a person."
After high school, he moved to Washington to attended Gallaudet University, a university for deaf and hard-of-hearing students where American Sign Language was the main form of communication.
Maxey, who had never learned sign language, struggled to fit in with his classmates.
"Their whole attitude with new signers was like, 'Nah, you're not good enough,' " Maxey said. "I kinda had to use self-training." 
So he turned to his passion, music, and practiced signing the words of his favorite songs.
 "I have a lot of listening experience to music. I know a lot of these lyrics. Let me just add all these vocabulary words to all these songs and see if I can keep up. The more songs I learned, the more vocabulary I learned."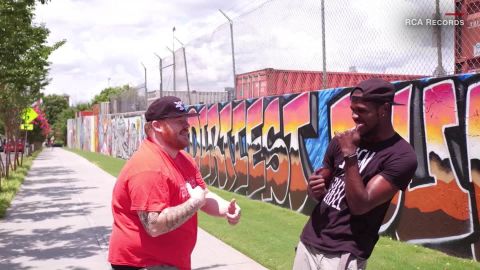 Music in motion
Maxey videoed himself signing to refine his motions. As he became more fluent, his movement began to perfectly match the rhythm, lyrics and messages of the songs he interpreted. When he posted some of his videos on social media, they went viral in the deaf and hearing communities.
"I wanted to make this my job. I wanted to make this my life."
Thus, DEAFinitely Dope was born.
"Some deaf people have never experienced music in a way that they can understand. We're bringing music to them in a way that is more visually stimulating." 
DEAFinitely dope visits schools, does motivational speaking and even held an ASL music camp.
But what has brought the organization the most spotlight is interpreting for musicians.
Chance of a lifetime
Maxey's style of interpretation is not standard word-for-word typical ASL. An example Maxey uses is "turn up." Saying that in conversation is very different than shouting it from a stage in song.
"It's just expressing the action. Think poetry in motion: 'How do I portray that visual image?' Especially with lyrics, they are trying to paint a picture for you. Sign language is a way to bring that picture to life, so I'm just trying to connect the dots to see what way is best and most visually stimulating."
When an artist asks Maxey to interpret, he'll study their songs to get the correct message and feel across to fans.
One of Maxey's first high-profile interpreting performances was with rapper D.R.A.M. at the Bonnaroo Music Festival.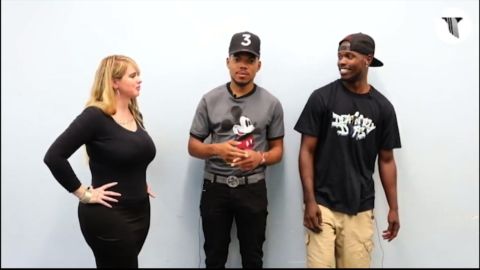 "It was my first time ever on stage at a festival interpreting, and I'm just putting it out there, jamming. I didn't know that Chance (the Rapper) was backstage watching." 
After the Bonnaroo show, Chance invited Maxey and DEAFinitely Dope to interpret shows for the rest of his tour. It was an opportunity to bridge the gap between the hearing and deaf communities in front of major audiences around the country.
"I can have more of an impact going the unconventional route with someone like Chance and go into the areas nobody deaf has been able to get to before," Maxey said. "It all leads to something that improves the community. You see sign language in a lot more places than ever before.  People are becoming more curious and at the same time more aware of what is going on with the deaf community."
It brings to mind a profound philosophical question raised by OutKast, "What's cooler than being cool?"
What about being more aware and understanding of others' life experiences? What's cooler than that?
For more on Matt & DEAFinitely Dope, check out Great Big Story's extended profile here -