Story highlights
The city of Parchment, Michigan, learned that its tap water had high levels of contaminants
Officials took immediate action, but residents are concerned about health
"Do I make small babies," one mom asks, "or do I make small babies because I drink poisoned water?"
It's been about three weeks since Tammy Cooper last drank water from her tap. That's when she saw a warning on Facebook for residents of her small Western Michigan town to stop drinking the water.
In Michigan, water main breaks aren't unusual, although they're more common in winter. It didn't immediately strike Cooper as out of the ordinary to not be able to drink the water.
But the Facebook message made no mention of the run-of-the-mill breaks or chloroform warnings; rather, the city's July 26 post said, "We have just been informed this afternoon by the [Michigan Department of Environmental Quality] that the PFAS level in a City well is 1400 ppt. The limit being 70 ppt."
It advised using bottled water for cooking, drinking and making baby formula.
"I immediately felt really sick," Cooper said.
PFAS, or per- and polyfluoroalkyl substances, are a family of more than 4,000 synthetic chemicals that degrade very slowly, if at all, in the environment. Some of the best-known chemicals are PFOS, PFOA and GenX.
It's not the first time Michigan has dealt with toxic tap water; the legacy of Flint is not far behind. But unlike in the Flint lead crisis, it's unknown how long the water in Parchment has been contaminated with PFAS.
Now, all Cooper could see were toxins all over her house, poisoning her nearly 3-year-old daughter, Jillian, who has lived in Parchment most of her life.
"You look around and you have sippy cups around," she said. Every cup of water – in fact, anything using the water – became suspect.
A persistent problem
The chemicals have been used for decades on military bases and in industrial areas in the manufacturing of thousands of consumer items including food packaging materials, water-resistant fabrics, nonstick cooking pans and firefighting foams.
"They're extremely strong, and they are extremely persistent, and that's what makes them so good for nonstick, waterproof and stain-repellant products," said Tom Bruton, a scientist with the Green Science Policy Institute in Berkeley, California.
The chemicals are no longer manufactured in the United States. In 2002, 3M, the primary US manufacturer of PFOS, voluntarily phased out production of the chemical. In 2006, eight major companies in the PFAS industry agreed to stop production of PFOA and PFOA-related chemicals by 2015.
But they can still be found all around us, including in the water.
"I think that people should be concerned about the amount of PFOA and PFOS that is in our environment," Susan M. Pinney, a professor in the Department of Environmental Health at the University of Cincinnati, wrote in an email. "These are chemicals with long half-lives," meaning they can persist in the environment as well as the body. According to the federal Agency for Toxic Substances and Disease Registry, they can stay in the body two to nine years.
"Exposure in utero may have the greatest effect on developing children … and effects may last into adulthood," Pinney said, adding that the research is early and so is not definitive.
According to the US Environmental Protection Agency, PFAS exposure has been linked to low birth weight, immunological disorders, cancer and thyroid hormone disruption.
And that is what exactly worries Cooper. She can't help but wonder whether the more than two years her family has lived in Parchment have been the root of their health issues.
"You just start thinking, 'well, we were sick a lot,' " she said.
Is it the water? Could it be breast milk?
Cooper and her husband David prioritize healthy living: They buy organic food; they wash their hands often; they diligently use laundry detergent "free and clear" of unnecessary chemicals; she breastfed her daughter for nearly 3 years. So could there be a connection to the water? After all, her thyroid hormone levels went down after her pregnancy. "It causes all these questions," she said.
Her biggest concern is Jillian. She was small, measuring in the 10th percentile for weight when they moved to Parchment when she was 6 months old. A year later, she had dropped below the 1st percentile in weight. After Cooper focused on feeding her a higher-fat and -protein diet, Jillian's weight is now in the 4th percentile.
"Is it the water?" Cooper wonders. Could it have been her breast milk? "She's nursed the entire duration that we've lived here. Everything that I've read, if you're nursing a child, you're passing it on to them."
PFOS and PFOA are found in blood and at lower levels in breast milk and umbilical cord blood, according to the Centers for Disease Control and Prevention's National Center for Environmental Health.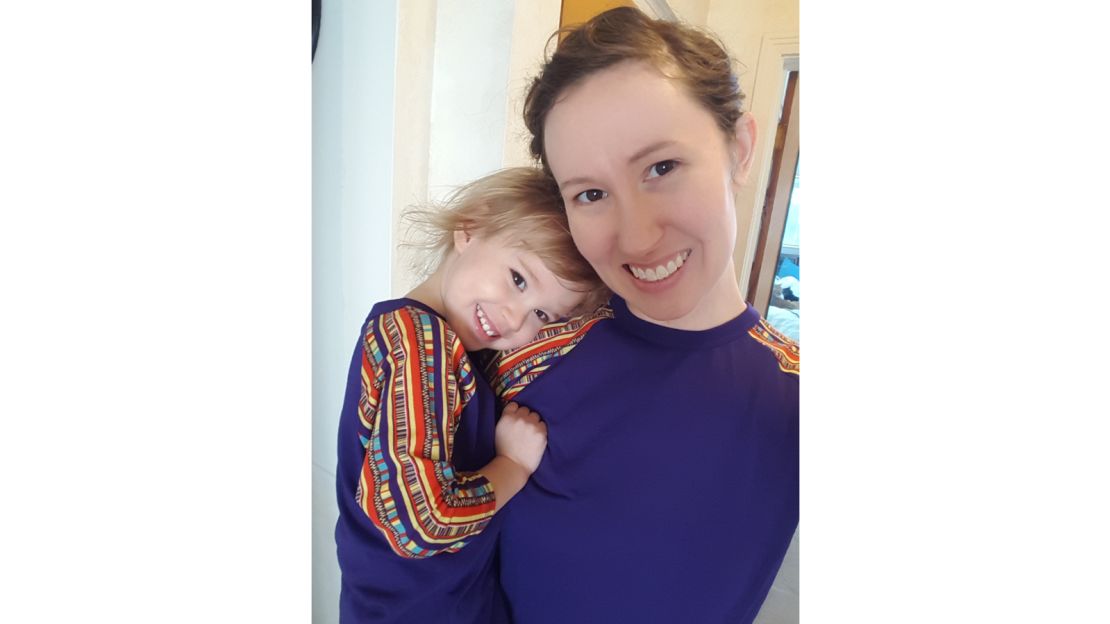 Cooper reached out to Jillian's pediatrician immediately after she read the Facebook announcement. Her doctor is concerned there could be a connection between the water and Jillian's growth, but there is little to nothing they can do about it now.
Since the city's announcement, Cooper decided to wean her daughter off breastfeeding. "I didn't want it to end this way. The last thing I want to remember is this special thing to be terminated because of this thing in the water," she said.
"Maybe I don't have any health issues from the water, but there's a major cost to your mental health, because you're in charge of this little person, and you feel like you're failing."
It's an anxiety that has occupied many other parents in the area, like Sara Dean.
Dean and her husband settled in Parchment three years ago after searching for a place to raise their children. They worried that their hometown of Chicago was too busy and potentially too violent of a place to raise a family.
Parchment was beautiful. Neighbors spoke to on another. It seemed like a great place to start a family.
"We moved to a state associated with healthy living, pure water – all the things with the Pure Michigan campaign – and now we're like, what did we do? Would we have been better off starting a family in Chicago? At least the water is safe. There is a lot of questioning if we made the right decision three years ago."
A national problem
What's happening in Parchment isn't unique. The state of Michigan has confirmed at least 34 sites that have been contaminated with the chemicals. The state has been testing potential sites across Michigan since 2017.
On July 29, Michigan declared a state of emergency over Parchment's water. Although a specific source of the PFAS contamination has not been identified, the state Department of Environmental Quality has tested an area where PFAS might have been used. The state is also testing private residential tests to understand how far the contamination has spread.
The Environmental Working Group and Northwestern University have mapped 94 sites across the country affected by PFAS. The US Department of Defense has listed 36 contaminated military installations.
The EPA has called PFAS a national priority.
The contaminant became a political lightning rod this year when internal White House emails revealed that the Trump administration tried to withhold a US Department of Health and Human Services report on the chemicals' health risks because it could be a "potential public relations nightmare." The report, which was eventually released in June, found that the current EPA-recommended level was seven to 10 times higher than it should be.
In May, the agency held a national leadership summit on PFAS but blocked several media outlets, including CNN, from attending.
This summer, the EPA hosted "community engagement" events in Exeter, New Hampshire; Horsham, Pennsylvania; Colorado Springs, Colorado; and Fayetteville, North Carolina – all communities affected by contaminated water.
At the event this week in Fayetteville, the agency addressed residents who have found elevated levels of the chemical GenX, a second-generation PFAS, in private drinking water wells.
John Pate, a resident of the area, told CNN affiliate WRAL that it's not just the immediate impact he's concerned about. "We could be still looking at, 20 years down the road, people coming up with things. We don't know," Pate said.
Bruton, of the Green Science Policy Institute, expects the number of affected communities to continue to grow.
"The more we monitor water supplies, the more widespread we find these chemicals to be," he said.
Trying to find peace of mind
Dean can't help but wonder what the impact of Parchment's water has been on her 2-year-old boy and the child with which she is 30 weeks pregnant. Like Jillian, Dean's son, Patrick, is on the smaller side, and her baby is measuring smaller in the womb.
"Do I make small babies," Dean questions, "or do I make small babies because I drink poisoned water?"
Within hours of hearing the news of the elevated levels, the city of Parchment quickly set up a bottled water distribution system. City officials are currently working to connect residents to the nearby Kalamazoo water system.
According to the CDC's National Center for Environmental Health, the major pathway for PFAS exposure is ingestion. Aside from contaminated drinking water, PFAS can be found around the house, Bruton said. It's in the dust from stain-treated carpets and upholstery, in some packaged foods and in foods cooked in nonstick pans.
Parchment's water advisory says it's safe to use the water for cleaning and washing purposes. Bathing is also fine because absorption of PFAS through the skin is slow and insignificant.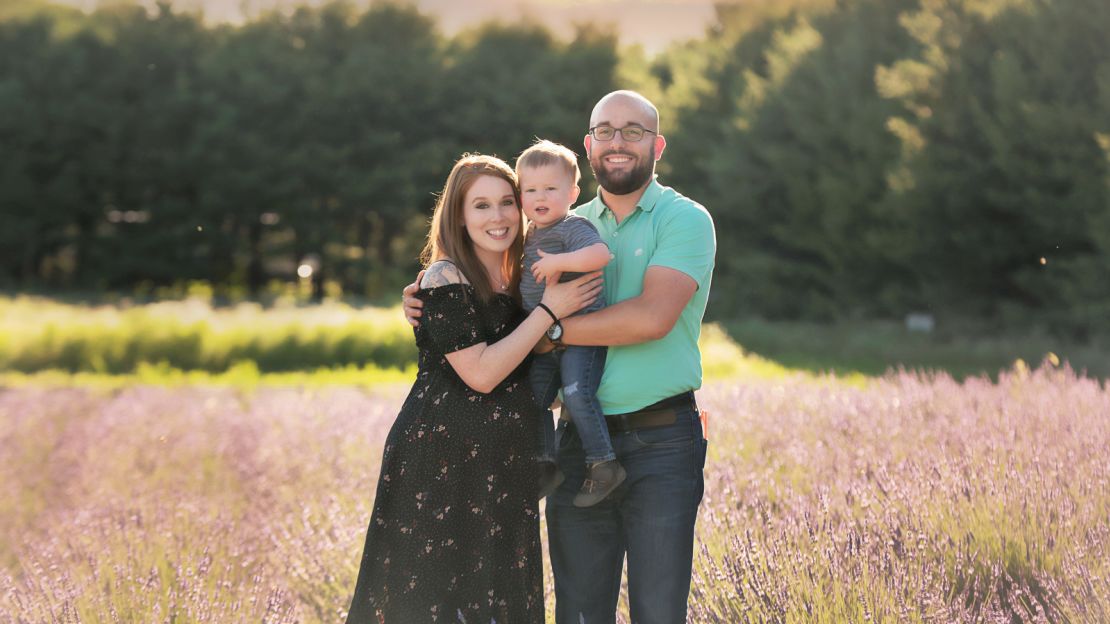 But when Dean takes a dish out of the dishwasher, she will run bottled water over it "for peace of mind."
Dean and her husband have also installed a reverse-osmosis water filter in their home. Reverse osmosis filters certified by NSF International can reduce PFAS levels to below levels set by the EPA.
It's something Don Rome is also considering. It's well worth the cost to protect his wife, their 13-year-old daughter and 17-year-old son, and their pets, he said.
"I'm not sure I'll be going back to drinking directly from the tap without filters. So there is some uncertainty there. It's all a new frontier," Rome said.
And when Rome swims in their pool or takes a shower, there's always some thought about it in the back of his mind. "You don't intend to drink the water, but it gets in your mouth. … Things happen."
Rome has a lot of confidence in the city. He feels that officials have done a good job of communicating actions taken to keep residents safe, including the efforts to connect to the Kalamazoo system.
But there is no question in Rome's mind that the water has impacted all parts of the city.
Rome tracks real estate in Parchment in his job. He noticed the pace of home sales has slowed since the PFAS announcement.
"There has been a slowdown in interest and foot traffic," he said.
For Cooper, the impact of the PFAS contamination has been significant. Her house is being used as one of the city's testing sites. It has created a sense of distrust that wasn't there before.
"You backtrack on everything that you ever believed in, everything about your safety," she said.
"If you can't trust the government about water, what can you trust them about?"