(CNN) —
Aretha Franklin, whose gospel-rooted singing and bluesy yet expansive delivery earned her the title "the Queen of Soul," has died, a family statement said Thursday. She was 76.
Franklin died at 9:50 a.m. at her home in Detroit, surrounded by family and friends, according to a statement on behalf of Franklin's family from her longtime publicist Gwendolyn Quinn.
The "official cause of death was due to advanced pancreatic cancer of the neuroendocrine type, which was confirmed by Franklin's oncologist, Dr. Philip Phillips of Karmanos Cancer Institute in Detroit," the family statement said.
Tributes and tears flooded in Thursday after news of her death broke.
"Aretha helped define the American experience," former President Barack Obama said in a statement. "In her voice, we could feel our history, all of it and in every shade – our power and our pain, our darkness and our light, our quest for redemption and our hard-won respect. May the Queen of Soul rest in eternal peace."
Tributes pour in for 'Queen of Soul' Aretha Franklin
Legendary soul singer and Franklin's friend of more than sixty years, Sam Moore, had words of sorrow and comfort to offer.
"I adored her and I know the feelings were mutual. While I'm heartbroken that she's gone I know she's in the Lord's arms and she's not in pain or suffering anymore from the damn cancer that took her away from us," he said in a statement. "I'm going to hope, pray and count on the fact that I will see her again sometime. Rest in the Lord's arms in love, Re."
Franklin's fans paid tribute with flowers and a crown left on her Hollywood Walk of Fame star in Los Angeles.
Her death comes three days after a source close to Franklin told CNN's Don Lemon that the singer was in hospice care.
"In one of the darkest moments of our lives, we are not able to find the appropriate words to express the pain in our heart. We have lost the matriarch and rock of our family. The love she had for her children, grandchildren, nieces, nephews, and cousins knew no bounds," Franklin's family said.
"We have been deeply touched by the incredible outpouring of love and support we have received from close friends, supporters and fans all around the world. Thank you for your compassion and prayers. We have felt your love for Aretha and it brings us comfort to know that her legacy will live on. As we grieve, we ask that you respect our privacy during this difficult time."
Funeral arrangements will be announced in the coming days, the statement said.
How Aretha energized social movements
The singer had been reported to be in failing health for years and appeared frail in recent photos, but she kept her struggles private.
In February 2017, Franklin announced she would stop touring, but she continued to book concerts. Earlier this year, she canceled a pair of performances, including at the New Orleans Jazz Fest, on doctor's orders, according to Rolling Stone.
The singer's final public performance was last November, when she sang at an Elton John AIDS Foundation gala in New York.
Sing it: R-E-S-P-E-C-T
Over the course of a professional career that spanned more than half a century, Franklin's songs not only topped the charts but became part of the vernacular.
She made "Respect," written by Otis Redding, a call to arms. "(You Make Me Feel Like) A Natural Woman," a Carole King song, was an earthy expression of sexuality. "Think," which she wrote with her then-husband, Ted White, became a rallying cry for women fed up with loutish men.
The first woman admitted into the Rock and Roll Hall of Fame, she had 88 Billboard chart hits during the rock era, tops among female vocalists. At the peak of her career – from 1967 to 1975 – she had more than two dozen Top 40 hits.
"Aretha Franklin is not only the definitive female soul singer of the Sixties," according to her Rolling Stone biography, "she's also one of the most influential and important voices in pop history."
She won 18 Grammy awards, including the honor for best female R&B performance for eight straight years.
There was nothing run-of-the-mill about a Franklin performance. "I Never Loved a Man (the Way I Love You)" is slinky and gritty, Franklin's voice sometimes a whisper over Spooner Oldham's electric piano.
"The House That Jack Built" fairly crackles: "I got the house / I got the car / I got the rug / And I got the rack / But I ain't got Jack," Franklin belts.
In Franklin's delivery, "Eleanor Rigby" was a figure of defiance; with Franklin's voice, "Bridge Over Troubled Water" went places not even Art Garfunkel, whose angelic tenor dominated Simon & Garfunkel's original version, could take it.
Her soul was as deep as her voice was strong.
"I think of Aretha as 'Our Lady of Mysterious Sorrows,'" wrote the late Jerry Wexler, Franklin's producer at Atlantic Records. "Her eyes are incredible, luminous eyes covering inexplicable pain. Her depressions could be as deep as the dark sea. I don't pretend to know the sources of her anguish, but anguish surrounds Aretha as surely as the glory of her musical aura."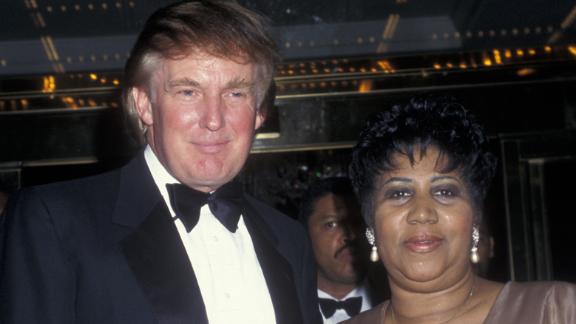 Photos: Aretha Franklin and US presidents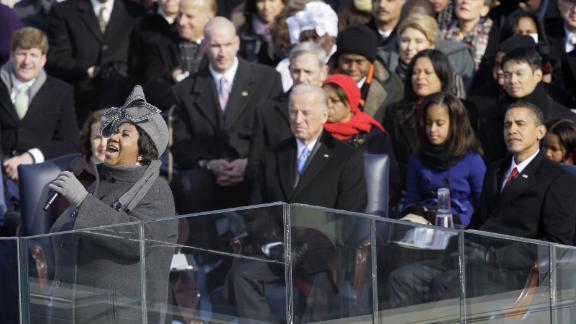 Photos: Aretha Franklin and US presidents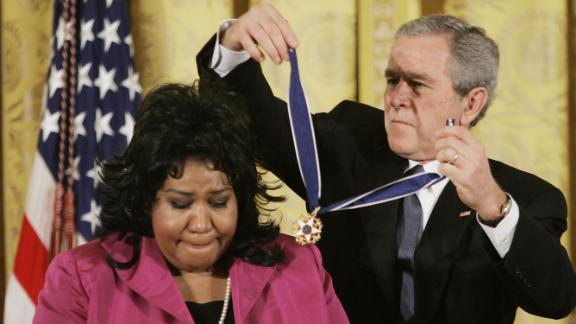 Photos: Aretha Franklin and US presidents
Photos: Aretha Franklin and US presidents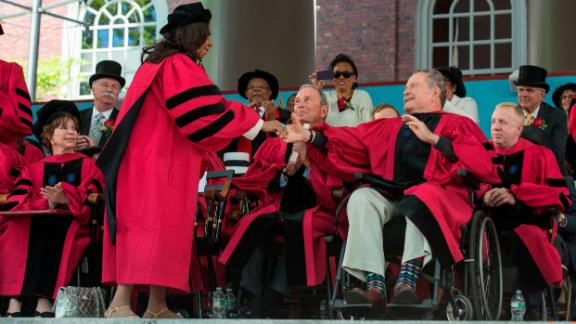 Photos: Aretha Franklin and US presidents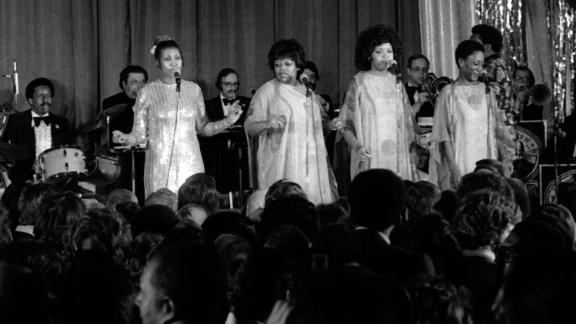 Photos: Aretha Franklin and US presidents
A recording career at 14
Perhaps more than any other soul star, Franklin's voice embodied the music's debt to gospel.
She was born in Memphis, Tennessee, in 1942, but was raised mostly in Detroit, where her father, C.L. Franklin, was a prominent minister and a nationally known gospel singer. Franklin sang in the choir of her father's church and, though she declined her dad's offer of piano lessons and taught herself instead, began recording gospel music at age 14.
She toured the gospel circuit with her father, befriending stars such as Mahalia Jackson and Sam Cooke. She later performed at Jackson's funeral.
She was signed to Columbia Records in 1960 by John Hammond, the eagle-eyed talent scout who also discovered Billie Holiday, Bob Dylan and Bruce Springsteen, but she had only limited success at the label. It wasn't until her arrival at Atlantic Records in the decade's second half that she gave up trying to become a polished all-purpose entertainer for a career as a soul and R&B singer, backed by an earthy rhythm section from Muscle Shoals, Alabama.
"The backup musicians provided a much grittier, soulful and R&B-based accompaniment for Aretha's voice," according to the All Music Guide, "which soared with a passion and intensity suggesting a spirit that had been allowed to fly loose for the first time."
Over a year-and-a-half stretch from 1967 to 1968, Franklin racked up 10 Top Ten hits.
"It had looked for the longest time like I would never have a gold record," she told Time magazine in 1968. "I wanted one so bad."
Songs like "Respect" were not only huge sellers, they were also adopted by African-Americans and feminists as anthems for social change.
Civil rights icon and US Rep. John Lewis recalled Franklin's "unwavering" commitment to the movement.
"What made her talent so great was her capacity to live what she sang," Franklin said in a statement Thursday. "Her music was deepened by her connection to the struggles and the triumphs of the African American experience growing up in her father's church, the community of Detroit, and her awareness of the turmoil of the South."
After Martin Luther King, Jr. was assassinated, Franklin sang at his funeral.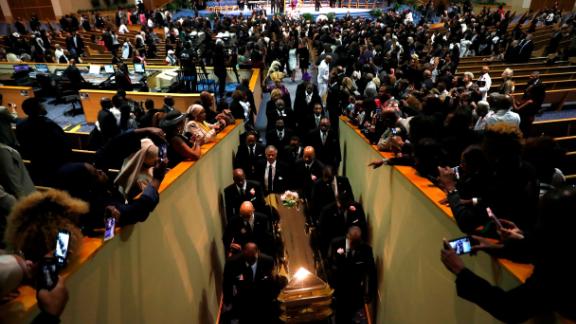 Now playing
03:59
Aretha Franklin's funeral fit for a queen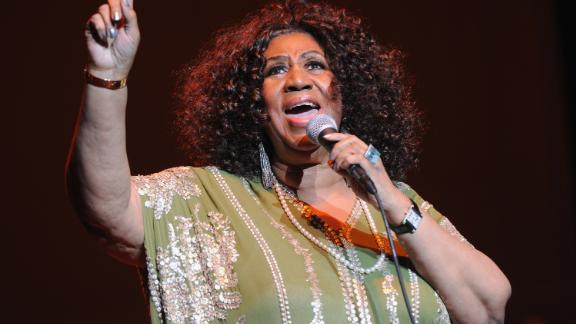 Now playing
03:45
'Queen of soul' Aretha Franklin dead at 76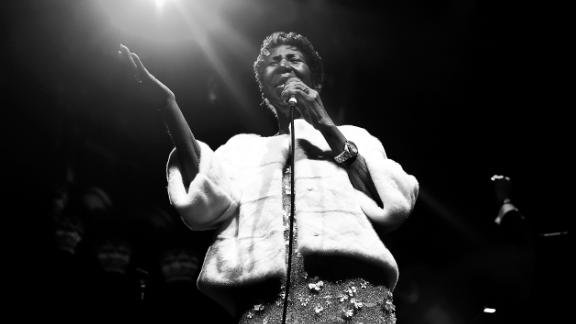 Now playing
02:24
The hits that won Aretha Franklin 18 Grammys
Now playing
01:32
Clinton: Aretha lived with courage and faith