In the 1980s and early 1990s, American epidemiologist Gary Slutkin was in Somalia, one of six doctors working across 40 refugee camps containing a million people. His focus was on containing the spread of tuberculosis (TB) and cholera.
Containing infectious diseases relies heavily on data. First, public health officials map out exactly where the most transmissions of the disease are occurring. Then they can focus on containing the spread in these areas.
Often, this containment happens by getting people to change their behavior so that a rapid effect can be seen even when larger structural factors can't be tackled.
For instance, diarrheal disease is often in large part caused by poor sanitation and water supplies. It takes a long time to improve plumbing systems – but in the meantime, thousands of lives can be saved by giving people oral rehydration solutions.
Slutkin followed these steps to contain outbreaks in the Somali refugee camps, and again later, when he worked for WHO on AIDS prevention. Whatever the exact nature of the infectious disease in question, the steps to contain it were roughly the same. "What do they have in common? All of these things spread," Slutkin tells me in his office in Chicago. "Heart disease doesn't spread, strokes don't spread."
Changing behavioral norms is far more effective than simply giving people information. To change behavior – whether it's using rehydration solutions, avoiding dirty water or using condoms – credible messengers are essential.
"In all of these outbreaks we used outreach workers from the same group [as the target population]," says Slutkin. "Refugees in Somalia to reach refugees with TB or cholera, sex workers to reach sex workers with AIDS, moms to reach moms on breastfeeding and diarrheal management."
After more than a decade working overseas, Slutkin returned to his native Chicago in the late 1990s, exhausted from the perpetual travel and constant exposure to death.
"I wanted a break from all these epidemics," he says. It hadn't occurred to him that America had difficulties, too. He had been consumed, for years, by the panic of epidemics and the struggles of poorly developed countries. But he returned to a different kind of problem: a skyrocketing homicide rate.
An epidemic of violence
Slutkin's ideas about tackling this problem began as a nerdy project, born of the obsession with graphs and charts he had developed abroad: he gathered maps and data on gun violence in Chicago. As he did so, the parallels with the maps of disease outbreaks he was accustomed to were unavoidable. "The epidemic curves are the same, the clustering.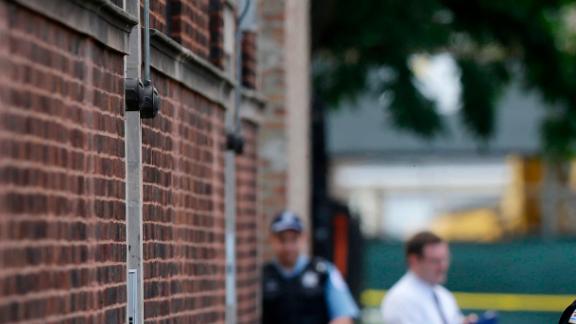 Joshua Lott/Getty Images North America/Getty Images
In fact, one event leads to another, which is diagnostic of a contagious process. Flu causes more flu, colds cause more colds, and violence causes more violence."
This "public health" approach to preventing violence refers to the school of thought that suggests that beyond the obvious health problems that result from violence – the psychological trauma and physical injuries – the violent behavior itself is an epidemic that spreads from person to person.
One of the primary indicators that someone will carry out an act of violence is first being the victim of one. The idea that violence spreads between people, reproducing itself and shifting group norms, explains why one locality might see more stabbings or shootings than another area with many of the same social problems.
"Despite the fact that violence has always been present, the world does not have to accept it as an inevitable part of the human condition," says WHO guidance on violence prevention.
It says that "violence can be prevented and its impact reduced, in the same way that public health efforts have prevented and reduced pregnancy-related complications, workplace injuries, infectious diseases, and illness resulting from contaminated food and water in many parts of the world. The factors that contribute to violent responses – whether they are factors of attitude and behavior or related to larger social, economic, political and cultural conditions – can be changed."