Wednesday was supposed to be a day of celebration for many Italians, a public holiday marking the day when Catholics believe Mary ascended to heaven after her life on Earth.
But in Genoa, a port city in northwest Italy where at least 39 people died after a highway bridge partially collapsed during a violent storm Tuesday, there was little reason to celebrate.
As rescue workers continued sifting through piles of concrete, some chunks of debris three stories high, and authorities began the work of identifying victims, the city started two days of mourning.
Flags on Genoa's municipal buildings flew at half-staff and Pope Francis, speaking 300 miles away at the Vatican, offered his prayers for the victims.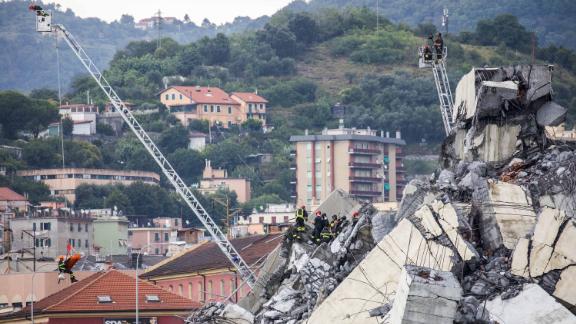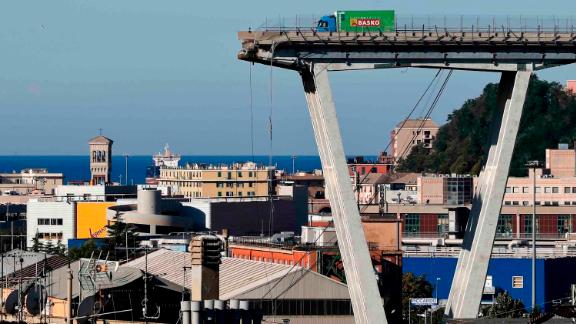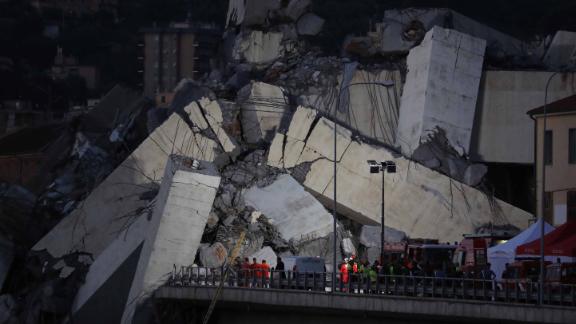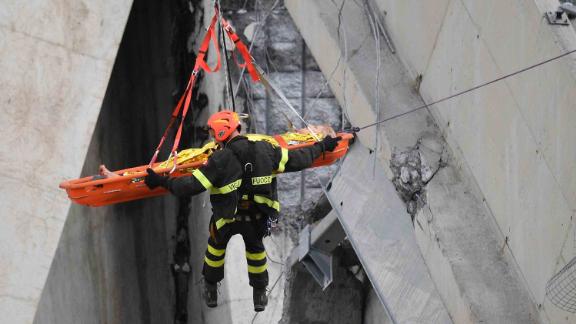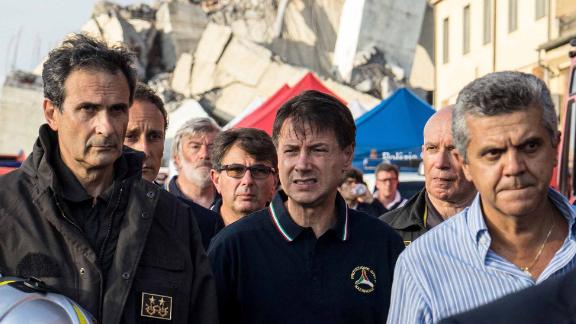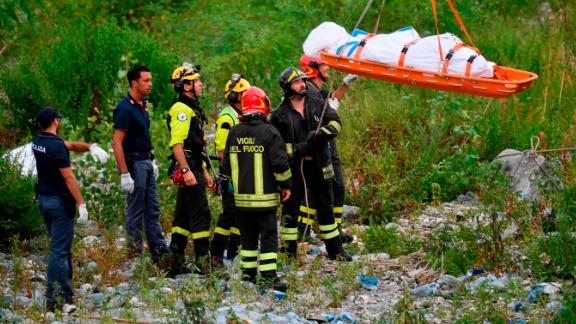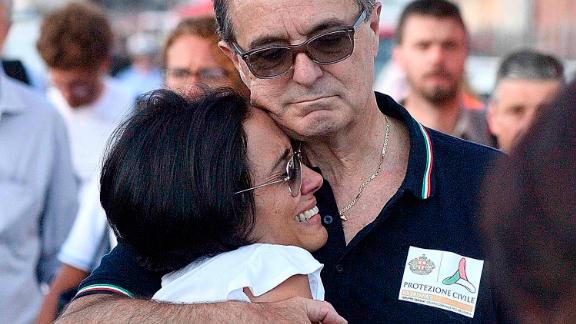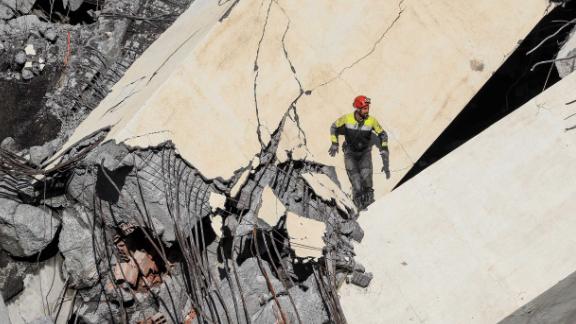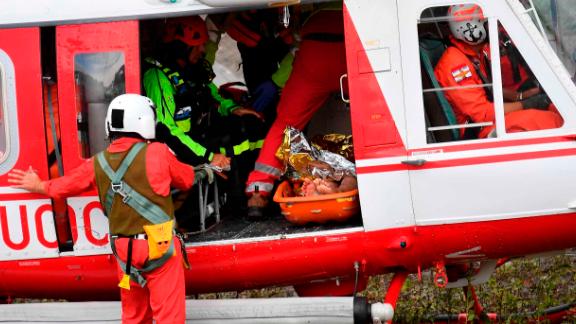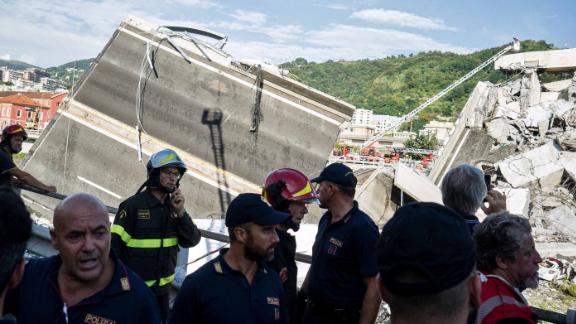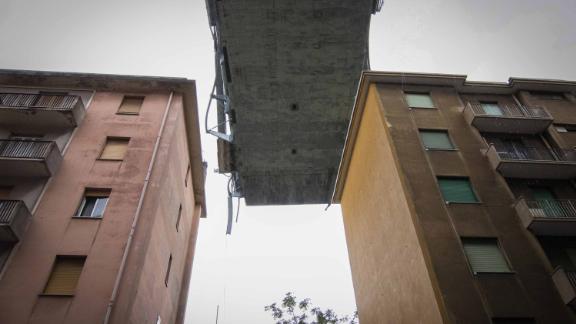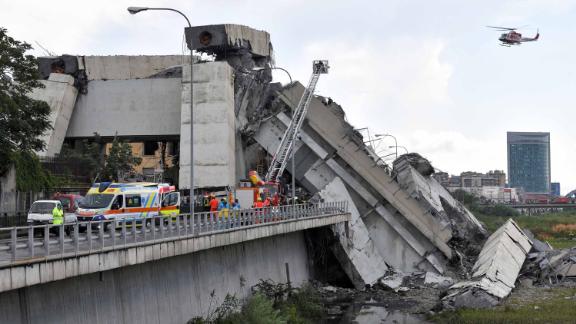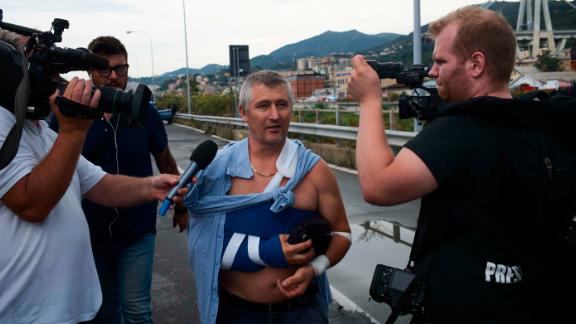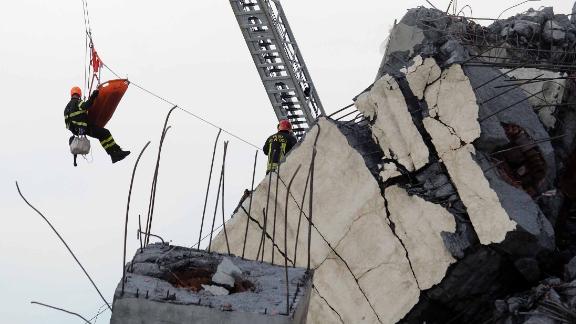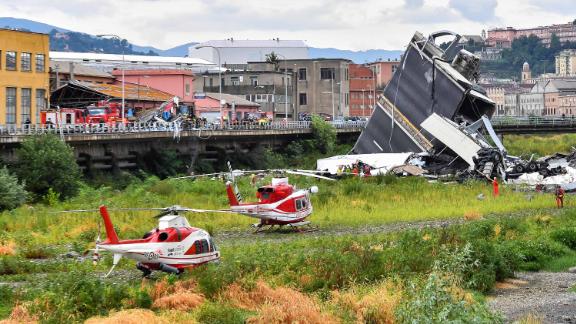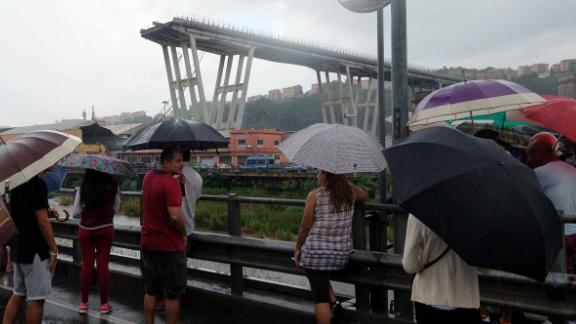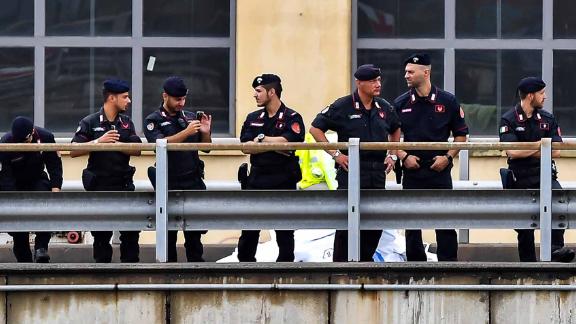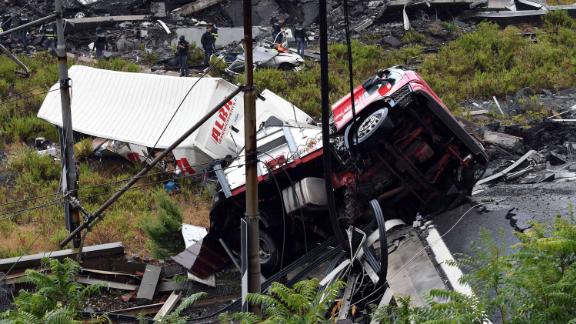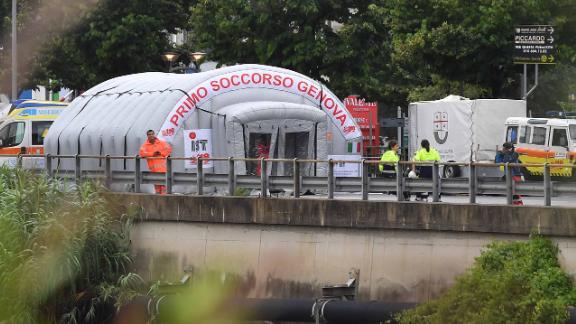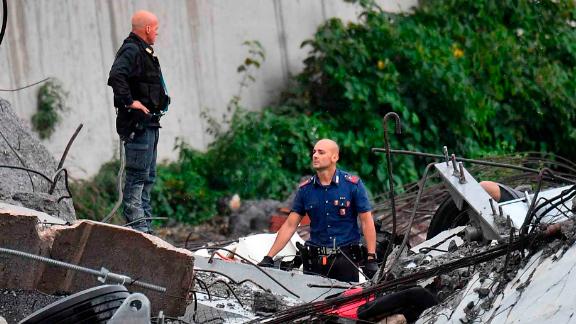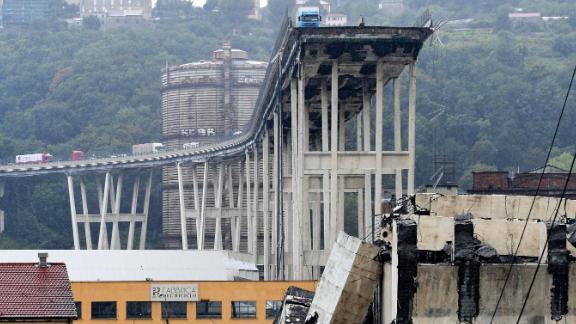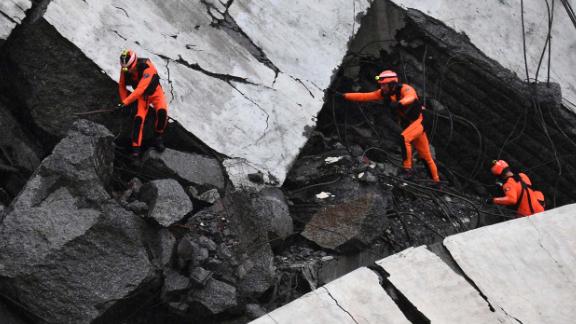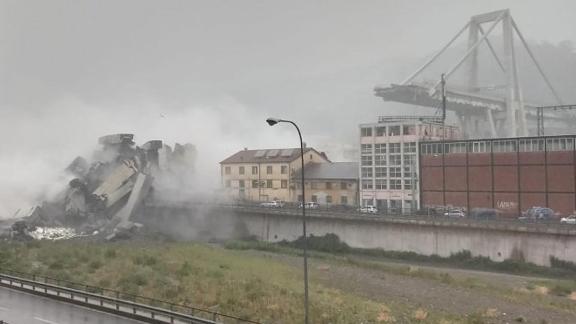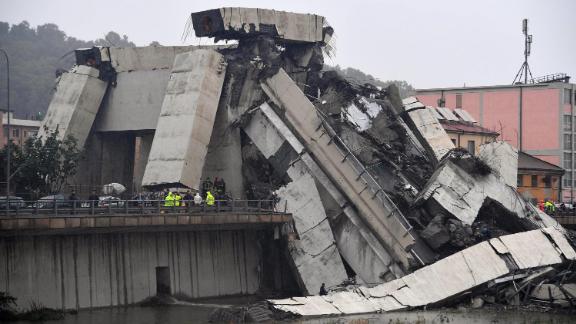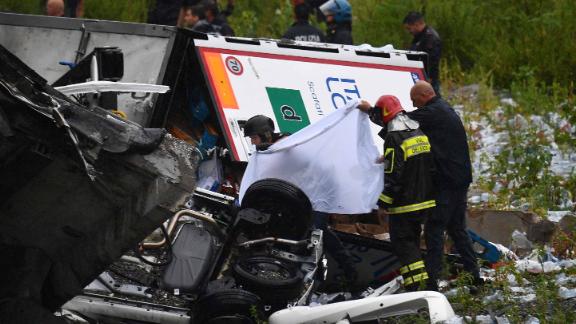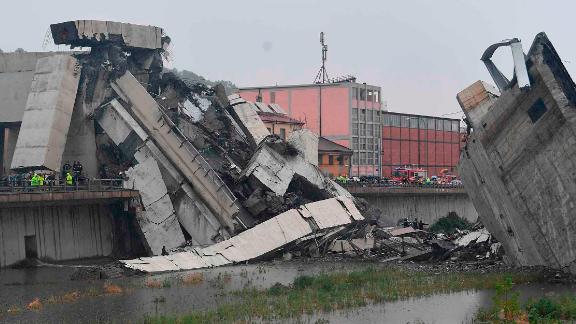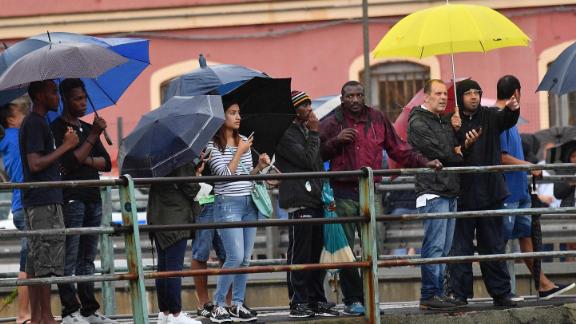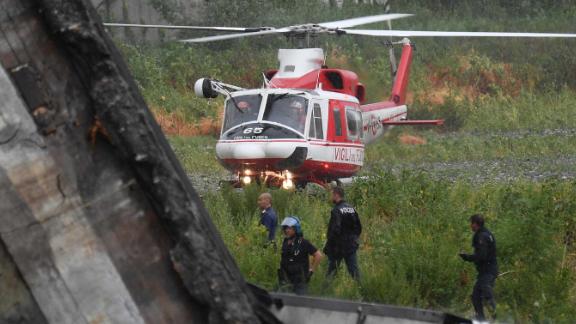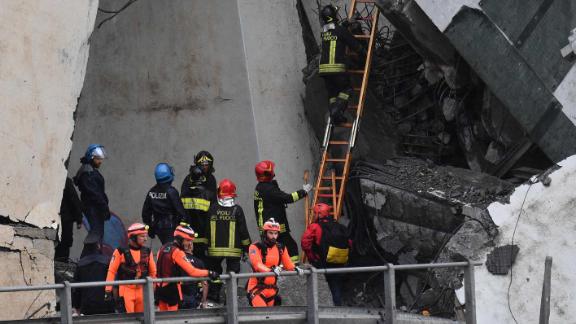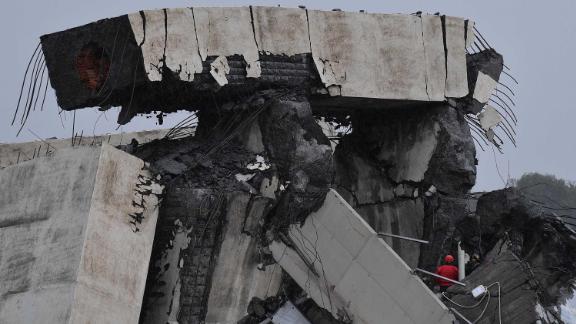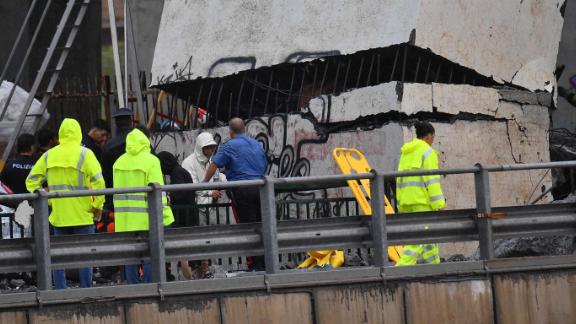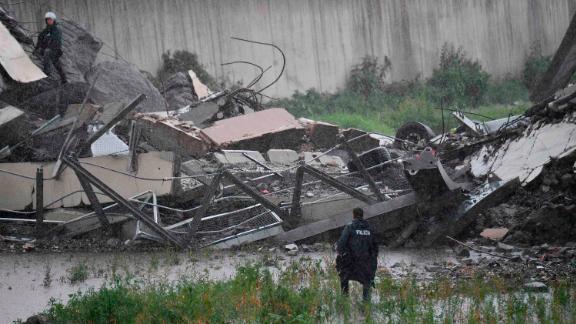 On Wednesday evening, Italian Prime Minister Giuseppe Conte declared a 12-month state of emergency for the city of Genoa and allocated €5 million to the search-and-rescue efforts.
Conte also said his government would revoke the concession from Autostrade, the private company in charge of maintaining the Morandi Bridge. "These are tragedies that are unacceptable in modern society," he added.
Autostrade said it met its obligations and does work in line with top international standards.
Three children, aged 8, 12 and 13, are among the dead, deputy police chief Antonio Villano said Wednesday. One entire family died in the accident, chief of police Col. Riccardo Sciuto said.
Three French nationals were also killed, the French foreign ministry said Wednesday.
Chilean Foreign Minister Roberto Ampuero confirmed via Twitter that three Chileans were among the victims.
Another victim was a Peruvian national, the Peruvian Ambassador to Italy Luis Iberico said via Twitter.
Davide Capello was one of the lucky ones. The former semiprofessional soccer player was driving from the nearby city of Savona to buy groceries in Genoa and was on the bridge when it gave way, sending his car plummeting downward before it became jammed between two pieces of concrete.
"At some point I heard a muffled sound … I saw the cars in front of me going [down]. I felt the asphalt was gone and I found myself going down in my car … I thought that it would be the end, that I was going to die," Capello said on Wednesday. "Then my car stopped, there wasn't a head-on crash, so it got embedded somewhere."
"I touched myself to see whether I was still in one piece as it was a massive shock," he said. "I then called the firemen straightaway and they were the ones who helped me first."
After clambering out through the back window of his car, Capello was helped out of the rubble by first responders.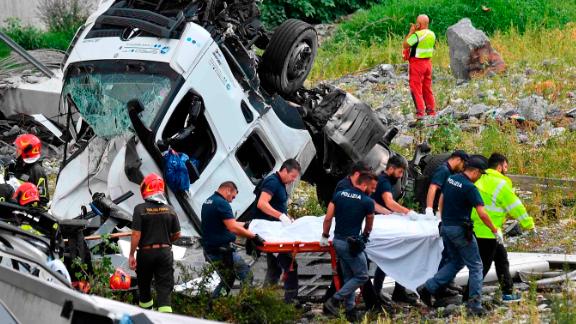 Luca Zennaro/ANSA via AP
Rescue and recovery operations were continuing into Wednesday evening, though hopes of finding more survivors were fading. Fire services chief Emanuele Gissi said there was concern about the stability of the bridge and that rescuers were working with great caution.
Cranes could be seen lifting massive slabs of concrete and twisted steel from the site, as excavators crawled through the rubble. The sound of jackhammers echoed through the air, every so often drowned out by church bells.
Collapse 'not absolutely unexpected'
The head of the Italian Civil Protection Agency, Angelo Borrelli, said about 30 vehicles and several heavy-duty trucks were on the affected section of the bridge when it gave way.
Images from the scene showed a mangled mass of buckled vehicles and slabs of bitumen torn up as the bridge, which was designed by Italian civil engineer Riccardo Morandi and completed in 1968, came tumbling down.
The A10, which runs across the bridge, is a major highway for residents and tourists in Genoa, connecting the city with the nearby airport, and a key route along the Mediterranean, linking the Italian coast with French coastal cities to the west.
READ MORE: Before and after the Italy bridge collapse
Italy's President Sergio Mattarella has called for a "serious and severe examination of the causes."
Local authorities initially cited heavy storms as partly to blame for the disaster but on Tuesday evening Conte announced that authorities were working on the theory of "structural failure."
The news that Autostrade was carrying out maintenance work on the bridge at the time also turned the conversation toward the structure's integrity.
Genoa Mayor Marco Bucci said on Tuesday evening that the bridge collapse was "not absolutely unexpected," but declined to elaborate further.
Stefano Marigliani, a senior executive at Autostrade in charge of the part of the toll road network linking the French and Italian Rivieras that includes the bridge, told the Financial Times that the structure "was monitored constantly beyond legal requirements" and that there was "no reason to consider it dangerous."
'Daddy, the bridge is falling'
Hundreds of people have been evacuated from residential buildings under the bridge. Gavino Delogu and his wife Wendy Correa are among them.
Delogu was at home with his young daughter when the bridge collapsed, he said.
"When we felt the bridge collapsing, my 4-year-old daughter jumped into my arms and said, 'Daddy the bridge is falling, the bridge is falling, let's go'," Delogu said. "We quickly got dressed and grabbed a couple of things before running out."
Valeria, who did not want to give her last name, also lives in Sampierdarena, the neighborhood beneath the bridge, and described her state of horror when she realized what had happened.
"I was shocked, I couldn't believe it, my face went pale, I almost fainted," she said. "Every night I would go out on my balcony and look at the bridge, and now there is nothing there."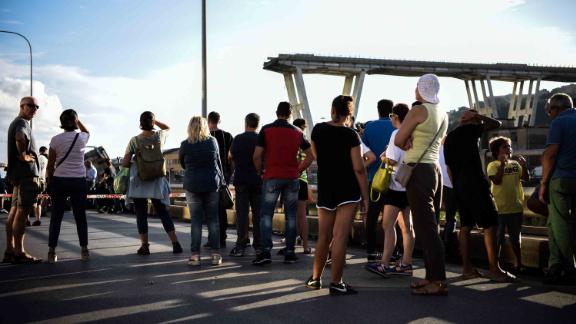 Piero Cruciatti/AFP/Getty Images
'From time to time pieces of the bridge would fall off'
Some Italian engineers had been warning about the state of the viaduct for years.
Antonio Brencich, engineer and associate professor of reinforced concrete constructions at the University of Genoa, expressed concern about the bridge in 2016.
"It was affected by serious corrosion problems related to the technology that Morandi himself had patented, which he had not used anymore, and which proved to be disastrous," Brencich told Italian daily La Repubblica.
Locals also say that the bridge has had problems for years, and that it was often attended to by repair crews, but the fixes were never long-lasting, and many in Genoa had petitioned the authorities to replace it.
"It's been years and years that we told the municipality that this bridge has a problem," Gavino Delogu said. "From time to time pieces of the bridge would fall off. And now these are the consequences of them (the local government) not listening."
The Morandi Bridge relied on stay-cables, which are embedded in concrete, making them difficult to inspect for corrosion.
Anil Agrawal, professor of civil engineering at the City College of New York, said if there is corrosion in the concrete, water can cause a void, further corroding the cables. And if there's no easy way to inspect them, "it's a high-risk system," Agrawal said. "If you lose any cable you have a catastrophe in the making."
Leading politicians cast blame on Autostrade and the European Union.
Transport Minister Danilo Toninelli has called for senior managers at Autostrade to resign and has requested a full investigation into the operator, according to Ulisse Spinato Vega, Toninelli's spokesman. Based on the outcome of that investigation, the concession could be revoked or sanctions imposed, Vega said.
"The work and status of the viaduct were subject to constant observation and supervision," Autostrade said in a statement Tuesday. "The causes for the collapse will be the subject of an in-depth analysis as soon as it is possible to safely access the site."
Over the past five years, 10 bridges have collapsed in Italy, according to the Corriere della Sera newspaper.
The overall spending on road repair in Italy is way below that of neighboring France and Germany, according to the OECD.
Dominique van Heerden reported from Genoa, Nicola Ruotolo reported from Rome and Judith Vonberg wrote in London. CNN's Gianluca Mezzofiore, Ian Lee, Kara Fox, Euan McKirdy, Vasco Cotovio and Barbie Nadeau contributed to this report.