He's the hottest golfer on the planet, though you might struggle to recognize him.
Brooks Koepka's second major title of the season at the US PGA was somewhat swamped by the Tiger Woods noise, but the 28-year-old's low-key approach is also keeping him under the radar.
That could be about to change after Sunday's success. By holding off a charging Woods at Bellerive and to add to his successful defence of the US Open at Shinnecock Hills in June, the muscular Koepka has propelled himself into the epicenter of the spotlight.
The attention is something he doesn't necessarily crave, and yet sometimes he feels he deserves more.
During the week of the US PGA, Koepka was in a public gym with his buddy Dustin Johnson, twhere the world No.1 was receiving plenty of attention from other gym goers. Koepka could only laugh as he was largely ignored.
"I like to lay low, I like to hang back. I like to be the person that's not really recognized. Yet again, you can't hide when you do certain things," Koepka told CNN Sport.
Brooks Koepka wins 2nd major of 2018
READ: Koepka holds off charging Woods to win US PGA
READ: Tiger's tale outshines Koepka's US PGA win
'One of best years ever'
The "things" he has done this season have taken him to second in the world and eclipsed anything done by Johnson, or the resurgent Woods or Jordan Spieth, Justin Thomas, Rory McIlroy or any of golf's recent pin-ups.
And that, despite watching April's Masters from his couch, feeling low and "getting fat" while recovering from a wrist injury.
Koepka has now won three of the last six majors he's played in. That's Woods-esque domination. In St. Louis he became only the fifth player to win the US Open and US PGA in the same year, after Gene Sarazen, Ben Hogan, Jack Nicklaus and Woods.
"When you look at those names, growing up as a kid you couldn't even imagine adding your name to that list," Koepka said.
"To do that is incredible and to look back where I was four months ago is incredible. I don't think I could have dreamed of this."
Nicklaus, the 18-time major champion, was suitably impressed.
He tweeted: "For @BKoepka to not play @TheMasters because of injury, to be unsure of his near future in golf, then come back to win @usopengolf & @PGAChampionship—to return and win 2 of the 3 majors left in the year—you have to believe that is one of the best years any golfer has ever had!"
Koepka also joins Woods, Spieth, Tom Watson and Nicklaus as the only Americans to have won three majors by the age of 28 since World War II. And he joins Spieth and McIlroy as the only multiple major winners in a season for the past decade.
"I can think of plenty of people along the way telling me I'll be nothing, working at McDonald's," Koepka told reporters Tuesday at Bellerive.
"The whole time, you're just trying to prove them wrong. You're always trying to prove somebody wrong. Sometimes your haters, I guess, are your biggest motivators."
READ: Brooks Koepka lands back-to-back US Open titles
'Tough guy to beat'
While Spieth, Thomas or Rickie Fowler manage to engage with the public, Koepka finds it harder to open up.
"I've always been, I guess, pretty cool," said Koepka, who is dating actress and model Jena Sims. "I try to hide things. I don't like people, I don't let too many people into my life.
"I'm not the best with words. I'm not going to let everyone in, but when I do open up I trust you. I let you fully in. My close friends, my family and everyone around me can really appreciate it and sometimes it's not the easiest to open up to people.
"I'm a little bit hesitant to do that and I think that's what a lot of people see. I'm trying to work on it, I really am."
Arguably, Koepka didn't help his public relations cause by once describing golf as "boring" and saying he was not a "golf nerd" and would rather be playing pro baseball.
As a gym nut, he spent Sunday morning of both the US Open and US PGA working out and lifting weights.
At Shinnecock, before teeing off in the final round, his program involved bench pressing 225 pounds 14 times. "I can get to 315," he says.
But golfer he is, and he has been working with renowned English swing coach Pete Cowen, melding his huge-hitting power game, with a deft touch around the greens and a killer putting stroke.
"He's a tough guy to beat when he's hitting it 340 [yards] in the air," Woods told reporters after finishing two strokes behind at Bellerive. "He didn't just have the driving, he had the iron game, he had the putting and made some key up-and-downs."
READ: Box-office Tiger Woods targets Ryder Cup place
Tiger Woods' ideal day: 'Caddyshack,' oatmeal?
'I was a hot head'
Koepka admits he doesn't show much emotion, but says that's a deliberate move to counter his youthful temper.
"I'm sure most people think that is very un-entertaining, and very blah on the golf course," he said.
"It's just because I'm so focused. You're not going to see much emotion from me, but I've worked on that.
"Maybe 10 years ago when I got to college I was a hot head. I mean, I could snap a club in two seconds and not think anything of it."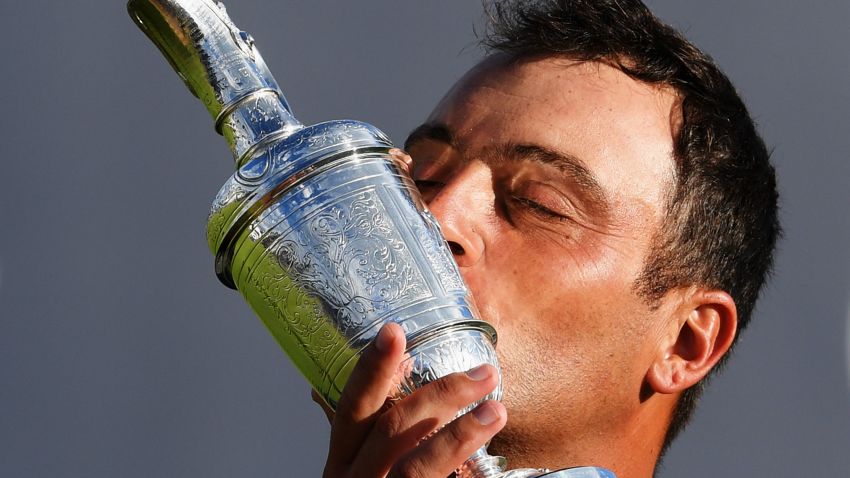 Francesco Molinari and golf in Italy
The young Koepka took up golf after a car accident ended his dreams of making it in baseball, basketball and other more athletic sports.
After college at Florida State, he opted against following his contemporaries through the usual route to a professional career in the US and took up membership of Europe's second-tier Challenge Tour in 2012.
He traveled widely, from Kenya to Kazakhstan, learning his trade, gaining life experiences and growing up.
READ: Woods & Mickelson close to $10m duel
Four victories secured his European Tour card and a win in Turkey in 2014 propelled him back onto the US PGA Tour where he picked up a first title the following year.
Now, his achievements will likely secure him a spot in golf's Hall of Fame when he turns 50, but the quiet Koepka doesn't do it to be famous.
And yet he is often bemused by the lack of attention.
Visit cnn.com/sport for more news, features and videos
"I use it as motivation," he says.