(CNN) —
A tornado roared through parts of central Massachusetts on Saturday, the National Weather Service said, downing trees and electrical lines, causing power outages and damaging buildings.
At least one person sustained minor injuries on a day that started with torrential rain and heavy winds in southeast New England, prompting flash-flood warnings across most of Rhode Island and parts of Massachusetts, officials said.
The National Weather Service confirmed shortly after 10 a.m. that a tornado touched down in the town of Webster in Worcester County – about an hour southwest of Boston. It was the third tornado in the county in the past two weeks.
The most significant damage was reported in Webster near the Dudley town line, where 25 residents were displaced and a handful of buildings were left uninhabitable, according to the Massachusetts Emergency Management Agency.
Webster fire Chief Brian Hickey told reporters that a motorist driving along Main Street was treated and released for minor injuries after parts of a roof landed on a car.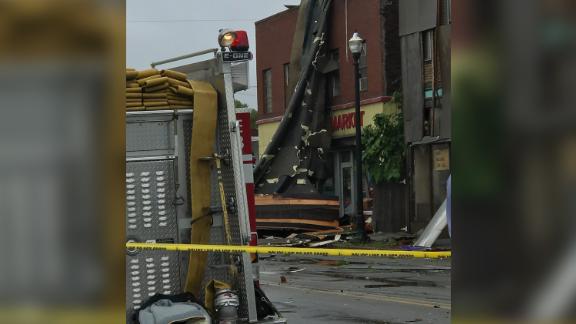 Maria Perrin/Instagram
The emergency management agency said about 4,000 utility customers were left without power earlier Saturday, but the number dropped to about 800 later in the day.
Images from downtown Webster showed parts of a scaffold sheared from a building and blown out windows at a strip mall, CNN affiliate WCVB reported.
"All of the windows were blowing open," Don Borque, who owns a temp agency in Webster, told the station. "We were all running downstairs into the basement because you could tell it was not a good thing."
Melissa Evans said the rain and heavy winds came with the ferocity and suddenness of a hurricane.
"I'm from Florida. I know storms," she told the TV station.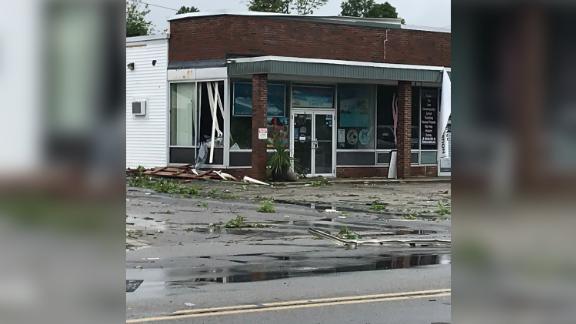 Maria Perrin/Instagram
Parts of Massachusetts and Rhode Island remained under flash-flood watch Saturday as the system that spawned the tornado moved east, according to CNN meteorologist Gene Norman.
Norman said tornadoes are rare in New England though Worcester County, where Webster is located, saw two on July 26.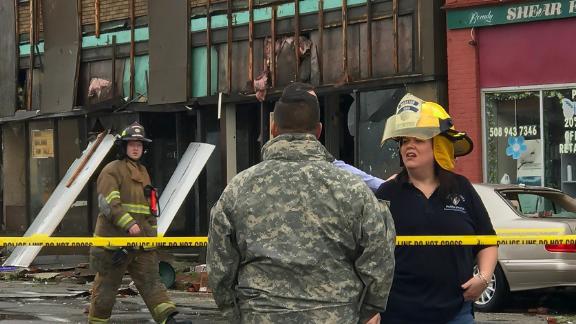 Maria Perrin/Instagram
Tornadoes typically form in large rotating storms known as mesocyclones, which are common in the Midwest, Plains and Southeast, according to Norman. They're often formed from large collisions of warm moist air and cold dry air. Those contrasts aren't as frequent in the Northeast.
But Norman said a combination of sweeping cold fronts and upper level winds in the Northeast can briefly allow for the spin needed to spawn twisters like the ones in Worcester.
The weather service said a survey team later Saturday confirmed a separate tornado that roared across two cornfields in Woodstock, Connecticut.
CNN's Augusta Anthony contributed to this report.